'Lost' writer and Huron High grad Javier Grillo-Marxuach releases a new short film online
Posted on Fri, May 11, 2012 : 12:07 p.m.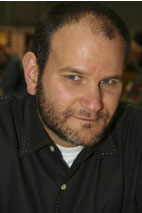 Javier Grillo-Marxuach - a Huron High School grad and television writer who most notably helped create and write the first two seasons of "Lost" - recently released a new short film onilne, starring "Buffy the Vampire Slayer" stars Amber Benson and Adam Busch, as well as Edmund Lupinski.

"Reverse Parthenogenesis," written and directed by Grillo-Marxuach, is a black comedy about Julie and Saul Winslow - a happily married couple thinking about having a baby. But when the two decide to have their genome mapped in order to know for sure that their child will be healthy, the test reveals a secret that will not only test their mutual trust and the integrity of their marriage, but also threaten the very future of humanity as they know it.

Parthenogenesis, by the way, means, "A form of reproduction in which an unfertilized egg develops into a new individual."

The 16 minute film has amassed more than 10,000 views so far. Check it out here.