Posted on
Tue, Dec 20, 2011 : 5:01 p.m.
'Louis CK: Live at the Beacon Theater' shows an American comedian at the top of his game
By Ryan Levin
There's something inescapably charming about Louis CK's low-key, nonchalant entrance at the beginning of his new hour-long comedy special "Louis CK: Live at the Beacon Theater." The special opens with the comedian arriving through the front door of the theater, plodding along the way you'd imagine a giant stuffed bear would shamble, mumbling hellos to milling crowd members who look delighted to be at the receiving end of the comic's half-smiles and reserved waves.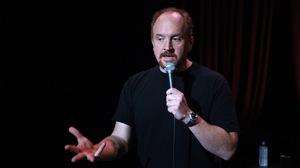 After dropping his backpack in the greenroom, CK walks out on stage with the house lights still on, waves dallying audience members to their seats and gives the pre-show announcements. Turn your cell phones off (seriously), no shouting things out at the stage, and please, he adds, masking a dark chuckle with the microphone, no Jews. After calling out a random man in the front row for looking a bit "jewy," CK opens his special by observing that given the size of the audience (around 2,500), statistically speaking, one of them is probably going to be die within the next two months.
"I think it's fair to say at least one of you here tonight is going to ruin your family's Christmas," laughs CK. "I don't know who it is, I'm sorry."
This is the kind of comedy Louis CK's fans love to hear. Calling it shock humor is a bit disingenuous because, frankly, how raw do you have to be to shock the Internet generation? Death and antisemitism are real and sinister things but CK is able to frame them absurdly so that, for an hour, audience members can laugh at real life, no matter how harsh and unfair it can be.
It's a notable part of the comedian's steadily rising popularity that he is able to maintain his congenial, everyman comic persona while being the pre-eminent public heretic in the church of political correctness. Somehow he's managed to acquire the immunity to say nearly anything about practically everybody and still find himself nearly universally liked—and respected—by peers, critics and the public alike.
CK released the special himself on his website starting Dec. 11. At $5 a download, he hopes to buck Internet piracy by releasing it cheaply to fans directly while retaining the kind of personal artistic control that the Internet at its most glorious can offer. And if "Live at the Beacon Theater" is not categorically superior to CK's previous "Hilarious," "Chewed Up" and "Shameless," it's stand-up of the same outstanding, re-watchable caliber. It's an impressive feat when you consider it's his second original hour of stand-up comedy in just about a year, on top of the second season of his critically lauded FX comedy "Louie" and the preparations for season three. There's no overlap of material between stand-up specials and very little with his show.
The material in 'Live at the Beacon Theater' sees CK even more self-critical and open to sharing his baser instincts than before. CK appears to go directly to his gut and below for their impulses as he brings the audience around to his point of view so everyone can laugh at Louis and, by proxy, the way that we, as Americans at large, behave. He has no problem sharing with the audience how terrible a person he often thinks he is. One particularly early and resonant bit has CK talking about sitting in his now first-class airplane seats (he's doing quite well now, he has no problem telling you) and comforting himself with the thought (just the thought) of giving up his seat to one of the miserable less-fortunate deserving of a little comfort and luxury shuffling their way back to coach.
CK's humor has been increasingly informed by fatherhood. Jokes about the scatological realities of tending to toddlers and infants colored CK's previous "Hilarious," as did his then only recently finalized divorce. CK talks about his children so openly that you have to wonder/hope he's setting some of his earnings aside for the inevitable consoling and therapy his daughters will need when they get to comedy-special-watching age.
According to a message to fans published four days in, "Live at the Beacon Theater" has sold somewhere around 100,000 or so copies and made CK a shiny $200,000 in pre-tax profit. That should buy a decent shrink.
The special has few low points. CK does go back over some themes that may seem overly familiar to fans, and, to my own unnecessarily critical ear, he uses quite a few rather whiney and churlish character voices that, personally, were a little less welcome than just hearing CK rant, bluster and regale. But the special gets even better on second and third viewing and, at the price, there is no better way to spend $5 for the best in modern stand-up comedy.
Ryan Levin is a University of Michigan Screen Arts and Cultures graduate and a film and comedy blogger, working part-time as a waiter and bartender at the Ann Arbor Comedy Showcase.