Posted on
Tue, Jul 30, 2013 : 1:22 a.m.
'Low Winter Sun' sneak preview brings more than 1,000 to the Michigan Theater
By Jenn McKee
• Related: Social-media reaction to the screening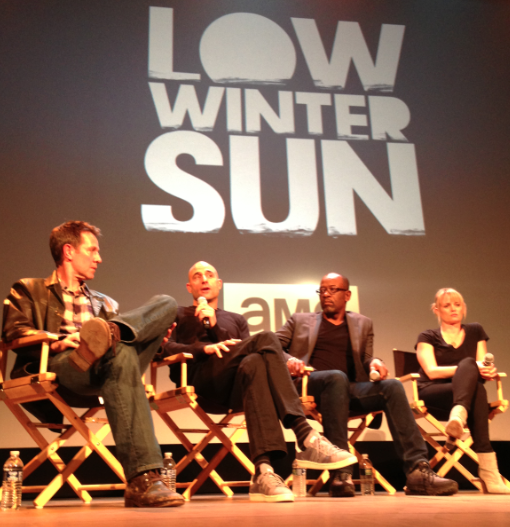 Photo by Jenn McKee | AnnArbor.com
More than 1,000 people gathered at the
Michigan Theater
Monday night to get a sneak peek at the pilot episode of the new AMC drama series,
"Low Winter Sun"
- filmed and set in Detroit - and hear from several cast members, as well as executive producer
Chris Mundy
. The pilot is set to air on AMC on August 11.
But the Michigan Theater's patrons weren't the only ones watching.
No, intrigued fans flocked to 20 theaters nationwide to watch the show and tune in to the post-screening Q&A that happened live in Ann Arbor, featuring "Low Winter Sun" stars Mark Strong, Lennie James, Sprague Grayden, Athena Karkanis, David Costabile, Ruben Santiago-Hudson (a Wayne State University alumnus), and Billy Lush.
In the pilot, Detroit cop Joe (played by James) convinces his coworker, Frank (Strong), that a third cop, Brendan McCann, has murdered Frank's girlfriend. Frank seeks revenge and, with Joe's help, murders McCann, then works to cover their tracks. But the next day, an internal affairs investigator arrives at the police station, looking for McCann; and when McCann's body surfaces, questions about Joe's story do, too.
Based on a 2006 British, 3-hour mini-series - set in Edinburgh, Scotland, and also starring Strong - "Low Winter Sun"'s season will consist of 10 hour-long episodes that tell a new story (while cherry-picking some narrative elements from the original).
"Edinburgh's nowhere near as cool as Detroit," said Strong. "(Edinburgh) has a looming presence. It's a very Gothic city. … It's a character in the original story. And that's what's amazing about Detroit. It's definitely a character within our story. It has such an incredible history."
"I always thought of ('Low Winter Sun') as a story about second chances, and what someone's willing to do to get a second chance," said Mundy. "And I wanted whatever the backdrop was to reflect that in some degree. So I wanted a fierce sort of survivors' pride. … Honestly, this wouldn't exist anywhere else. It's a weird thing. It's like, (Detroit's) as much a part of the show as any character."
When moderator Mark Binelli (author of "Detroit City is the Place to Be") asked whether cast members were intimidated upon arriving in Detroit, Costabile, who plays an internal affairs cop, said, "It's not scary at all. The scariest experience I had - I'd gone into this wine store, and I met this guy, and he was so kind to me. He talked to me for so long, and then he invited me to dinner, and I couldn't understand. I was like, what is your problem? I'm from New York. We don't do that. … These people from Michigan are terrifying."
Santiago-Hudson, meanwhile, offered an impassioned assessment of what makes Detroit striking and unique.
Binelli asked about the actors' methods of research for the show, and James said, "Sometimes the research isn't what people imagine, or the obvious things. … Some of the questions I remember asking were … What do you do when you come home? What's your routine when you go home? Do you immediately take the gun off? Because he's coming home to a house with children in it. … Do you take your badge off, and if you do, where do you put it?"
Though the drama focuses on characters who are cops and/or criminals, both Mundy and Strong resist the label "cop show."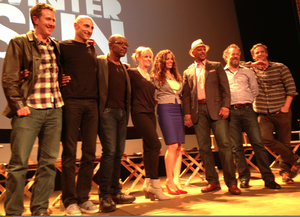 Photo by Jenn McKee | AnnArbor.com
"It's the framework from which we hang this Greek tragedy," said Strong. "It's a very interesting pilot, in that you know 'who done it' in the first 10 minutes. You see the crime, it happens very quickly. Normally, in a pilot, you'd save that for the end, … but I think we're trying to make something that will just pull people into the psychology of the characters who are in this world who happen to be policemen."
"We're not solving cases every week," added Mundy. " … It's about these people trying to get ahead."
"It's more about the psychological difficulty of dealing with the situation," said Strong. "(Frank) murders someone for love. He believes this woman is his last chance at happiness because of who he is, where he is, his age - myriad number of reasons. This woman represents something very important to him, and he's persuaded by a colleague to believe that this girl's been killed by somebody. … And that pushes him far enough to commit murder."
When asked by an audience member about what makes "Low Winter Sun" fit into AMC's lineup, Mundy said, "The weird thing about a place like AMC is 'Breaking Bad' has nothing in common with … 'Mad Men,' which has nothing in common with 'The Walking Dead,' which has nothing in common with 'The Killing' - except for the fact that they're all really good. And so it's nice that (AMC) wants a diverse palette. … Honestly, it's the only place I've ever been where they asked me to sometimes go slower, sometimes go deeper into character."
One of the last audience questions concerned what affect Michigan's film incentives had on the show.
"Creatively, in terms of the choice of Detroit (for the show's setting), zero," said Mundy. "I think practically, us being able to film it here, it was a huge, huge thing. I think without the incentives, it would have been harder for us to be here. Hopefully, we're pouring a lot of money back into the community."
Audience members gathered to take photos and get autographs from cast members after the Q&A, and many in the crowd were excited by the "Low Winter Sun" episode they watched.
Alex Cariaga, of Canton, said, "I thought it was great. I hadn't seen the original version, but I'll probably see it now, to see what's the same and what's different."
Detroit's Kerry Doman came to Monday's screening primarily because a friend appears in the show, but the pilot episode has hooked her as a fan.
"It kept you on your toes the whole time," said Doman. "It makes you want to watch more. I'm just bummed that now that I've seen the first one, I'll have to wait even longer to see an episode I haven't seen."
Jenn McKee is an entertainment reporter for AnnArbor.com. Reach her at jennmckee@annarbor.com or 734-623-2546, and follow her on Twitter @jennmckee.