Posted on
Thu, Sep 20, 2012 : 11:18 a.m.
Lucy Liu talks about going from acting at University of Michigan to movies and TV
By Kurt Anthony Krug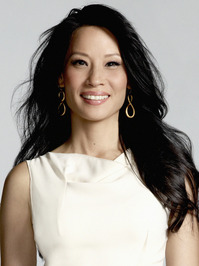 CBS
As a child, actress
Lucy Liu
—who costars this fall on the high-profile new CBS crime drama "Elementary"—was much too quiet and too shy in school, according to her teachers.
"It's so interesting that (acting) is the field I chose because this is something that I don't think my parents could've seen coming from a mile away… I do remember that being a child was so difficult because of the language barrier and the cultural barrier. I feel acting was such a different route to take," recalled Liu—the daughter of immigrants—who lives in Los Angeles and her native New York.
A 1990 alum of the University of Michigan, Liu auditioned for a small part in a stage production of "Alice in Wonderland," at U-M and walked away with the lead during her senior year.
"I was completely shocked by that," she said.
At commencement, the keynote speaker was fellow U-M alum Lawrence Kasdan, who wrote and directed "The Big Chill."
"That was really a wonderful speech he gave that day," Liu remembered. "I think he's incredibly talented and—obviously—his movies have made such an impact. It'd be wonderful to work with him."
Liu began her career by guest-starring on numerous television series, including "The X-Files," "NYPD Blue," and "ER." Her first regular role was on the 1996-97 comedy "Pearl," starring "Cheers" alumna Rhea Perlman. Some of her other television roles include "Ally McBeal," "Dirty Sexy Money," "Cashmere Mafia," and "Southland."
Liu also appeared in the feature films "Charlie's Angels," "Charlie's Angels: Full Throttle," "Shanghai Noon," "Kill Bill," and "Lucky Number Slevin."
Arguably, her "Ally McBeal" role as ill-mannered lawyer Ling Woo is her most popular.
"I would get a lot of shout-outs from people about how bitchy she was and how much they loved it. So it's a dichotomy about how people just love that kind of flavor on television. When there's a little bit of conflict, people find that interesting. I liked how dry she was… I was glad to be able to be a part of that. Rather than make her so bitchy, I found her to be more complicated and honest. And I think honesty sometimes comes off that way," remembered Liu, laughing.
One of her favorite roles is voicing Viper in the "Kung Fu Panda" animated movies.
"I enjoy doing voiceover work. I think it's a great deal of fun. It's very easy, it's very flexible for schedules. I love being part of a huge team of individuals because it's an incredible production, being part of an animated film," said Liu. "All the kids in my life are obsessed with the movie. I continue to do the voice of Viper because it means a lot to my goddaughter and a lot of other kids. They just get excited about it. They may not know who you are, but if they know you're involved with 'Kung Fu Panda,' it suddenly becomes this fabulous thing. There's nothing better than impressing children as far as I'm concerned."
Liu enjoyed reuniting with "ER" producer John Wells earlier this year for the fourth season of the gritty police drama "Southland," playing Officer Jessica Tang.
"(Wells) said, 'The role is much more raw… It's much more different than what you've been doing - being on wires, chopping people's heads off. How would you like to do something that's a little more down to earth?'" explained Liu. "Anything John touches turns to gold… I didn't know what he had in mind, to be honest. I had no idea. He's been developing this character and I just went with it… It's something different than what I've done before - it's more along the lines of an independent movie."
Beginning Sept. 27, Liu and Jonny Lee Miller of "Eli Stone" fame will star in "Elementary," a radically different interpretation of Sir Arthur Conan Doyle's famous character Sherlock Holmes. Miller will portray Holmes, whereas Liu will portray Dr. Joan Watson - a female variation on Dr. John Watson.
This is the latest take on Holmes in the recent resurgence of movies and TV series starring the renowned detective: 2009's "Sherlock Holmes" and its 2011 sequel, "Sherlock Holmes: A Game of Shadows," starring Robert Downey, Jr. and Jude Law as Holmes and Watson, respectively; and "Sherlock," the British TV series set in contemporary London, which debuted in 2010.
What makes "Elementary" stand out from the other two, aside from the fact that Watson's a woman, is that it's set in modern-day New York City rather than London and Holmes is a brilliant yet tormented detective straight out of rehab.
Holmes' affluent father forces him to live with a sober companion: Watson, an addiction specialist. According to Liu, Watson was a successful doctor until she lost a patient - and her medical license - three years ago. She sees Holmes as another opportunity to help people, as well as pay a penance. However, once Holmes resumes work as a consultant for New York's Finest, she joins him on his cases. He finds her medical background useful and she realizes she has a penchant for being an investigator.
Although Liu isn't relegated to "ethnic" parts - her role as Watson epitomizing this - the actress does not consider herself a trail-blazer for other Asian-American thespians.
"People will call you a pioneer if you've been successful and jump over the general stereotypes of only playing the same things over and over, and lucky enough to be successful. And by successful, I mean work in the industry and love what I do," she said. "I am very grateful to work and have been able to do roles that were not intended for someone who is Asian-American. That makes me feel proud that people are supportive of that because you have know what you're gonna get…"
She continued: "It's so hard to please everybody. The bottom line is I try to please myself and to take projects that I find are challenging and things I haven't done before, whether they succeed or fail. Whatever it is, I try to be try to myself because that's the only thing you can hold on to at the very end of your life, I would think. Hopefully my legacy will be that I'm not afraid to try things and not being afraid of failing or other people judging me because everybody's gonna have a different opinion of what I should or shouldn't do."