Posted on
Wed, Nov 2, 2011 : 5:04 a.m.
Lupe Fiasco, coming to EMU Saturday, inspires fans and stirs controversy
By Roger LeLievre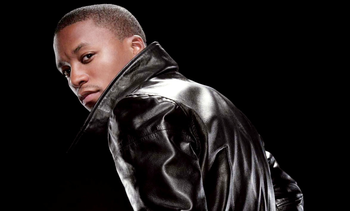 Hip-hop's
Lupe Fiasco
has no problem speaking his mind by using his art to spread his political beliefs, a trait that's earned fans and inspired controversy.
Fresh off the release of the new CD "L.A.S.E.R.S," Fiasco will perform at the Eastern Michigan University Convention Center Saturday night, with hip-hop duo Chiddy Bang as the opening act.
EMU student Ariam Abraham who, like Fiasco, hails from Chicago, will be seeing the rapper for the fourth time when she attends the Convocation Center show.
"Even if I don't necessarily agree with everything he says, I think it's very courageous," Abraham said. "A lot of people I know were kind of taken aback, and maybe don't like him as much any more, (but) I think it's really brave and really honest. You should say what you think."
So just what did he say to stir things up?
In an interview this past summer on the CBS program "What's Trending," he touched on the politics of his music and famously said "to me, the biggest terrorist is Obama and the United States of America. I'm trying to fight the terrorism that's actually causing the other forms of terrorism. You know, the root cause of terrorism is the stuff the U.S. government allows to happen."
PREVIEW
Lupe Fiasco
Who: Outspoken hip-hop performer, presented by Prime Social Group and iSPY Magazine. With Chiddy Bang.
What: Songs from the new CD "L.A.S.E.R.S.," as well as his two previous albums.
Where: Eastern Michigan University Convocation Center, 799 N. Hewitt Road, Ypsilanti.
When: 7 p.m. (doors) Saturday, Nov. 5.
How much: $25-$50. Info: Tickets are available online at www.emutix.com and by calling 734-487-2282.
He's also urged people to "criticize power even if you agree with it," and said he doesn't vote or involve himself in U.S. politics, which he believes are meaningless. He has, however, been all over the Occupy Wall Street movement, not only with words of encouragement but with the donation of blankets and other supplies in several cities.
Fiasco (given name Wasalu Muhammad Jaco) got his first big break in 2004 when he signed with Atlantic Records and had the chance to work with Jay-Z and Kanye West while recording his 2006 debut album, "Food & Liquor," which earned him three Grammy nominations. His 2007 "The Cool," followed; then Fiasco seemed to fade from the scene. Fans, impatient for something new, finally petitioned— and even gathered at New York City Atlantic Records offices—to show their support. "L.A.S.E.R.S." was released this March. The acronym stands for "Love Always Shines Every-time Remember 2 Smile."
In a "L.A.S.E.R.S. Manifesto," Fiasco offered the following rationale.
"Lasers are the opposite of losers. Lasers are shining beams of light that burn through the darkness of ignorance. Lasers shed light on injustice and inequality. Losers stand by and let things happen. Lasers act and shape their own destinies. Lasers find meaning and direction in the mysteries all around them. Lasers stand for love and compassion. Lasers stand for peace. Lasers stand for progression. Lasers are revolutionary. Lasers Are The Future."
It's that positive message that appeals to fans like Abraham.
"For me, the main thing is the message he conveys through his music," she said. "I really appreciate the fact he doesn't try to go mainstream by talking about the typical things other rappers talk about. I love that he's very positive and very honest. As a young lady I love the fact that he's not disrespectful and derogatory toward women like most other rappers are."
Adam Lynn, whose company, Prime Social Group, is co-presenting the show, said Fiasco is part of a newer breed of rappers who offer more positive lyrics.
"In my opinion there's a more socially-conscious level of rap… the new generation is not so much about the cars they're driving or the women they're sleeping with. (Fiasco) is not using his lyrics to brag about his lifestyle but to bring up points that he likes his fans to notice. He doesn't go with the norm. He speaks his mind and doesn't feel like he has to play by the traditional rules. I wouldn't say one way or another if I agree with what he has to say, but I do respect him for voicing his opinions."
Opening act Chiddy Bang specializes in hip-hop, drum-based rap (that's Chiddy doing the vocals and Bang on the drum kit).