Posted on
Thu, Nov 22, 2012 : 5:35 a.m.
Make Black Friday fun by seeing Bugs Bunny on the big screen or taking in a concert
By Ann Dwyer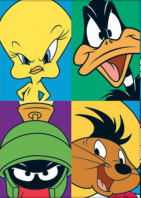 FILM
Turkey season turns to duck and wabbit season when the Michigan Theater shows Warner Bros. cartoons on Friday 11:30 a.m. Watch 76 minutes of classic cartoons that were made for adults just as much as they were for kids. "You know, sometimes me conscience kinda bothers me... But not this time!" - Bugs Bunny. $10 or $8 for students and seniors. 603 E. Liberty St., Ann Arbor. 734-668-8397.
COMEDY
While family gatherings can be a joke, they're not always "ha ha" funny. So see Heywood Banks this weekend at the Ann Arbor Comedy Showcase. Friday and Saturday at 7 and 9:30 p.m. Sunday at 7 p.m. Friday and Sunday 7 p.m. shows are family shows. Children 10 years and older will be welcomed with a responsible adult. Equal parts genius and buffoon, this songwriter-comic-singer-poet-musician has become a cult hero and a pop icon, with a show that appeals to a wide range of people. $20. Downstairs at 314 E. Liberty St., Ann Arbor. 734-996-9080.
MUSIC
He traveled all the way from Ohio to come play his annual post-Thanksgiving concert; the least you could do is drop by to see Matt Watroba at The Ark on Friday. 8 p.m. Matt's latest album, "Shine Right Through the Dark," contains all-original songs including a few depicting the city of Detroit. Previous Thanksgiving shows have brought some great unannounced guests, so get ready! $15. 316 S. Main St., Ann Arbor. 734-761-1800.
MUSIC
Longtime Ann Arborites Whit and Al Hill return to town for a concert/CD preview at METAL on Friday. 8 p.m. The Hills will be playing songs from "The Southerner," Whit Hill's upcoming record, to be released early in 2013. An avid metal detectorist, Hill will also be displaying two years worth of metal "finds" from the land around her Nashville home. When was the last time Bob Dylan showed you his Precious Moments collection? Never! $10 suggested donation. 220 Felch St., Ann Arbor.
CRAFTS
Find unique gifts or the yarn to make them with at the "Annual Handspinners' Holiday Fair" at the Matthaei Botanical Gardens on Saturday. 10 a.m.-4 p.m. In addition to handspun yarns, this sale will feature knitted, woven and felted garments, as well as hats, purses, jewelry, toys, dolls, ornaments and felted wall hangings. Books, spinning wheels and related equipment will also be available. Admission is free. Parking cost is $1.20 per hour with a $5 maximum per day. 1800 N. Dixboro Road, Ann Arbor. 734-647-7600.
THEATER
The Performance Network Theatre's Saturday Matinee Series for kids, through its Children's Theatre Network, will feature exciting and educational performances the fourth Saturday of every month during the school year. 1 p.m. This week, see "Ella Mentry and the Case of the Missing Scientist." $10 for adults, $7 for children, and $20 for family tickets. Tickets can be ordered by calling 734-663-0681, online at www.performancenetwork.org or at the Theatre. 120 East Huron St., Ann Arbor.
HOLIDAYS
The Depot Town tree-lighting ceremony will be held on Saturday. 5:30 p.m. This event will additionally include roaming carolers and a visit from Santa and more. Across the street from The Sidetrack at E. Cross St. and N. River St., Ypsilanti.
Kick off the holiday season at Dexter's "Winter Festival" on Saturday. 10 a.m. to dusk. There will be special events at local restaurants and shops, holiday wreath silent auctions around town, tree lighting and caroling in Monument Park.
MUSIC
Mr. B will be at The Ark on Saturday. 8 p.m. Mr. B brings in musicians from around southeast Michigan and beyond for a boogie and jazz blowout to kick off the holiday season with a big dose of boogie-woogie joy. $20. 316 S. Main St., Ann Arbor. 734-761-1800.