recap:

'Man v. Food' gets a taste of Ann Arbor

Posted on Wed, Oct 20, 2010 : 10:18 p.m.
Note: Contains spoiler info. Missed the episode? More "Man v. Food" Ann Arbor air times.
In pursuit of the country's greatest extreme dining destinations, "Man v. Food" host Adam Richman has pigged out from sea to shining sea. Tonight's episode brought him to Ann Arbor, where he hit up local hotspots Krazy Jim's Blimpy Burger, Maize and Blue Deli, and for the food challenge, Tios Mexican Cafe.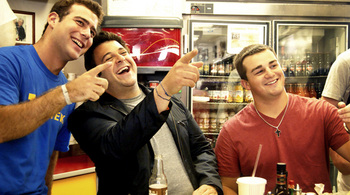 photo courtesy of Travel Channel
His journey began with a trip to Blimpy Burger, where he chatted with students, learned about the current burger record (a whopping 43 patties!) and explored the topping options. With four different buns, six cheeses, nine grilled items and 12 condiments, there are almost 2.15 billion possible Blimpy Burger combinations. Richman opted for a quint (five patties) with stone ground mustard, ketchup, black olives, lettuce and tomato. Biting into the burger, he appreciated the melt-away quality of the ground-on-the-premises beef.
Next, at Maize and Blue, Richman learned that the deli is a favorite among University of Michigan athletes, where they grab a post-game bite. Deli manager Ehab "Eric" Sukkar set up Richman with a Triple Play reuben, a corned beef, pastrami and sauerkraut sandwich accented with Russian dressing and melted Swiss and Jarlsberg cheeses on sourdough rye. Saying he thought he could only get a good reuben in New York, Richman remarked that the Triple Play "turned [his] whole world into chaos" and was a "home run."
But the burger and reuben were merely a prelude to the challenge ahead: Mount Nachismo at Tios. Describing himself as "hungry as a Wolverine," Richman got the lowdown from chef Jeremy Seaver. The five-pound nacho platter boasts all the fixings: beans, shredded cheese, chicken, pork, beef. After a quick trip to the oven to melt the cheese, Seaver added onions, green peppers, tomatoes, olives and and a veritable lava flow (or, as Richman noted, "kiddie pool") of spicy queso dip.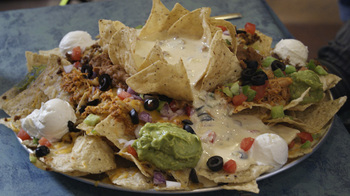 photo courtesy of Travel Channel
With 45 minutes to complete the challenge, Richman had a T-shirt, wall of fame photo and all-important bragging rights on the line. Fifteen minutes in, Richman was on pace to win but had to find his "inner Wolverine" to stay on target. Fortunately, there was Maize and Blue spirit (and a rendition of U-M fight song "The Victors") pushing him forward to the two-thirds complete mark. During the final 15 minutes, the thick, rich refried beans threw Richman for a loop. But ultimately, the mountain was a mere molehill to Richman, who conquered Mount Nachismo with time to spare.