Posted on
Tue, Sep 7, 2010 : 1:29 p.m.
'Man v. Food' filming at Krazy Jim's Blimpy Burger today
By Jenn McKee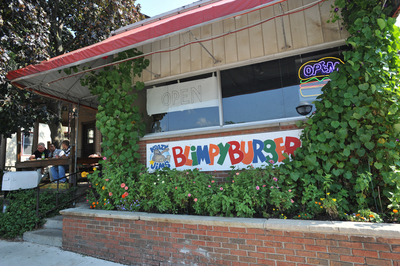 Lon Horwedel | AnnArbor.com
If you passed by Krazy Jim's Blimpy Burger before noon on Tuesday, you likely spotted "Travel Channel's Man v. Food" star Adam Richman — donning sunglasses, a white shirt and a black jacket — with a small film crew on the sidewalk.
According to Blimpy owner Rich Magner, "They're going to be here all day," shooting a segment for "Man vs. Food."
The show's website describes how Richman seeks out "the biggest and best eats our nation has to offer, including some of the craziest eating challenges around."
The film crew prepared Blimpy's for its moment in the spotlight by installing small, rectangular lighting screens around the restaurant's small space, while early lunch diners squeezed themselves around the equipment to find a seat. A half-dozen customers stood at the counter shortly after 11:30 a.m., when a Blimpy's employee said, "It's crazy in here today, isn't it?"
Outside, I took a seat on a bench, near another woman who was eating a burger, and the crew prepared to start filming the opening shot.
"You ladies are fine to stay right there," a crew person informed us. "Just no looking into the camera is all I ask."
Richman then performed about eight takes of a shot in which he walked down the sidewalk to the restaurant's entrance while saying variations on a script that begins, "I'm on South Division Street in Ann Arbor, at Krazy Jim's Blimpy Burger."
After briefly touching on the local favorite restaurant's history and appeal for burger lovers, Richman said that at Blimpy's, "It's not just what you order, it's how you order," before heading up the steps to the door.
Takes were delayed as loud trucks passed by, or repeated because a crewman thought the ending was too abrupt, or else Richman's voice cracked, or he tripped on the sidewalk. All the while, Blimpy customers — a couple with a dog, a construction worker in a hardhat, three college-age young men — maneuvered their way around the crew and equipment to go inside.
After the television crew was satisfied with the opening shot, Richman paused a moment on the steps outside the restaurant. A man headed inside touched Richman's arm and said, "I'm going to go in and eat before you eat. But I love your show, man. I watch it every day."
"Thanks, man, that's very kind," Richman said.
And word of the film crew's presence clearly spread fast. Just after noon, while the film crew set up inside the restaurant for dining room shots and diner interviews, a group of four college-aged young men — three of them in identical blue T-shirts that read "M Go Greek" — stood on the sidewalk as one of their group hurriedly tried to down a sandwich so they could all go in.
A woman held the door for them when they made their way inside. "They're filming 'Man v. Food' here today.'"
"We know," one of the male students said. "That's why we're here."
Magner said the "Man v. Food" crew is also stopping at other Ann Arbor restaurants while it's in town. No word yet on when the local episode(s) might be broadcast.
This isn't Blimpy Burger's first time in the TV spotlight; it has been featured on the Food Network's "Diners, Drive-ins and Dives."
Jenn McKee is the entertainment digital journalist for AnnArbor.com. Reach her at jennmckee@annarbor.com or 734-623-2546, and follow her on Twitter @jennmckee.