Posted on
Thu, Apr 28, 2011 : 5:06 a.m.
Pasta dishes among highlights at Mangiamo Italian Grill
By Julie Halpert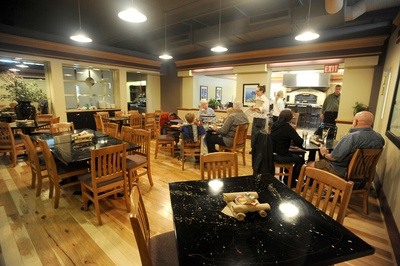 A casual Italian bistro in Saline that opened a couple of months ago is already drawing big crowds. On recent Wednesday and Saturday nights, Mangiamo Italian Grill was filled to its 150-person capacity.
The restaurant is spacious. There's a large, separate bar area with numerous flat screen televisions adjacent to a roomy dining space. The shiny hickory wood floors on the restaurant side and distressed wood on a separate bar side, along with stark, simple hanging light fixtures, lend a contemporary feel. The menu includes pizza and Italian entrees, along with subs, sandwiches and burgers, for those craving American fare.
RESTAURANT REVIEW
Mangiamo Italian Grill
107 W. Michigan Ave., Saline
734-429-0060
Mangiamo Italian Grill in AnnArbor.com restaurant guide

Hours: Sunday and Monday, 11 a.m.-10 p.m. Tuesday through Saturday 11 a.m.-midnight (Food is served until 11 p.m.)
Plastic: Visa, American Express, Discover, Mastercard.
Liquor: Yes.
Prices: Moderate. Entrees range from $11 to $16 and include bread and a soup or salad.
Value: Very good.
Noise level: Loud.
Wheelchair access: Yes.
This is the kind of place that values presentation. All of our food was delivered on sparkling white China.
The bruschetta, considered a specialty appetizer, was artfully prepared, with drizzles of balsamic vinaigrette resembling chocolate along the top. But the dish didn't measure up to its appearance. The bread was soft, and I prefer a crunchy texture. There also weren't enough tomatoes, and the vinaigrette dressing gave it a bitter taste.
I enjoyed the fried ravioli, even though it was whisked so quickly from the fryer to our table that the cheese burned our mouths. The thin marinara dipping sauce lacked flavor and could have been thicker, with more punch.
The restaurant offers both Chicago-style deep dish pizza and hand-tossed round. The latter turned out to be the better pizza, with a thick, chewy crust, along with wonderful tomato sauce and fresh peppers, onions and mushrooms, oozing with cheese on top. The taste even held up on day three as leftovers.
We tried the Chicago style deep dish on our second visit. Though it was adequate, it was missing the sweet, crumbly, pastry consistency crust that I enjoy in Chicago deep dish pizza. Instead, it tasted like soft, doughy white bread. And the abundant sauce was bitter.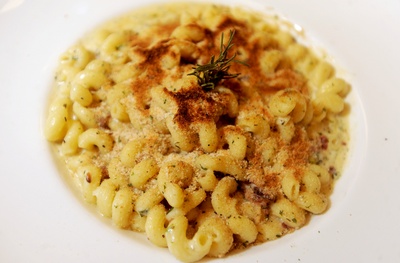 Angela J. Cesere | AnnArbor.com
Mangiamo shines with its pasta dishes, including the eggplant parmesan, thick pieces of eggplant topped with a rich, hearty, marinara sauce. The gouda maca cheeza was another hit, in which a rich, creamy cheese sauce melded well with applewood bacon that was sprinkled throughout the sauce.
Another standout was the oven-baked Italian sub. The Genoa salami, capicolla and ham were all high quality meats that were perfect together on the thick, crunchy bread, along with a wonderful Italian dressing.
My daughter attempted to order the Tiramisu sundae, but our server refused, saying it contained alcohol. So I ordered it instead. Indeed, there was such an abundance of Kahlua that it overpowered the ice cream.
My kids were content to munch on the nine layer chocolate cake. It wasn't particularly dense or fudgy, but it will satisfy the desires of a chocoholic. The frosting between each of the layers made it moist and generally flavorful.
Our generally pleasant dining experience was hampered by a server on our first visit who seemed disinterested and kept us waiting at several points. She didn't bring bread that was promised with the entrees. On the next visit, the server was more responsive, but it still took well beyond the specified 35-minute wait time for the deep-dish pizza, as well as the sub we ordered.
Still, once it works out the kinks with service and some dishes, there's certainly enough to recommend this place, especially since there is always room for a solid, family-friendly Italian dining spot.
Julie Halpert reviews restaurants for AnnArbor.com.