Posted on
Thu, Jun 16, 2011 : 5:56 a.m.
Mani Osteria a great addition to downtown - especially the pizza
By Julie Halpert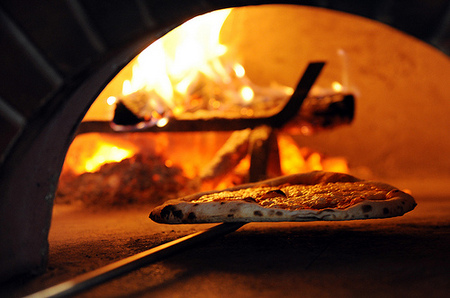 Melanie Maxwell | AnnArbor.com
The atmosphere at the new
Mani Osteria & Bar
is vibrant and alive. It reminds me of a cosmopolitan European bistro in an upscale city — without the pretentiousness.
On a recent Friday night, the place was filled with customers standing around for tables, happily waiting as much as an hour to be seated. Long before I had gotten to it, the word was out that Mani was the new hip place to be.
My children had no patience for the wait so we returned two days later. Though virtually every table was full, we were promptly seated.
What is most impressive here is the diverse range of customers, from the senior set, to young professionals out for a post-work dinner, to families with young children. Owner Adam Baru has filled an appealing niche here.
Baru expertly transformed this space from an office furniture store, and the results are spectacular: sleek, sophisticated and simple. It's open and welcoming, surrounded by windows and interior burnt orange walls, along with stark hanging light fixtures.
Tables overlook the open kitchen, where you can see a small army of chefs hand-tossing pizza and placing it into the brick ovens. The dark concrete floors add to that contemporary feel, though they do little to absorb the sound; it's so noisy you have to speak loudly to be heard.
Mani's menu focuses on unusual appetizers, like pickled tomatoes and crispy pork belly, along with brick oven pizza and pastas. At lunch, there is a more limited menu.
Though there's a choice of several vegetarian options in the pizza, there are only two vegetarian entrees, with pork products as ingredients in many of the dishes.
We tried the flavorful mussels appetizer. The mussels were easy to peel from their shells and were served with crusty bread, amazing when dipped in the superb garlic and white wine sauce.
What I most appreciate about Mani is the way the chef pairs fresh and more exotic ingredients in so many dishes that yield a healthful yet tasty result. Though I'm not a huge beet fan, the chunks of beets, along with fresh tarragon and fennel, in one of the restaurant's salads were wonderful. The same goes for the ribolita soup, with kale and beans. Despite the fact that I burned my tongue because it was so hot, it was a light and delicious soup.
RESTAURANT REVIEW
Mani Osteria
341 E. Liberty St.
734-769-6700

Hours: Tuesday through Thursday, 11:30 a.m.-10 p.m. Friday, 11:30 a.m.-11 p.m. Saturday, 11 a.m.-11 p.m. Sunday, 11 a.m.-10 p.m. Closed Mondays.
Plastic: Visa, Discover, Mastercard, American Express.
Liquor: Yes.
Prices: Moderate. Most pastas are in the $12 range. Pizza is in the $11-$16 range.
Value: Fair. Most portions are small.
Noise level: Can be quite loud.
Wheelchair access: Yes.
This is the kind of place that offers nearly guilt-free eating, not only because the chef uses so many types of vegetables, but because portion sizes are so petite, you're not tempted to overindulge.
The garlic shrimp, smothered in an assortment of spices, was top-notch, but there were only two of them. The Isabel's meatballs were mouth-watering, lightly topped with a heavenly sauce of tomatoes, pine nuts and sage, but there were three in all.
The pasta comes in a dish not bigger than a few inches wide, and is served solo, without bread. This means that ordering enough food to satisfy heartier appetites can result in an expensive meal.
The pizza is the one dish that's a generous size, and it is outstanding. It benefits from the brick oven cooking process, which makes the dough crispy, yet spongy on the inside. Basil leaves were scattered on top of the margherita pizza, giving it a wonderful, pungent flavor. Still, it was a bit dry, and I would have preferred more of the sauce.
I found that same issue in the otherwise delightful canneloni, which also could have used more tomatoes. Unlike heavier Italian versions which are dense and doused with cheese, this had the consistency and taste of a light crepe.
The farmer's market pizza, made of seasonal vegetables, was a combination of caramelized onions, kale, pancetta and a light amount of cheese. It was a fantastic melding of ingredients.

The garganelli pasta was my least favorite, and the ragu had a bitter, off-putting taste. The gnocci was heavenly, soft pasta, surrounded by appealing gravy, but I tiptoed around the lamb, which didn't measure up to the brilliant pasta.

For dessert, I preferred the cannoli plate, which presented three bite-size cannoli in lemon, chocolate and pistachio. The pistachio was the best, with a refreshing, full-bodied, rich flavor. The gelato tasted more like chocolate ice cream, lacking the rich, dense consistency and taste of premier gelato.
Servers here are particularly attentive, checking in on us frequently. We never felt neglected, despite the large number of dining parties who were there on our first visit. They're eager to please, urging you to fill out a written form with feedback.
Mani Osteria is a great new dining spot where you can bring the kids, and still feel like you're having a sophisticated night on the town. But my comments are already being overshadowed by the many customers who have already made this discovery.
Julie Halpert reviews restaurants for AnnArbor.com.