Posted on
Sun, Jul 25, 2010 : 5:36 a.m.
Local artist seeking T-shirt donations for ArtPrize project
By Courtney Rabideau
When searching for the next medium for her artwork, Ann Arbor artist Margaret Parker looked no further than the clothes on her back.
"T-shirts were something I already knew," Parker said, "and I was really interested in the idea of transformation — what one shirt could turn into."
In a press release about her project, Parker said, "T-shirts are so individual — they're like a second skin. They're the shape of a human torso, and the messages printed on them make them personal. No matter how the shirt is reshaped, the individual quality can still be felt. This makes for very interesting art material."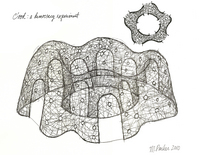 Photo by Margaret Parker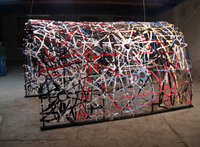 Photo by Margaret Parker
A graduate of the University of Michigan's School of Art & Design, Parker — who is also chair of the city's Public Art Commission — is using T-shirts again this year to create her second project for the Grand Rapids art competition ArtPrize, which takes place in the middle of September. Last year, Parker entered her project "Escape/Return Escape/Regresso," a tunnel consisting of woven T-shirts from Latin American countries. This year, however, Parker is turning to shirts from a little closer to home to use as tools in her piece.
With about 75 shirts so far, Parker is looking to use around 250 in the entire piece, this time focusing on shirts emblazoned with Michigan's name, or a city or town in Michigan. Although Parker originally began her work by collecting the T-shirts herself, the project has grown and now relies on donations to sustain it.
For this year's event, Parker will use the donated shirts to construct "C'ood: a democracy experiment," which Parker describes as "an outdoor participatory project about searching for the common good." The project is a circular tunnel built on a wooden floor with metal arches attached, covered in fencing and woven with Michigan T-shirts. The piece reaches 10' high and 24' wide. The tunnel itself contains five entrances. Each entrance is woven with shirts of one color, which later meet to form a multicolor tapestry. The text from all the shirts is recorded and written on the floor of the project, becoming an elemental part of the piece. The project was selected specifically by the Chief Curator from Frederik Meijer Gardens to be installed at Calder Plaza at Grand Rapids' city hall.
To help Parker complete "C'ood," and participate in her project, donate short-sleeved shirts with no pockets or collars that say the name of a Michigan town or city, or simply the word "Michigan." Any color or size, old or new, is welcome. Shirts are needed before the end of July, and those willing to participate are asked to drop off or mail the shirts to Parker at 210 South Ashley Street, Ann Arbor, MI 48104.
Parker said, "Americans come from so many different cultures and backgrounds, we don't have a unified historical legacy that says what 'culture' is, as many other countries do. But we do have the ideal of working for the common good. The experiment here is whether we can see the beauty of that, see the beauty of merging some of our individuality into a common benefit for all."