Posted on
Wed, Nov 23, 2011 : 11:22 a.m.
'Margin Call' is this year's 'The Social Network'
By Ryan Levin
It's not easy drumming up excitement for writer/director J.C. Chandor's debut Wall Street masterpiece "Margin Call." The movie doesn't really sell itself well. To follow up a description of "24 hours at the onset of the 2008 mortgage securities and market crisis on the trading floor of a major investment bank" with the words engrossing, thrilling and insightful strains the imagination, to say the least (intensely relevant, you might believe).
Developed by actor Zachary Quinto's production company Before the Door Pictures, "Margin Call" features the stellar lineup of Kevin Spacey, Paul Bettany, Stanley Tucci, Jeremy Irons, Demi Moore and Zachary Quinto. Not there to just drag Oscar credentials through the script, every actor is at the top of their game.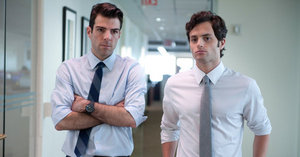 Kevin Spacey
, especially, gives a performance that makes me question why I haven't been following the actor since the most visible peaks of his career on either side of the turn of the millennium, the films everybody knows him for ('American Beauty,' 'The Usual Suspects,' 'K-Pax').
Sporting a distinguished amount of grey in his hair, looking slightly overweight in suspenders and more fully his 52 years of age than we usually see, Spacey plays the investment bank's head of sales and early on gives a face and definition to the humanizing angle "Margin Call" aims to lay on the managers, millionaires and traders who drove the economy into the dirt.
Beneath the bland and esoteric title, "Margin Call" is possibly the best film I've seen all year. In many ways, it is this year's "The Social Network," as verbose, timely and beautifully shot as David Fincher's 2010 Oscar-nominated Facebook movie. Together the two films have helped to modernize pop culture's mental image of corporate greed and the corrupted American Dream to include the young, rising generation of ivy league geniuses whose ruthless ambition is driven by a fanatic, nerdy obsession with numbers.
Virtuosity in numbers is how they succeed at what they do, and the numbers, in the form of astronomically large salaries, are their proof of domination. Penn Badgley's character, a junior trader on Spacey's floor, personifies this. He plays a recurring game of "guess how much that guy makes" with whoever's around in the few moments when the drama grows thin. The listeners fake disinterest—even chagrin—until they hear the actual sum; then you can literally see the wonderment, the greed and the bloodlust light up their eyes.
"Margin Call" opens on the arrival of a positively ruthless human resources team as they round up and fire the vast majority of workers and traders on Spacey's floor. Risk analyst Eric Dale (the ever-amazing Stanley Tucci) is among the culled. Dale was on the cusp of discovering the precipitous downturn of mortgage-based securities about to beset the company and Wall Street at large and hands, on his way out, a small pen drive to Zachary Quinto's character, telling him there is something on it he should see. And be careful, he adds.
What follows is an odyssey of bad news traveling up the corporate ladder, passed from person to person who see their hands and actions as not their own, but forced by the invisible will of the economy. "I had no choice" is a phrase often uttered in "Margin Call." This is peppered with well-written soliloquies on the parts of Paul Bettany, Jeremy Irons and Kevin Spacey that aptly lay out the psychological and philosophical ills that created our failing debt-based economy of credit cards and hefty mortgage payments, an economy that exalts and generously remunerates the number wizards who can create value out of nothing and make 1 equal 2.
"Margin Call" is a rich and wordy movie. But for a viewer with little to marginal knowledge of the ethical morass of financial practices on Wall Street, it serves as I think a better explanation of what went wrong at the start of this recession than any non-fiction article or talking head I've run into yet. Although it has just ended its local theatrical run, it will soon be available on home video and other outlets. I strongly recommend you give it a try.
Ryan Levin is a University of Michigan Screen Arts and Cultures graduate and a film and comedy blogger. He currently moonlights as a waiter and bartender at the Ann Arbor Comedy Showcase.