Posted on
Mon, Jan 11, 2010 : 5:27 a.m.
Maria Bamford bringing her warped comedy to town
By Kevin Ransom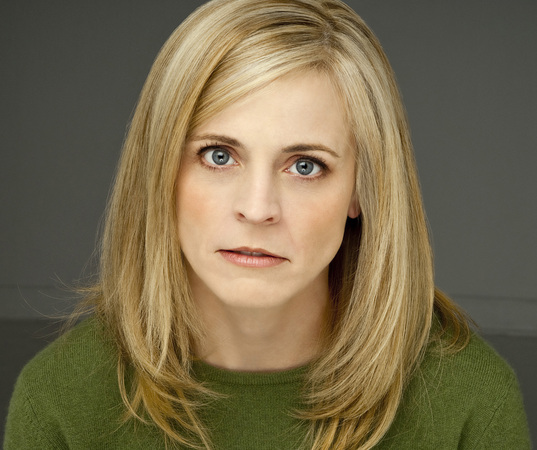 If you haven't caught Maria Bamford's stand-up act, you should. Because, she's flat-out hilarious — but in an odd, almost surreal way. Indeed, one could make the case that she is one of the most distinctive comics on the scene today.
Take "The Maria Bamford Show," her "web sitcom" that she posted online, 1 episode at a time, for a few months in 2007. At the beginning of the first episode, the first thing viewers saw was a black screen with white type announcing that, in 2006, Maria Bamford "suffered a breakdown onstage," and that she had moved from Los Angeles back to her hometown of Duluth, Minnesota to live with her mother.
What followed were 20 short web episodes of Bamford "documenting" her life, in darkly comic fashion, back in Duluth — recovering from her breakdown, coping with depression and dealing with her mother, sister and old acquaintances, all of whom came off as either very bizarre, super-critical, or even cruel. But only Bamford appeared onscreen, always talking directly into the camera to relay these exchanges and incidents. She "portrayed" everyone else, using exaggerated vocal imitations.
Except it was all fiction. She never really had the breakdown, and never moved back in with her mother. It was just the premise for the sitcom. But, at the outset, some fans thought that she had indeed had the breakdown and moved back to Duluth.
"Yeah, it never actually had a 'disclaimer' on the screen, saying that this was a fictional story," says Bamford, who brings her act to the Ann Arbor Comedy Showcase for a 3-night stand, Thursday through Saturday. "So I suppose that created some excitement initially," before it became obvious that it was a fictional storyline.
"In truth, though, I have suffered from depression and OCD (obsessive compulsive disorder), and there is a history of mental illness in my family, and one of my fears used to be that I would go mad, because of that family history," says Bamford in her girlish, quizzical voice.
"And sometimes, living in LA, it's bit isolating, with everyone always inside their cars. So I'd fantasize: 'Wouldn't it great to live in Duluth again?' — because back there, everyone knows each other, and everything is easy to get to. So the web show was my way of having that fantasy, in a comic way, without actually having to move all the way back across the country," says Bamford by phone from her actual home in LA.
Edgy stuff. And Bamford's onstage presence and material is also bizarrely funny. She's a true vocal contortionist, and some of her routines are rapid, stream-of-consciousness trips through various topics and 'set pieces,' wherein Bamford portrays all the characters, often using oddball, surreal voices that are alternately cartoon-like, deadpan, or comically exaggerated imitations of archetypes. Listen to Maria Bamford's track on the Comedy Death-Ray CD (MP3).
Bamford first became well-known to the mainstream audience in mid-decade, when she participated in "The Comedians of Comedy" tour, which became a Comedy Central TV series. Last spring, Bamford released "Unwanted Thoughts Syndrome," a combination CD and DVD that made many top-10 comedy album lists for '09. The CD is a live recording of 1 of her stand-up shows, and the DVD compiles all 20 episodes of her web sitcom.
Bamford lampoons her mother and her sister in her stand-up act as generously as she did in the web-com. On "Unwanted Thoughts," she kicks off the set talking about how she leaves messages on her mother's answering machine "pretending to be Baby Jesus" — and then follows with an over-the-top comic imitation of a baby's voice, saying bizarre things that no one would never expect to hear from "Baby Jesus." Bamford also imitates her mother's reaction, which she expresses by slipping into the classic, nasal, upper-Midwest-twang. (Her mom is originally from Marquette, Michigan.) And Bamford portrays her sister as another archetype — the super-uptight, high-strung, fast-talking, hyper-controlling professional woman. (Her sister is a doctor — specifically, a pathologist.) So, how accurate are these "impressions" of family members, and do these imitations anger her mom and sister?
"Well, my imitation of my mom is pretty close to the real deal," says Bamford with a laugh. "My friends often think she's joking — when she really isn't. But the way I imitate my sister is just me taking certain characteristics, and amplifying them for comic effect. She isn't really that tense, and she's not really gnawing at her fingernails all the time.
"My sister was irritated with me at first, but her friends told her, 'No, it's funny,' so she's fine with it now. And my mom is cool with it, although if I say something she doesn't like, she'll say so."
One of the funniest bits on the album is Bamford talking about wanting to learn more about geography, which takes her on a verbal globe-trotting trip, allowing her to send up archetypes of various sorts — and also provide some sharp social commentary. One edgy example is when she inhabits the stereotypical, uninformed, uneducated Midwesterner who is easily misled by politicians of a certain stripe: "What's that? Brownshirts? We all do the same thing? Sounds great. We don't like Jews, either."
However, the title of Bamford's CD/DVD is no joke. She says that, for many years, she did in fact suffer from Unwanted Thoughts Syndrome, a form of OCD. "I began having these unwanted thoughts when I was a kid. I couldn't sleep at night because I had these anxious thought, which I couldn't stop, that I was committing some violent act against my friends and family.
So, due to those frightening thoughts, I avoided having close friendships or relationships for more than 20 years," she says. Bamford finally got relief when she found information about the disorder on the Internet — and found a therapist who specialized in it. "He did this weird cognitive behavioral stuff, and within 2 months, I wasn't having those thoughts any more. Sometimes, I feel them coming back, but not nearly as severely. And when they do return, now I know how to deal with them."
PREVIEW Maria Bamford Who: Stand-up comic who first gained national attention on "The Comedians of Comedy" show on Comedy Central. What: Odd, surreal, stream-of-consciousness humor, often marked by Bamford's entertaining vocal contortions. Where: Ann Arbor Comedy Showcase, 314 East Liberty Street. When: Thursday, 8 p.m.; Friday, 8 and 10:30 p.m.; Saturday, 8 and 10:30 p.m. How much: $10-$15. Details: 734-996-9080, Comedy Showcase web site.
Kevin Ransom is a free-lance writer who covers comedy and music for AnnArbor.com. He can be reached at KevinRansom10@aol.com.
Maria Bamford talks about "Star Trek" on "The Bob & Tom Show":