Posted on
Tue, Jan 22, 2013 : 5:26 a.m.
Mariachi Vargas de Tecalitan bringing 100-plus years of Mexican music tradition to Hill Auditorium
By Will Stewart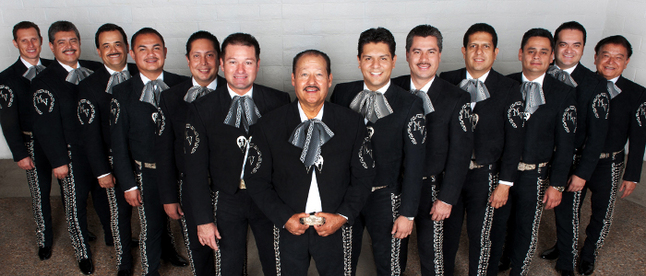 As the Rolling Stones celebrate their 50th anniversary this year, take a moment to consider the Mexican musical institution that is
Mariachi Vargas de Tecalitan
.
This year marks the band's 115th as one of the premier exponents of traditional Mexican music. Mariachi Vargas de Tecalitan performs a special matinee on Jan. 27 at Hill Auditorium.
"The mariachi is my life," musical director Jose "Pepe" Martinez said. "Ever since I started learning music at 10 years old, it has always been the mariachi."
Not only has Martinez devoted his life to mariachi, he's spent the majority of it at the helm of Mariachi Vargas de Tecalitan, having taken control of the ensemble more than 38 years ago.
Not only is it his life's work, it's also an important facet in preserving traditional Mexican music, which has been passed down from generation to generation by mariachis like Martinez and his rotating cast of bandmates.
PREVIEW
Mariachi Vargas de Tecalitan
Who: Very long-lived Mexican ensemble.
What: Traditional Mexican music.
Where: Hill Auditorium, 825 N. University Ave.
When: Sunday, Jan. 27, 4 p.m.
How much: $10-$46. Tickets available from ums.org.
In fact, it was Martinez's own "popurris," medleys of popular traditional pieces that are melded together around common cultural themes, that brought Martinez to the attention of Mariachi Vargas de Tecalitan's owner, Ruben Fuentes, when Martinez was still a young man.
At the time, Martinez was fronting his own popular mariachi band. But the opportunity to take over Mariachi Vargas de Tecalitan proved irresistible.
He handed the reins of his own band over to his brother and he's never looked back.
"I've been the director for 38 years, and since the time the spirit was born in me to be the director, I haven't changed course," he said.
During the ensuing four decades, Mariachi Vargas de Tecalitan has performed around the globe, both on its own and in collaboration with some of the world's finest orchestras.
In addition to Martinez's own popurris about everything from traditional Mexican village life to cockfighting, the band has performed Martinez's recently completed opera, "Cruza la Cara de la Luna"
The band, he said, is nothing if not adventurous.
"Sometimes we play very Mexican things, sometimes, classical music, sometimes boleros, sometimes Spanish songs, sometimes things from other countries," he said.
In fact, the only thing for sure at a Mariachi Vargas de Tecalitan performance is the instrumentation, which includes vihuela, a high-pitched, round-backed guitar which provides rhythm, and a bass guitar called a guitarrón, as well as violins and horns to create a rich, brassy sound that's as traditional-sounding as it is infectious.
"Everybody has their style, their way of working, and the love they have for it," Martine said. "Mariachi Vargas has a special love that it gives to people everywhere we play. This is our special magic."
"People fall in love with our music and they fall in love with us!"
Just as they have for 115 years … and counting.