Posted on
Tue, Apr 27, 2010 : 11:56 p.m.
From solo to Straits, Mark Knopfler's guitar artistry shines at Michigan Theater
By Will Stewart
Mark Knopfler's concert at the Michigan Theater Tuesday started with a a lilting reel played on flute and violin. But the symbolic 1st moment came a few bars later, when Knopfler coaxed the 1st few notes out of his Stratocaster.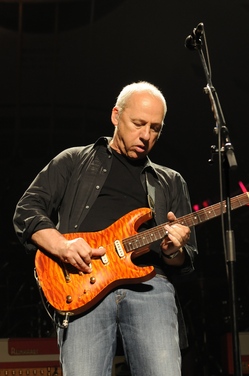 image courtesy Wikimedia Commons
You could almost hear the audience breathe a collective sigh of recognition. That's how distinctive Knopfler's playing is and just how ubiquitous his sound was when he was filling stadiums as frontman of Dire Straits during the 1980s.
For the next 90 minutes, Knopfler and his stellar 7-piece band toed the line between familiarity and newly charted territory, covering the cream of the Dire Straits catalog, as well as some choice cuts from the 2 decades since that band was the biggest act in the world.
And here's the thing: it all sounded like Mark Knopfler; and it was all pretty darned good.
It's not a complicated recipe to follow. Start with strong material — Knopfler has always been a 1st-rate, evocative songwriter — and add in a great band filled with ringers like Tim O'Brien on anything with strings and Guy Fletcher on anything with keys. And then set loose the band on the material, interspersing it all with some of the most distinctive guitar fingerpicking ever played.
Knopfler's post-Dire Straits work covers the spectrum of American music, from bluegrass to blues to country, and his best songs — like "Sailing to Philadelphia" and "Coyote" mix those styles with Celtic flavors. And Knopfler has kept the band loose enough to follow his cues, giving the songs extra life and keeping them from sounding rote.
Mark Knopfler performing "Sailing to Philadelphia" live:
Not surprisingly, the biggest cheers — and in some cases, chills — came courtesy of the Dire Straits material. With the exception of the requisite "Sultans of Swing" and the inferior "So Far Away," Knopfler stayed away from his massive hits in favor of more elegant songs, like "Romeo and Juliet" and the timeless "Telegraph Road."
In the older material, all the familiar parts of the arrangements were there, but Knopfler's inventive playing kept them fresh and new sounding.
Which, in fact, you could say about the entire show, which continually found new and interesting ways of saying the same musical things Knopfler has been saying for an entire career.
Will Stewart is a free-lance writer for AnnArbor.com.