Posted on
Tue, Feb 5, 2013 : 10:22 a.m.
New summer event planned in Manchester as Riverfolk Festival winds down
By Kevin Ransom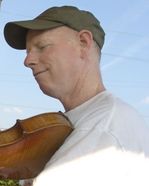 Eliyahu Gurfinkel | Ann Arbor News file photo
When
Mark Palms
announced recently that, after 13 years, he was resigning as the artistic director of the
Riverfolk Music & Arts Festival
in Manchester, it marked the end of a musical era for the town—because it basically means the festival will not continue.
But another Manchester fest will debut this summer that in some ways will fill the void left by the Riverfolk Fest, and will include other types of events besides music and art.
Palms—who in 2000 founded the Riverfolk Fest, held at Carr Park—served as artistic director on a volunteer, unpaid basis, like everyone else who helped to make the fest happen. He was also the one who chose and booked the acts, who organized and managed the fest every year, and who ran the associated Jam Camp.
So, it was a huge investment of time and energy, and Manchester is a small community, so eventually the Fest's small-town volunteer staff became overburdened, says Palms. And there was also the economic factor. After the Wall Street meltdown of 2008, and the ensuing Great Recession, Riverfolk attendance was down in 2009 and 2010—also due in part to bad weather. So, starting in 2011, the fest was downscaled and split into two events—a Cajun dance party on Friday night at Carr Park, followed by a festival / concert at The Ark the following night.
And when Palms was recently informed that some other Manchester community groups were organizing a new community festival, he decided it was time to step back, and "let some new folks fire their own engines, and do whatever kind of festival they decided to do," says Palms.
"After I'd been doing Riverfolk for a few years, I started thinking that I would probably do it for about 10 years total, and then let the next generation take over," says Palms. "So, now that it's been 13 years, the time seems right."
The new fest will be the Manchester Street Festival, says Amelia Woods, one of the new fest's organizers and a trustee on the Manchester Village Council. She's also the race director for Run Manchester, which will now be one of the centerpiece events for the Manchester Street Festival.
The new fest will be held the first Saturday in August, and will include 5K and 10K runs and a one-mile Fun Run Manchester, plus a bed race, an art show, beer tents, food, and music at four locations, says Woods—including "a main stage on Main Street, the Mill porch by the river, and the gazebo at Wooster Park."
"We want to make sure there will be music playing at all times, at one spot or another, from 9 a.m to 9 p.m.," she says. "We'll have high school bands, and we'll be booking singers and groups from various genres—rock, folk, blues, bluegrass, Cajun, and more," says Woods. "It'll be a lot of local artists, but some national ones, too."
In recent years, The Riverfolk Music & Arts Organization, the umbrella group that presented the Riverfolk Fest, has also sponsored a local Art Center, community theater shows, the Riverfolk Jam Camp, the annual gazebo concerts and, more recently, a new Cultural Art Strings program. The organization "will continue to fulfill its mission of nurturing cultural arts in the community," says Palms, although he says he's not yet sure about the future of the Jam Camp.
Looking back, Palms has many warm memories of the various Riverfolk Fests he booked and organized. "Being there, at such a beautiful park, and presenting great artists like Vienna Teng, and Susan Werner, and George Bedard and the Kingpins, and Hot Club of Cowtown—those were great experiences. And they're great memories," says Palms.
Other acts who played at the fest during its 13-year run include The Red Stick Ramblers, Bill Kirchen, The Glengarry Boys, Tangerine Trousers, Billy Jonas, The Steel Wheels, Laurie Lewis, Joel Mabus, Dick Siegel & the Brandos, Seth Bernard & Daisy May, Steppin in It, Jan Krist, Matt Watroba, Adrianne Young & Little Sadie, Millish, Red Mountain White Trash, The Heatons, Woody Pines and many others.
Palms liked to book relatively unknown acts from other regions, to introduce them to local audiences. For example, "we were the first Michigan festival to book the Red Stick Ramblers, in 2002, before many people around here knew who they were. They played here four years in a row, then went on to sweep the festival circuit, then started their own fest, and now they're doing music for films and TV," says Palms.
Palms, a retired grade-school music teacher, also sings and plays guitar / fiddle / banjo in the folk / bluegrass / roots-music trio The Raisin Pickers. He's also in a Cajun-Zydeco group, Creole Du Nord. The Raisin Pickers includes his wife, Carol Wells Palms (string bass / vocals / fiddle) and David Mosher (mandolin / fiddle / guitar / vocals).
That's another reason Palms decided to step down: so he could devote more time to making music. Indeed, The Raisin Pickers have a new album coming out this summer, their first in 12 years.
"We used to put one out every two years, but then we got so busy with the festival," he says. "We have 20 new original songs to choose from, some of which have been on the shelf for almost 12 years. This will be a different-sounding record for us. Over those 12 years, we've all done a lot of different projects, and played in other groups, so this one will be more musically diverse, in terms of the styles we draw from.
"Plus, many of the songs are inspired by the events that have taken place America over the last 10 years or so. So, there's some social commentary in there that I think a lot of Americans will be able to relate to."