Posted on
Thu, Sep 15, 2011 : 5:28 a.m.
Mark's Carts offers a terrific alternative dining option downtown
By Julie Halpert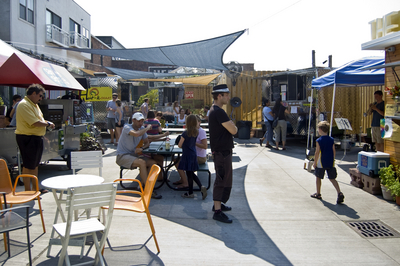 Joseph Tobianski | AnnArbor.com
When Mark Hodesh started offering space for a few food carts behind Downtown Home & Garden in May, he never envisioned that his enterprise would become so popular. Now, just three months later, the half-dozen carts are a popular downtown casual-dining option. On a recent summer day, everyone from professionals on a lunch break enjoying the midday sun to families with young children flocked to the new community gathering place.
The notion of a food cart is "kind of romantic. It's easy to cheer for," Hodesh said.
Mark's Carts features food stands that provide a variety of healthful cuisine, everything from Spanish, to Indian, Asian and vegan. The choices can be overwhelming, and it took us nearly 15 minutes to decide which type of food to order on our first visit.
Like any stand, you place your order and wait for it, but if you want to get food from different carts, it can take some time during the crowded lunch hour. Everything is made fresh and ready-to-order, which means long lines at peak times.
We tried to sample from as many carts as possible on our first visit. I'll start with the standouts:
• The beef brisket sandwich at the Humble Hogs Heritage Bistro cart. The beef was incredibly tender, benefitting from a five hour low-temperature braising process. It was nicely complemented by Carolina-style cabbage slaw and was served on delicious Zingerman's bakehouse white bread. The Korean barbecue beef sandwich from eat, which specializes in hot meat on a bun, was similarly first-rate; however, eat has been so successful that its owners recently closed their cart so they can open a stand-alone location.
RESTAURANT REVIEW
Mark's Carts
Off Washington Street between First and Ashley streets, downtown Ann Arbor
734-213-7482


Hours: Varied, based on the cart. Details are on the website. Carts will be allowed to stay open until the first Saturday in November and will be allowed to resume business on March 1, 2012.


Plastic: Some carts take credit cards; others don't.


Liquor: No.


Prices: Inexpensive. Tacos are $3; many dishes are in the $8 range.


Value: Good.


Noise level: Moderate.


Wheelchair access: Acceptable, but it is a tight space.
• The homemade ice cream sandwich from The Lunch Room, which offers only vegan food. Refreshing vegan coconut ice cream was surrounded by two homemade chocolate chip cookies. The chocolate chip cookies were also soft, chewy and delicious. Let me just say that vegan never tasted so good.
• I also enjoyed this cart's hummus sandwich. The hummus was made with hand-squeezed lemon juice and homemade tahini and topped with vegetables from the Farmers Market. This was served on fresh Motown multigrain bread made by Avalon.
• The vegetable samosa from Hut-K Chaats. I've had the pleasure of dining in this restaurant before and was pleased to see this cart. The samosa was as good here as it was in the restaurant. It had a dense, flavorful taste and is a healthier version of the traditional vegetable samosa, in a multi-grain wrap instead of a deep-fried crust. It was great when washed down by Hut-K Chaats' mango, avocado and soy drink.

Runner-ups include the corn dogs at Debajo del Sol, with quality meat wrapped in a thick cornmeal crust, perfect when dipped in the mustard-flavored sauce. Patatas were a lighter version of the French fry and came with a tasty aioli dipping sauce.
I also enjoyed the two types of tacos from Darcy's Cart. The black bean taco had a full-bodied taste, and the spicy green chile cheeseburger taco contained a nice mix of ingredients: grass-fed, local ground beef; onion; green chiles; melted cheese; fresh tomato; and creamy chipotle garlic sauce. The slightly spicy taco was even better when washed down by the unique-tasting watermelon juice.

San Street, one of the Zingerman's community of businesses, provided an interesting dish: three tiny buns with an assortment of fixings. I most enjoyed the Fun Guy, which had an abundance of delicious shiitake mushrooms, while I thought the other two rolls, which featured pork, weren't as solid.

My daughter and I didn't care for Humble Hogs' less traditional macaroni and cheese, which used gruyere cheese that didn't work well. That's too bad, considering there are few options here for non-adventurous child diners, except for a kids meal with peanut butter and jelly offered by The Lunch Room.
There also weren't many dessert offerings. Darcy's Cart was already out of the flourless chocolate cake on our first visit, but we got to sample it the next time around. It had a heavenly, fudgy texture, though the piece was tiny.
Prices are reasonable at the carts, but bring cash; many of the stands don't take credit cards.

There's so much variety — and generally high-quality ingredients — that you can't go wrong venturing to Mark's Carts. It's an upscale version of street food, with enough selection to please most palates.
Julie Halpert reviews restaurants for AnnArbor.com.