Posted on
Wed, Dec 14, 2011 : 5:57 a.m.
Local jazz singer Marlena Studer celebrating new Christmas album with Kerrytown Concert House show
By Kevin Ransom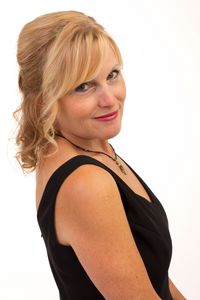 You might say that
Marlena Studer
is a bit of a Renaissance woman.
She's certainly versatile and multi-talented. She has a PhD in sociology, she worked as a sociology professor for 10 years at Tulane University in New Orleans, she's a wine importer / entrepreneur, and she runs a non-profit group.
Oh, and, she's also a talented, expressive, seductive jazz singer who's worked with some of the top jazz musicians in the Ann Arbor / Detroit area since returning here in 2001. (After leaving New Orleans in '99, she also worked as a professor at American University before coming back to Ann Arbor—she did a previous stint here when she earned her PhD from the University of Michigan in the late 1980s.)
Studer has released three outstanding albums since returning to Ann Arbor and deciding she wanted to devote more of her time to making music.
One of those, the very appealing "A Jazzy Little Christmas," is released this month, and to celebrate, she and some of the area's top players will perform at Kerrytown Concert House on Sunday. The show is also a CD release party, and copies of the disc will be for sale at the gig, where she'll be backed by George Benson on saxophone, Cliff Monear on piano, Paul Keller on bass and Scott Kretzer on drums.
A silent auction will also be held at the concert, with proceeds going to the Michigan Ovarian Cancer Alliance.
Studer's two previous albums were the equally stellar "Crazy He Calls Me" in 2004, and "Sip It Slowly" in 2006. Studer says that, "by popular request, I'll probably also do some other jazz tunes" in addition to Christmas songs.
Prior to returning to to Ann Arbor, Studer had performed with the Jubilation big band and the Jazz Barristers quartet, both in Washington. Before that, her public performing was mostly in church choirs, a capella choirs, and some musical theater.
But it was while she was living in New Orleans that she "really got bit by the jazz bug," she says.
PREVIEW
Marlena Studer: "A Jazzy Little Christmas"
Who: Ann Arbor jazz singer who's also a wine importer and former sociology professor.
What: A holiday jazz concert and CD release party for her new album, "A Jazzy Little Christmas." A silent auction will also be held, with proceeds going to the Michigan Ovarian Cancer Alliance.
Where: Kerrytown Concert House, 415 N. 4th Avenue.
When: Sunday, 6 p.m.
How much: $10-$25 (students, $5) Details: and reservations: 734-769-2999 or online.
"That's when I really began to listen to jazz, and feel what jazz has to offer, which is more of an improvisational dialogue between the singer and the musicians. I discovered how it had a whole different feel, compared to singing classical pieces in choirs—it allows for music to come out in unstructured way, and gives you an opportunity to create the music on the spot, and to make music based its feel and emotion."
When Studer came back to Ann Arbor in '01, it was because her then-husband had been offered a job at the University of Michigan. But she got divorced in 2005, and by then, she had been off of the academic "tenure track" for several years.
So, she pondered what direction to go in, and eventually decided to start her wine business, and created a label, Solterra, which imports wines from Chile and distributes them in Michigan and various other states.
She also developed a label devoted to Bo Schembechler after he died. She nicknamed the wines Bo Merlot and Bo Blanc, and a percentage of the proceeds ($200,000 altogether) went to the University of Michigan Cardiovascular Center.
When she launched her wine business, she had to cut back on her performing schedule, mostly doing house concerts and other private events, and devoting most of her time to that business, which continues to be her "main gig."
But a couple of years ago, she says, she "got the bug" to ramp up her performing and recording; hence the new Christmas album and gig.
As a jazz singer, Studer is mostly drawn to doing variations / improvisations on standards. "I love helping to keep those standards alive, because they are such wonderfully crafted pieces," she says. "But I, and the musicians I like to work with, like to develop new interpretations, and find new ways of expressing them. And sometimes that is no small task.
"But I also like taking songs from outside of the standards songbook, and reinterpreting them as jazz songs, like on the Christmas album where we took some very well-known Christmas songs, like 'Deck the Halls' and 'Jingle Bells,' and improvised new interpretations."
On that disc, Studer also lends her sensual, beckoning voice to Christmas classics "The Christmas Song," "Santa Baby", "Baby It's Cold Outside" and "Let It Snow."
As a singer, Studer cites Carmen McRae, Nancy Wilson and Sarah Vaughan as among her greatest influences or inspirations, and also admires the work of Diana Krall.
"But I think my favorite singer of all time is Eva Casady—she was one of the most versatile, vocally rich female singers ever, and she was so eclectic, stylistically." (Casady died of melanoma in 1996, but several albums of her recordings have been released posthumously, and she's become a revered and beloved cult hero on the strength of those recordings.) Over the last several years, as Studer has delved deeper into jazz singing, she says it's been a liberating experience, compared to her former life in academia.
"When I sing jazz, you can hear what I feel," she says. "It's coming from the heart and soul, and those emotions I'm expressing are very real, and I love being able to express those feelings. That's very different than when I was an academic, teaching sociology, and working with a lot of statistics, and where creativity and real emotion is often stifled.
"When I'm singing, I'm in a place where I can completely let go and express something that can only be expressed in music—those feelings of love, or lust, or regret…..That is certainly a different kind of experience, and a more creative one, than when I was writing as a sociologist and professor."
Kevin Ransom is a free-lance writer who covers music for AnnArbor.com. He can be reached at KevinRansom10@aol.com.