Posted on
Mon, Jan 21, 2013 : 5:49 a.m.
Martha Graham Dance Co. bringing landmark works to Power Center
By Susan Isaacs Nisbett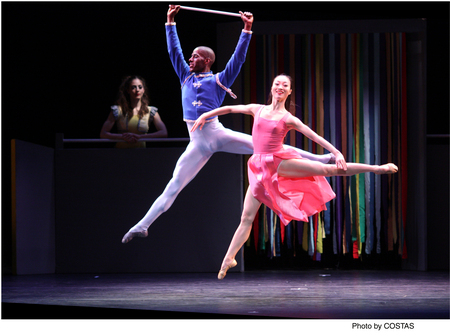 What becomes a legend most? If you believe those famous ads for Blackglama mink, your answer might be a luxurious, sweeping fur coat.
Martha Graham, iconic modern dance pioneer, was featured, imperious and arresting, in those ads. But these days, some two decades after her death, the question most on the minds of those who would preserve her legend and legacy is how to maintain and move forward a company, the Martha Graham Dance Company, that bears her name.
Like other modern dance companies founded to show the works of one creator, the Graham company has had to decide if it is a museum preserving Graham's work or a creative laboratory, as it was in Graham's day?
Ann Arbor gets to see some of the company's answers in two different programs Friday and Saturday at Power Center. The shows, presented by the University Musical Society, feature not only some of Graham's most profound and visceral works but new pieces by other choreographers that amplify the Graham heritage.
Part of the task of Artistic Director Janet Eilber, a former Graham principal who danced many roles Graham created for her as well as roles Graham passed on to her, has been curation: how to present Graham's dances in context for a new generation of dance-goers who may not even know the choreographer's name, let alone be familiar with Graham's ability to translate psychological drama into movement drama.
Friday evening's "Inner Landscape" program, which focuses on Graham's psychological dance explorations, is a great example of how Eilber has gone about her job.
PREVIEW
Martha Graham Dance Co.
Who: Famed modern-dance troupe.
What: Two evenings of dances by the legendary Graham and those who influenced her and whom she influenced. Different programs each night.
Where: Power Center for the Performing Arts, 121 Fletcher St.
When: Friday and Saturday, Jan. 25 and 26, 8 p.m.
How much: $22-$54, UMS Michigan League Ticket Office, 734-764-2538; and online at ums.org.
To help set the stage for "Inner Landscape," Eilber called on former Graham principal dancer
Peter Sparling
. Sparling calls Ann Arbor home, led his own eponymous company here for many years and still teaches at the University of Michigan.
As the audience arrives at Power Center, Sparling's video montage, "Beautiful Captives: Martha Graham and the Cinematic Id," will be loopiing in the auditorium. It overlays and juxtaposes materials Eilber sent him from the Graham archives with images from contemporaneous films that seemed to him to echo "the rhythms of Graham's body" and her preoccupation with the unconscious, with myth, and with psychoanalysis.
In other words, with musical assistance from his School of Music, Theatre & Dance colleague Eric Santos, Sparling is setting Graham within the cultural context of her time, using video editing techniques that are quite 21st century.
The 8-minute montage opens the program (Eilber has commissioned another from Sparling that will riff on Graham's abstract paean to love, "Diversion of Angels"), but it does not segue directly to Graham dances. First, Eilber's desire to give context leads to the 1914 "Witch Dance," made by the pioneering German Expressionist Mary Wigman, whose work influenced Graham.
That's a welcome opportunity in itself, but the dances that follows would be ample reward for any dance fan.
First, another rarely seen work, Graham's "Every Soul is a Circus," from 1939, materializes, a study of male-female relationships in which the female protagonist is, as in many of Graham's dances, both wise and foolish, at once inside and outside her own life drama. It's a work, unlike many Graham pieces, in which "a sly wit surfaces when it's done correctly," as Sparling noted.
"Every Soul," Sparling points out, is "an example of work of Martha's that has a very obvious relationship to psychoanalysis, the subconscious and the myth of the inner life."
All that and more come to the fore in one of Graham's greatest dances, "Night Journey," a retelling of the Oedipus myth in which Oedipus's wife and mother Jocasta—once danced, of course, by Graham herself—is the central character.
The 1947 dance, which Sparling calls "my favorite work of all time, the most layered and the most nuanced," is the heart of Friday's bill.
But the show is not content to stop in 1947, despite the work's continuing hold over contemporary audiences.
Another signature Graham work, the 1930 solo "Lamentation," a brief, highly sculptural and plastic portrait of grief, inspired Eilber to ask an array of contemporary choreographers to take it as their "theme" and create variations on it.
"It was Janet's idea to give the dancers more range and the company more range," Sparling said.
So Graham's short work, with its lone female dancer clad in that famous purple stretch-jersey tube, segues to three very different dances - from send-up to serious—by Aszure Barton, Yvonne Rainer and Lar Lubovitch.
Saturday evening, another iconic Graham work - the 1944 "Appalachian Spring," set to the well-loved score Copland wrote for Graham - is the program's focus.
It's a work that is scenically as spare as "Night Journey," with which it shares a set designer, the famed sculptor Isamu Noguchi. But though the dance brings out the inner lives of its protagonists on the Pennsylvania frontier—a young bride and the husbandman; the pioneer woman; a revivalist and his flock—it is equally remarkable in evoking the openness of the outer American landscape—so full of possibility and also of menace.
Eilber has paired this major work with a piece by Robert Wilson, whose opera"Einstein on the Beach" was revived last year in Ann Arbor. In "Snow on the Mesa," Wilson recalls the American images that were so central for Graham, both in her personal life and her dances. A little more than 50 years separate the two works, both of which are likely to resonate with viewers for 50 more and beyond.
Free educational events:
• Wednesday, 11:30 a.m., 3512 Haven Hall, 505 S. State St. "Too Sexy for Export?: Martha Graham and the US Department of State" Dance historian and critic Clare Croft (U-M School of Music, Theatre & Dance) explores the dance-based diplomacy work done by the iconic Modern dancemaker Martha Graham and her company during the Cold War era.
• Wednesday, 7:30 p.m. "You Can Dance: Martha Graham" Ann Arbor YMCA, 400 W. Washington St. Join dancers from the Martha Graham Dance Company for an exploration of the company's movement style. No dance training or experience necessary, and all levels, ages 13 and up, are welcome. Free, but first come, first served until studio reaches capacity. In collaboration with the Ann Arbor Y.
• Friday, 4 p.m. , Hatcher Library Gallery (Room 100), 913 S. University Ave. Panel Discussion: "Martha Graham In Retrospect: Legacies and Innovations" In conjunction with UMS, join Peter Sparling and Clare Croft (U-M Department of Dance) along with Martha Graham Dance Company artistic director Janet Eilber in a panel discussion exploring Graham's legacy, vital voice, and the frames for looking at, understanding, and interpreting her work. In collaboration with the U-M Institute for the Humanities, the Institute for Research on Women and Gender, and UMS.