Posted on
Sat, Nov 3, 2012 : 5:53 a.m.
Matisyahu bringing his unique musical mix to Blind Pig
By Kevin Ransom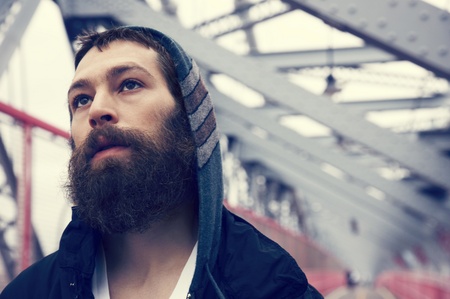 photo by Beau Grealy
NOTE: This concert has been moved from Pease Auditorium to the Blind Pig, 208 S. First St. in Ann Arbor.
Over the last year or so, Matisyahu has definitely been in a period of transition.
For starters, Matisyahu—who, beginning in 2004, first earned his rep on the strength of his mix of roots-reggae, alternative rock and hip-hop—released a new album in July, titled "Spark Seeker" that has a sleeker pop feel, bringing a futuristic, electro-beat element to the mix, while also drawing on world music and hip-hop. And he's shaved off his signature beard and forelocks, and distanced himself from the Hasidic Judaism tradition he first embraced as a teenager, and which often inspired the lyrics of his songs. And, he moved from his longtime home of Crown Heights, Brooklyn, to Los Angeles.
For "Spark Seeker," Matisyahu spent a year recording with producer Koool Kojak (Nicki Minaj, Travis Barker, Ke$ha) at Kojack's home studio in L.A, before the pair decamped to Israel and employed an open-ended approach to creating the final product. They booked a studio there and invited various musician friends—including Zohar Fresco, Daniel Zamir, Ravid Kahalani and rapper Shyne—to add their contributions. They combined the basic recorded tracks with the new, live instrumentation to create something new and eclectic.
One song, the tough-minded "Warrior" describes Matisyahu's feelings of disillusionment and frustration, while the single "Sunshine" is pushed along by an infectious, danceable groove.
PREVIEW
Matisyahu
Who: Unique artist who, early on, made his mark by mixing roots-reggae and alternative rock, with some hip-hop grooves. With the Constellations.
What: His latest album is mostly a sleeker pop effort, although it also incorporates hip-hop and world-music elements.
Where: Blind Pig, 208 S. First St, Ann Arbor.
When: Thursday, Nov. 8. Doors open at 6 p.m.
How much: $28 in advance, $30 day of show.
"Searchin'"synergizes a gnarly dancehall beat with chanted lyrics, and "I Believe in Love" is built around a sunny, ear-catching melody.
Matisyahu—who comes to Pease Auditorum on the campus of Eastern Michigan University in Ypsilanti on Thursday—has built up a sizeable audience over the last half-dozen years. So it was no surprise that "Spark Seeker" debuted at No. 19 on the Billboard 200 chart, No.1 on the Reggae Chart, No. 3 on the Independent Album Chart and No. 7 on the Digital Album Chart.
The week of the album's release, the song Warrior" also hit No.1 on the Reggae Single Chart, while "Sunshine" was right behind it at No. 2.
Matisyahu also made his acting debut this past summer. In the horror film "The Possession"—which also starred Kyra Sedgwick and Jeffrey Dean Morgan—he portrayed Tzadok, a Jewish exorcist who tries to save a young girl possessed by an evil spirit.
Matisyahu was born Matthew Miller. As a teen, he discovered reggae and hip-hop, and . also took on the traditional name Matisyahu.
From the very start of his performing career in the mid-2000s, he was definitely unique on the reggae-rap scene, with his traditional black suit, black hat and long beard. And his music clearly struck a chord -- he quickly built up a sizable audience.
Regarding his new musical direction on "Spark Seeker," he recently told Time magazine: "I tend to look at it as an evolution. I think my music has always been a mixture, depending on whom I'm working with — what band, what musicians, what producer. This record definitely has more of a sort of pop, urban hip-hop kind of feel to it, mixed with a world music vibe because we recorded in Israel and got a lot of Middle Eastern sounds from over there.
"I think the music is as good as it ever has been, regardless of what genre it is or what style it fits into," he continued. "I'm really proud of it — I'm proud of the words, I'm proud of the melodies, I'm proud of the instrumentation and the music. I think it has a strong message and it's going to help a lot of people."
When he decided to shave the beard and forelocks, he initially had no intention of telling his fans in advance.
"I was just gonna show up at a show, which I'm glad didn't happen, because people would have flipped," he told Interview magazine. "I went to bed, woke up, went to shul to pray at sunrise and came back. I was reading Twitter and someone had quoted my lyric from 'Thunder' - 'At the break of day, I look for you at sunrise, when the tide comes in, I'll lose my disguise.' That gave me courage, and I went and took a picture and tweeted with that quote."
So, at this point, he no longer considers himself a Hasidic Jew. "I don't really know if I would consider myself anything in particular," he told Time. "I would say I'm inspired in a Hasidic way but I certainly don't keep all the customs and rules I once did."
Kevin Ransom is a free-lance writer who covers music for AnnArbor.com. He can be reached at KevinRansom10@aol.com.