Posted on
Mon, Nov 19, 2012 : 5:40 a.m.
Matt Watroba returning to The Ark for traditional post-Thanksgiving concert
By Kevin Ransom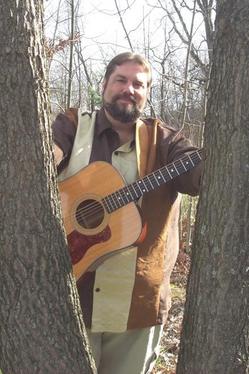 This has been a milestone year for folk singer Matt Watroba. Earlier in 2012, he celebrated his 25th anniversary as a performer.
For nearly all of those years, Watroba was based in the Ann Arbor / Detroit area, where he was even better known as the host of the "Folks Like Us" folk-music show on WDET-FM, Detroit's public radio station. (He also hosted that show on WEMU-FM for a little over a year in the mid-2000s.)
But in 2010, Watroba moved from Michigan to Ohio to take a job as a program host at FolkAlley.com, a folk-music internet-radio site produced by WKSU-FM at Kent State University, in Kent, Ohio.
The Ann Arbor / Detroit area continues to pull at Watroba, though—he travels back "home" to Michigan a couple of times a month, either to do live shows or to visit with his extended family.
And he's continued to do his annual day-after-Thanksgiving show at The Ark, which he will reprise on Friday. Last year, in fact, he celebrated another milestone: His 2011 Thanksgiving-weekend show was his 20th.
Over the years, he's presented that show "in every conceivable way," says Watroba with a laugh. "One year I had the YMCA Deep River Choir," he notes, and other years, he was accompanied by various local-music pals like Robert Jones, Neil Woodward, David Mosher, Gary Weisenburg and Katie Geddes.
"But last year, I decided to experiment, and just perform all by myself, except for having Katie sing with me on a few songs," says Watroba. "And I found that it was the best one I had ever done. I went out there with no plan—I just trusted my many years of performing experience, and my knowledge of The Ark, and I never had more fun than I did at that one."
PREVIEW
Matt Watroba
Who: Longtime Ann Arbor / Detroit-area folk singer and radio host who moved to Ohio two years ago to be a host on FolkAlley.com.
What: This will be Watroba's 21st annual day-after-Thanksgiving show at The Ark. He's flying solo, except for a few vocal collaborations with local singer Katie Geddes.
Where: The Ark, 316 S. Main St.
When: Friday, 8 p.m.
How much: $15. Tickets available from The Ark box office (with no service charge); Michigan Union Ticket Office, 530 S. State St.; Herb David Guitar Studio, 302 E. Liberty St.; or online from MUTO.
So, Watroba is again flying solo on Friday, except for a few tunes when he'll again invite Geddes to accompany him on vocals.
"Last year, I just let the spirit of the room, and the audience, lead me. I ended up singing a couple of songs I'd never performed at a show before—I'd just done them at home, or sitting around a campfire.
"It's a blast playing and singing with other people, but when I'm up there by myself, I really have to focus more, and react more to the audience," says Watroba. "It allows for those spontaneous moments that you don't have when you've rehearsed with a band. You really have to trust yourself, and I can't imagine feeling more confident in any other room than The Ark. I felt like I was tapping into the good will that I had built up with The Ark audience over the years."
Recently, Watroba has been incorporating storytelling into his shows more, so on Friday, he says he'll talk about folk-music greats like Woody Guthrie, Townes Van Zant, Guy Clark and Utah Phillips—all of whom were big influences on Watroba - and will also perform some of their songs. He'll also do several of his own tunes, some dating back to his first record. (His latest album, "Shine Right Through the Dark," was released in '10.)
Watroba was a schoolteacher for many years before he quit to devote himself full-time to music. In addition to evening performances at folk clubs and other venues, he also presented a daytime educational program with bluesman Jones—mostly in schools, but not exclusively—that explored the histories and eventual intersection of folk music derived from the British Isles, and the blues, which of course evolved from West African music.
But after the recession hit in '08, bookings for that daytime program plummeted. Then, in '09, Watroba saw the posting for the Folk Alley job. "When I looked at it, it seemed like the job description was written for me," says Watroba.
Taking that job meant he could no longer devote himself to performing music full-time. But, being a radio host is also "performing," notes Watroba.
"Yeah, when you're hosting a radio show, it's just a different type of performing," he says. "And when I'm hosting the show, the neat thing is that I have everyone's repertoire to work with, not just mine."
He's on FolkAlley.com twice a day: A pre-taped show streams from 5 a.m. to 7 a.m., and then he does a live show from 2-4 p.m. His FolkAlley.com show is a bit different from his old "Folks Like Us" show in that FolkAlley.com skews more toward contemporary folk music, while Watroba has always been more drawn to the traditional-folk style.
"That's been a great education for me—I've learned about artists I wasn't familiar with before. And, I am mostly a 'song guy'—I like well-written, well-crafted songs, so the style isn't as important to me as the song. We have a database of 22,000 songs that we work from, but I'm also free to add anything else that I want to. But if someone were to listen to my show regularly, they would probably indeed conclude that I'm more drawn to the traditional side of things."
Watroba still gets out and does about four live-music gigs a month, and he's also organized a "monthly sing" in Kent, in which 10 to 20 local singers get together and sing for 90 minutes—and includes "folk songs, Beatles songs and show tunes," says Watroba. He's also launched a folk-concert series at a Unitarian church in Kent. "I've booked some of my old Michigan folk-music pals, like Josh White Jr. and Bill Staines, so that's been my way of getting some of my old friends to come down and see me," he says with a laugh.
So, was it hard for Watroba to leave Michigan?
"Oh, absolutely," he replies without missing a beat. "I miss it every day, and I know I'll move back there someday."
Kevin Ransom, a freelance writer who covers music for AnnArbor.com, has interviewed and written about Matt Watroba many times over the years, dating back to 1990, for The Detroit News and the Ann Arbor News, as well as for AnnArbor.com. He can be reached at KevinRansom10@aol.com.