Posted on
Tue, Nov 24, 2009 : 11:50 a.m.
Matt Watroba returns with day-after-Thanksgiving show at The Ark
By Bob Needham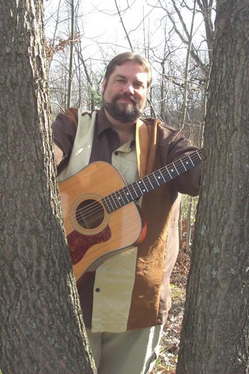 A number of Thanksgiving-weekend entertainment traditions have developed in Ann Arbor in recent years: There's the
"Jeff Daniels and Friends" concert
at the
Michigan Theater
. There's
Heywood Banks' regular stand
at the
Ann Arbor Comedy Showcase
. But the longest-standing of these is Friday's day-after-Thanksgiving appearance by
Matt Watroba
at
The Ark
.
Watroba is sometimes called "the voice of folk music" in this area, and there are a couple of reasons for that. For one, he's an accomplished and engaging performer, well known for his singing and guitar abilities. He has an easy audience rapport, and his concerts tend to have a friendly vibe.
But he's also a radio host, the force behind "Folks Like Us," the weekly show (4-7 p.m. Sundays) on WDET (101.9 -FM) that has long been a crucial outlet for acoustic music and related information in southeast Michigan. He also hosts the national show "Sing Out! Radio Magazine," which is available online at www.folkalley.com/music/singout/.
Watroba is especially at home at The Ark. He's a charter member of the board of directors; in the past he has hosted the club's open-stage nights; and the first of his albums was "Live at the Ark." But for more than a decade, his day-after-Thanksgiving show at the club has become a tradition.
Watroba spoke about the concert in a recent email: "The annual Ark show is quite simply the biggest show of the year for me. This year I will feature the musicians who are always there for me. I'll have Katie Geddes singing that signature duo harmony. I'll have David Mosher playing anything with strings. And, as a special treat, Peter 'Madcat' Ruth  — just one of the best harmonica players in the word who happens to live in Ann Arbor!
"This show really has become a tradition. It has been the Friday after Thanksgiving for over 15 years. Living in the area it's easy to take for granted just how wonderfully unique the Ark is. There are just a few listening rooms like it in the whole country. I am honored to be part of a tradition that includes this amazing muiscal space."
PREVIEW Matt Watroba Who: Local singer, guitarist, radio host and more. What: Folk. When: Friday, Nov. 27, 8 p.m. Where: The Ark, 316 S. Main St., Ann Arbor. How much: $15. Tickets are available at the box office before shows, the Michigan Union Ticket Office, Herb David Guitar Studio, by phone at 734-763-TKTS or online from Ticketmaster. If you miss it: Matt Watroba will also play the Green Wood Coffee House series as part of the Katie Geddes and Friends show on Dec. 11.
Full disclosure: You won't find it on his resume, but in the distant past Matt Watroba also had the misfortune of trying to teach this musically hopeless writer how to play guitar.
Bob Needham is director of entertainment content for AnnArbor.com. Reach him at bobneedham@annarbor.com or 734-623-2541, and follow him on Twitter @bobneedham.