Posted on
Tue, Nov 22, 2011 : 5:24 a.m.
Decades later, friends reunite for local composer's new album
By Susan Isaacs Nisbett
It's a great thing for composers to hold in hand a CD of music they've created.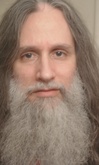 "The greatest rewards are not winning contests or even the actual writing," says Ann Arbor composer
Matthew H. Fields
. "Hearing my music is what it's about, and having it become other people's."
Fields had that pleasure recently, with a new CD of his music on the Centaur label. But for Fields, who holds music degrees from Oberlin, Stanford and the University of Michigan, the pleasure was more than the usual. The title of the CD, "Music Among Friends," says it all: just about everyone who played on his disc was a musical colleague from his past.
Fields, a serious composer who by day does software support and development at the University of Michigan Medical Center, was living in Deerfield, Ill., when he had the good fortune and, of course, the talent, to attend Northern Michigan's prestigious Interlochen Center for the Arts as a summer camper. As a 14-year-old composer in 1976, he was one of about a dozen such talented youngsters in High School Boys Cabin Zero.
All these years later, the names of his bunkmates were a dim memory. But when he saw the name Chris French on the roster of players for an earlier CD of his music, it rang a bell. Or shall we say, it struck a chord: French was the cellist in his Interlochen cabin.
French, who is associate principal cellist with the Houston Symphony and teaches at Rice University, was in touch with another Interlochen cabin mate from that Summer of 1976, Raymond Leung, a co-founder of the Lyra Quartet and a violinist with the Atlanta Symphony. Fields began to imagine a new CD, not just with a little help from his friends, but focused on them.
Reacquainting himself with them made him realize, he said, "what a powerful experience Inderlochen had been."
But Fields also added in other friends from his past, gathering them in Houston to record his work. Among them were pianist Gloria Chuang, a classmate at U-M, where he got his doctorate; and flutist Aralee Dorough, a classmate from Oberlin, where he received undergraduate degrees in both music and math. Dorough, like French, plays with the Houston Symphony.
Though the CD had its roots in Northern Michigan, it was recorded in Houston and produced in New York by Grammy-winning producer Judith Sherman. David In-Jae Cho, assistant conductor of the Utah Symphony, directed.
French can be heard on every track of the CD, most strikingly in the virtuosic unaccompanied "Rollerchant." Elsewhere, he and Leung pair up with other musicians—for Fields' offbeat, hallucinatory "Absinthe, Spirit of Green Dream" and for the dizzying, speed-demon thrills of Fields' most popular piece, "Fireheart." The newest piece on the CD is Fields' "Progeny of Memory," an alluring theme-and-variations set for cello and harp (Sadie Turner) in which he channels the Muses into various musical styles.
Since completing the album, Fields has completed a large orchestral piece that grew out of a reading by the Minnesota Orchestra, in 2006, when he was a fellow at the Minnesota orchestra Composers Institute and Reading Sessions.
"They flew all the composers in and wined and dined us, and the players told us everything they hated about the music—and then they played it perfectly," he said.
"I wanted to complete it. It was a single movement and I wanted it to be a larger piece."
It became "Space Sciences," a paean to astronomy and science. He's been showing the score around to conductors—and he entered it in the recent ArtPrize competition in Grand Rapids, which included music for the first time. He is now at work on a piano concerto commissioned by a Madison, Wisc., pianist. He hopes it will be done in time for next year's ArtPrize. He is seeking backing for having it performed.
As for his Interlochen colleagues, they're staying in touch and trying to locate the rest of the cabin mates. There might be a whole orchestra in that cabin, and if so, these friends want to hear it play in another "Made in Michigan" recording.
For more information, see Fields' website, or to order a copy of the album, go to arkivmusic.com.