Posted on
Sat, Jul 17, 2010 : 5:37 a.m.
New Street Art Fair director Maureen Riley jumps right in
By Jennifer Eberbach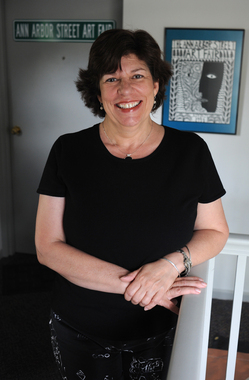 Melanie Maxwell | AnnArbor.com
The Ann Arbor Street Art Fair's new executive director, Maureen Riley, didn't have much time to get accustomed to the position, which she started this January. Life has been busy for her in 2010, but as the Ann Arbor Art Fairs quickly near — the four fairs run July 21-24 — she seems pretty confident and excited about her new gig.
After a search for the right candidate, Riley fills the shoes of longtime executive director Shary Brown, who retired after last summer's 50th anniversary fair. (The Street Art Fair, located in the Ingalls Mall area, is the oldest of the four concurrent fairs that comprise the annual event.)
Riley says; "Ideally, one would have 11 months to plan the fair"; however, by the time she started the job things were already in full swing.
Riley has experience managing a variety of events, including large-scale music and arts happenings, since she graduated with a BFA in theater from the University of Wisconsin-Milwaukee's stage management degree program.
"I was never going to be an actress. I was always interested in making a production come together behind the scenes. This ended up branching off into doing event and concert coordination," Riley explains.
Before joining the party in Ann Arbor, Riley managed a lot of different types of events, including commercial events like conferences and trade shows early on. She moved to Michigan to coordinate music events for Palace Sports and Entertainment, and then spent eight years with the University Cultural Center Association in Detroit, working on special events like the former Detroit Festival of the Arts and Noel Night.
Recently Riley spent a bit of time doing independent events consulting in Rochester, working with the American Red Cross and Downtown Detroit Partnership. As she takes the helm of the Ann Arbor Street Art Fair, Riley is taking a break from finishing up an M.B.A. with plenty on her plate.
Riley does not have plans "to turn the fair on its head or change it into something else," but she predicts that her "fresh set of eyes" and "logistical perspective" will help keep the fair innovative and more "accessible to visitors," over time, she says.
"A lot about events planning translates from one genre of event to another," Riley says. Her varied professional experience can help spot all sorts of logistical issues that tend to happen at any large event.
"It's good to be aware of things like how people get in and out of the event. How they eat and how far away the bathrooms are. I try to be aware of things like traffic patterns and the way people walk around. I ask, are they having a good visitor experience? Can they hear what they want to hear and see what they want to see?" Riley says.
Although Riley did not make any major changes to her first Ann Arbor Street Art Fair, she admits that "there are a few things I fantasize about bringing to Ann Arbor," including fun things they used to do at the now defunct Detroit Festival of the Arts. She mentions a sand sculpture project, for example. However she doesn't want to "dwell on the past. The Ann Arbor fair is the present and future," she says.
Riley says former director Shary Brown and artist relations coordinator Rachael Zuppke have been particularly helpful resources during her first months on the job. She also has to "applaud my fellow art fair directors, who have really embraced me and taken me under their wings. There is also a renewed collaborative spirit between the four fairs," she says.
According to the new director, this "collaborative spirit" helped launch two new services the four Ann Arbor Art Fairs are offering this year: a new Art Fair Trolley, sponsored by the Convention and Visitor's Bureau, will circle the four fairs. And visitors can also navigate the fairs by using a new iPhone application, which includes the full artist directory (also still available as a booklet). The new iPhone app also lets you do things like geo-locate yourself, mark your parking spot, and easily navigate to the booths and activities you want to visit.
Both new additions to the Ann Arbor Art Fairs are aimed at making it easier for people to find their way around the four fairs. Riley thinks this is especially important for out-of-town visitors who aren't familiar with Ann Arbor's layout.
Riley adds that she is glad to have the Ann Arbor Street Art Fairs complete footprint restored. Last year, construction at Ingalls Mall took a chunk out of the number of booths they could include. This year, "we are back up to our full complement of booths, and we are enhancing our Art Activity Zone," which features special activities and projects for both kids and adults, she reports.
Find out about all four Ann Arbor Art Fairs at the Ann Arbor Area Convention and Visitors Bureau They are the Ann Arbor Street Art Fair, the Ann Arbor Summer Art Fair, the State Street Area Art Fair, and Ann Arbor's South University Art Fair.
Jennifer Eberbach is a free-lance writer who covers art for AnnArbor.com.