Posted on
Wed, Feb 6, 2013 : 10:39 a.m.
Meet retired astronaut Jack Lousma at the Yankee Air Museum's 'Launchpad Party'
By Ann Dwyer
If you think the Yankee Air Museum focuses only on vehicles that fly in the stratosphere, you are wrong. It's like you don't even know them. So you'll want to take some time to visit them on Saturday when they will unveil NASA Fly Me to the Moon at a special "Launchpad Party."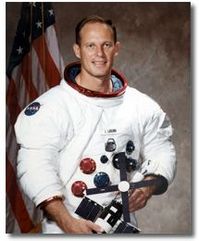 Bring the kids to see this fun, educational exhibit and try out some of the activity stations. There will be interactive science experiments, a shuttle repair station, astronomy observation station, Moonwalk, velcro wall and bungee run. You will also get the chance to fly the education simulator in a NASA F-18 over Cape Canaveral.
There will also be an opportunity to take a photo with Jack Lousma, a former astronaut who grew up in Ann Arbor and graduated from U-M, from 6:15-7:15 p.m. He was also on the astronaut support crew for the Apollo 13 mission and was the one who received the message, "Houston, we have a problem." So be sure to say that to him, he certainly never tires of it. Actually, that might be true. How many people would actually know that fact?
Get there early. The first 200 kids will receive goodie bags. Light refreshments will be provided. The exhibit will be at the museum through May and can be viewed during normal museum hours.
Saturday, Feb. 9, 2013. 5-9 p.m. Free. The museum is located at 47884 D St, Belleville. www.yankeeairmuseum.org.