Posted on
Thu, Feb 7, 2013 : 10:51 a.m.
U-M grad, writer Megan Ganz helps bring the comedy to TV's 'Community,' 'Modern Family'
By Kurt Anthony Krug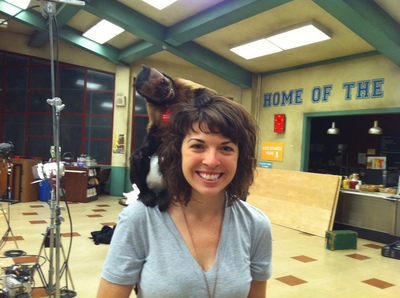 University of Michigan alumnus
Megan Ganz
, who has written for the sitcoms "Community" and "Modern Family," was fascinated by comedy long before she knew that she wanted to write it.
"My dad used to show me Marx Brothers movies when I was young. I grew up watching 'Saturday Night Live' and (David) Letterman with him when I was too young to probably watch Letterman. I loved comedy," recalled Ganz, 28, who now lives in Los Angeles.
The middle of three children, she grew up in Kalamazoo and graduated with honors from U-M in 2006 with an undergraduate degree in English literature.
While interning for Mad Magazine, the satirical humor magazine in New York, Ganz sold a fold-in idea—one of the magazine's trademarks—which consists of a single drawing that has a paragraph of text underneath it and a panel across the top with a question on the back cover. Once the cover is folded, the picture changes into another image and the new text answers the question that was posed.
For Ganz's fold-in, the question was: What controversial relationships are teachers and students now having to deny? This was inspired by the Mary Kay Letourneau scandal where Letourneau, a teacher, was imprisoned from 1997-2004 for having sex with a 13-year-old student. According to Ganz, the answer was the relationship between man and monkey. The fold-in was illustrated by long-time Mad cartoonist Al Jaffee.
"The first thing I ever sold in comedy was a fold-in idea I had. They told me I was the first intern to have come up with a fold-in, so they bought that from me and that was the first check I ever got making comedy," said Ganz. "(Jaffee) illustrated it and sent me a letter… The fact that was the first thing I ever sold in comedy was really special to me."
After graduation from U-M, Ganz wrote for The Onion. She became associate editor at the end of three years.
"I've always loved The Onion. My mom brought me my first Onion book when I was 13, so I always wanted to write for The Onion about that time. I thought it was so funny that it was my first job out of college, which is really amazing," she said.
"When I left, I said to my roommate, 'I'm gonna quit my dream job today.' That was really scary. I had worked there for three years. While I liked it, The Onion is such a singular entity that there's nowhere to go except to run the paper itself, but I wasn't interested in advancing.
"In the course of working for The Onion, I had agents calling to represent me, encouraging me to go into TV writing. I thought I'd move onto (Stephen) Colbert or 'The Daily Show' because those seem to be in the same wheelhouse, but the first thing I (was offered) was Comedy Central's 'Important Things with Demetri Martin' (a sketch comedy)."
Ganz remained on "Martin" for one season. While she liked writing for television and the performance element of the medium, she didn't like writing sketch comedy. She told her agent that her favorite sitcom was NBC's "Community" and interviewed with creator Dan Harmon, who hired her.
"He's very brilliant, very challenging on the material so it really forced you to step up your game in order to meet him. Just to even have a conversation with him, you had to be at the height of your intelligence all the time," said Ganz. "I loved working with him. I was a difficult job because the hours were very long. You could never settle for good enough; he'd always raise the bar in every episode to try and do something weirder and unexpected."
She continued: "In a lot of ways, he was very supportive of me. He hired me and I'd never worked on a sitcom before. He put a lot of faith in me to do things like writing an episode right away. He let me be on set to make sure the episode was filmed correctly, which is something you don't always get to do on shows. He was very creatively supportive of the writers."
"Community" chronicles the misadventures of a group of disparate students at a Greendale Community College in a fictional town in Colorado. The sitcom has a strong cult following. Its fourth season will debut on Thursday, Feb. 7.
"Over the years, I really came to love Britta (Gillian Jacobs) because she's a lot like me as a I was growing up. She's very stubborn and earnest but she falls on her face a lot. She's very confident, sometimes too much. She's also got a lot of feminist ideals," said Ganz. "I had a lot of those growing up when I would do things to show people how much of a feminist I was—which were ridiculous and not necessary. I came to really love Britta. She was my favorite to write at the end."
She spoke about what gives "Community" such staying power.
"People can get ferocious for shows on the bubble. 'Community's' been shifted around a lot. I think people feel real ownership of the show and believe it matters because it has a small, diehard audience," she explained. "But if you take a show like 'Two-and-a-Half Men,' they don't feel they have ownership because 6 million people watch it every week. Our show has a small, dedicated, loyal fan-base that knows each other and talks to each other online. They're going out to promote it to their friends. A lot of the reason we've gotten more seasons is because fans have been so vocal about following show. The numbers weren't there, but they have a dedicated fan-base that shows up every week to watch—that's the only reason why we made it so far."
Ganz penned several episodes for this season because she accepted a job writing for ABC's long-running sitcom "Modern Family" at the beginning of 2013.
"I decided to take that job and see what it's like to work on a different show. It was more practical than any problems I had creatively. My contract was for three years and it was up at the end of this year, so I had the option of not renewing," explained Ganz. "The second reason is I don't know if 'Community' will have another season until late May, which might put me out of the running for any jobs because if they don't renew 'Community,' I can end up not having a job for a full year.
"I like 'Modern Family.' I was really excited they came after me a little bit. I had a really good meeting with (the creators). I feel like I can write a really funny episode of that show. 'Community' was the only show I'd ever written for, and I wanted to expand my palette by writing different characters and see how different writers' rooms operate… I'm excited for the whole ensemble. It's nice to have a whole new group of characters to write for."