Posted on
Thu, Apr 18, 2013 : 10:10 a.m.
Hot '80s Ann Arbor ska band SLK releases old tunes digitally for new audience
By Roger LeLievre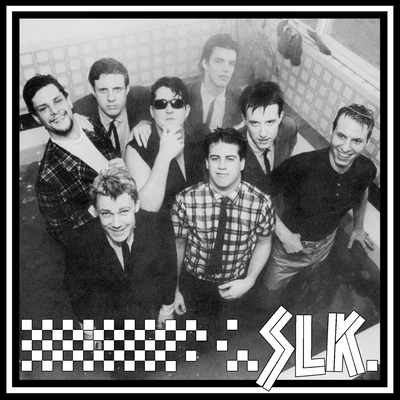 If you've been around long enough to remember the 1980s, then you might recall the ahead-of-its-time ska, reggae, punk and pop band
SLK
. Influenced by the British ska groups of the late '70s and early '80s, SLK emerged from the Ann Arbor/Detroit music scene in 1982.
Now, members of SLK have unearthed the band's old audio tapes, remastered them, and released the results digitally. "SLK" features eight songs from "The Dance Disk" LP from 1982. The other tracks are from a recording session in 1983/1984 and were slated to come out in 1985; however, the band split up prior to their release. A ska-ified version of the classic Dave Clark Five song "Bits & Pieces" was one of those tracks, which was also made into an unreleased MTV-quality video.
Popular locally at places like Joe's Star Lounge and Rick's, SLK also played with several big-time acts.
"We had opened quite a few shows in Ann Arbor—we opened for Peter Tosh at the Michigan Theater, Danny Elfman and Oingo Boingo at Second Chance," recalled Jacques Mersereau, the eight-man SLK's sax player. "We played with David Johansen after he split from the New York Dolls. We also played with Bad Manners, one of our heroes, at St. Andrews. We also opened for Stevie Ray Vaughn at St Andrews. We opened for The Clash; we were getting some real good gigs."
Then, in late 1984, the last in a series of drummers decided to quit the group.
"We blew up really good, just like Spinal Tap," Mersereau said, referencing the fictional heavy metal band that went through a succession of drummers. "We'd lost so many drummers over the years, and at that time we were really breaking ground as far as trying to bring ska to an American audience. Most people thought we were from Mars, especially if we toured Indiana and some of the other places we went. "At that point, finding another ska drummer in Ann Arbor was going to be extremely difficult, and some of the major players had lost their enthusiasm. Most people just didn't play ska. It was pretty much an unknown," he added.
Mersereau, who now works for The University of Michigan Digital Media Commons as video studio manager, set about the task of remastering the tracks from the '80s, bringing them up to modern digital standards. Bandmate Bill McNally, who owns Burnside Distribution Corp. in Portland, Ore., put the tracks together and is promoting them through their digital division.
The album is available through digital retailers such as iTunes, Amazon, and eMusic.
"SLK started out as a rockabilly blues band playing in East Quad," Mersereau said. "Then we heard 'One Step Beyond' by Madness, a great saxophone tune, and we started playing that. People really seemed to like it and get up and dance to it. Then we got The Specials' first album and we fell in love with it and we started playing more and more of those cover songs. We actually truly loved that music. … It was different, it made us unique. Then we started writing our own songs in that same genre."
Bill McNally clearly recalls the unreleased tracks.
"We were pretty close to putting that record out in 1985. But we all went our separate ways after the holidays in '84, so it unfortunately it never came out," he said. "We had an offer from a West Coast ska band called The Untouchables about coming out to do a tour … It would have been great if (the band) would have continued. We had a pretty decent following and things were going well. But things change, unfortunately."
Both men say there are no plans for a band reunion show. Too much time has gone by, and the band members have scattered to the four winds. Nor do they expect to see much in the way of profits from the digital sales. "Any money we make goes back to Jacques for the remastering work," said McNally, who started out as a fan, then was asked to join SLK.
"We had a pretty cool group of people who were into the whole scene," he added.
Check out a sample track on SoundCloud, "Walk of the Mummy."