Posted on
Mon, Nov 26, 2012 : 5:02 a.m.
Celebrating Handel's 'Messiah' and its long, slow growth into an Ann Arbor tradition
By Susan Isaacs Nisbett
OK, so this is the mythology, familiar to local music lovers and enshrined on the University Musical Society website:
"UMS grew from a group of local university and townspeople who gathered together for the study of Handel's 'Messiah.' Led by Professor Henry Frieze and conducted by Professor Calvin Cady, the group assumed the name The Choral Union. Their first performance of Handel's Messiah was in December of 1879, and this glorious oratorio has since been performed by the UMS Choral Union annually."
Well, yes, sort of.
PREVIEW
"Messiah"
Who: The UMS Choral Union, Jerry Blackstone, conductor, with the Ann Arbor Symphony Orchestra; Edward Parmentier, harpsichord; and vocal soloists.
What: Handel's oratorio, in an annual tradition.
Where: Hill Auditorium, 825 N. University Ave.
When: Saturday, Dec. 1, 8 p.m.; Sunday, Dec. 2, 2 p.m.
How much: $10-$36, UMS Michigan League Ticket Office, 734-764-2538, and online at ums.org.
Free event: UMS on Film: "Messiah." Tuesday, Nov. 27, 7 p.m. U-M Museum of Art, Stern Auditorium. Photographer-filmmaker William Klein takes on Handel's Messiah, creating a gorgeous concert-film that mixes the sacred with the profane.
Community Sing: The 48th annual Community Messiah Sing takes place Saturday, Dec. 15 at 2:30 p.m, sponsored by St. Clare's Episcopal Church, 2309 Packard Road, Ann Arbor. Please come early to sign in, get your score, drop off your snack offering, obtain a good seat, and warm up. The sing begins promptly at 2:30 p.m.
Study "Messiah" the group might have done. Develop into the University Musical Society, it did. But that first "Messiah" performance, in 1879? It was, shall we say, rather abridged, consisting, precisely, of two choruses from "Messiah" - "For unto us a child is born" and "Lift up your heads, O ye gates." That's right: not even a "Hallelujah" chorus.
The two choruses framed Part the Second of a mid-December mixed bill at the M.E. Church that, in the fashion of the day, included solo piano (Beethoven's "Pathetique"); chamber music (one of the Mendelssohn cello sonatas); solo and choral vocal selections (for example, Handel's "O, had I Jubal's Lyre" and Gade's "The Water Lily"); and even the Beethoven Piano Concerto No. 3 (or a movement from it perhaps? - the program doesn't say), with Cady dispatching the orchestral part on a second piano, and Ida Blakeslee as piano soloist.
"We all think the Choral Union was founded to do "Messiah," said music specialist and UMS historian Richard LeSueur, who has been working on the UMS archives and was to speak on "Messiah" at the UMS Night School in mid-November. "But it was really just to be a choral group."
Whatever the motivations, Choral Union "Messiahs" soon became an Ann Arbor tradition. It's one that has stuck. This year, with director Jerry Blackstone at the helm for his 24th and 25th performances of "Messiah" with the group, the UMS Choral Union once again returns with this Handel classic. The 2012 concerts, accompanied by the Ann Arbor Symphony Orchestra, take place at Hill Auditorium Saturday evening and Sunday afternoon. As always, Edward Parmentier will man the harpsichord. Soloists this year are Julianna Di Giacomo, soprano; Jennifer Johnson Cano, mezzo-soprano; William Burden, tenor; and Morris Robinson, bass.
And as has become the Choral Union "Messiah" norm, nothing will be omitted from Handel's 1741 oratorio, whose airs and choruses give astonishing musical life to a scripturally based libretto (by Charles Jennens). It's a long and satisfying journey, starting with Christ's nativity and continuing through the Passion, Ressurection and Ascension and the Redemption.
But perusing the UMS archives, it's clear that this "cover to cover" approach to "Messiah" was not always the norm. Other aspects of "Messiah" were equally mutable, including frequency of performance. In a year when history is in the air as the UMS celebrates the 100th anniversary of Hill Auditorium, it's fascinating to examine a century-plus of Choral Union "Messiahs.
LeSueur is a terrific guide. From those initial two choruses in 1879, it took a few years for the Choral Union to work up to a relatively complete "Messiah." According to LeSueur, 1886 marked the group's first fairly comprehensive survey of the work.
The orchestral forces on that occasion were hardly Hill size, consisting of double string quartet (i.e. 4 violins, 2 violas, and 2 cellos) and two pianos.
"There was no trumpet for the trumpet shall sound," said LeSueur, referring to the magnificent bass aria heralding the Redemption. "I'm afraid to think about it."
There was also no snow (let's hope) since the performance, at University Hall (a former part of the Angell Hall complex on South State Street), was in May.
A May "Messiah" seems an anomaly to us, even though part of Handel's oratorio relates to Easter. In Tree Town, many folks regard an early-December "Messiah" at Hill as the true start of the holiday season. But that May 1886 "Messiah" was not a one-off. LeSueur counts three additional May "Messiahs" between 1886 and 1935. One of those occurred at Hill's "christening," at the May Festival of 1914: the festival's second concert featured the Choral Union in "Messiah," accompanied by the Chicago Symphony, with Albert Stanley (U-M's first professor of music and UMS's first leader) conducting and Earl V. Moore at the organ.
No matter the season, the audience must have been glad to have a "Messiah" at Hill, its home since the hall's opening. LeSueur, who has also been perusing local newspaper archives, says criticism of University Hall's acoustics showed up as early as 1894.
The early "Messiah" years in Ann Arbor—through, say, 1935—included, by Lesueur's account, perhaps 8 relatively complete "Messiahs," 3 of which were those May events.
But December became the rule, as did annual "Messiahs" beginning in 1941, he said. That fateful year, "Messiah" came 'round on Dec. 14, a week after the bombing of Pearl Harbor.
There are gaps in the Choral Union "Messiah" calendar, though, dispatching any notion that the group has sung the work annually since 1879. In the 19th century, just four performances followed the two-chorus, 1879 debut. Nor were there complete performances between 1896-1907 or 1908-1914. In the 21-year span between 1914-1935, there were a mere nine "Messiahs," and those were of the Christmas sections only.
As "Messiah" matured in Ann Arbor, it grew. The accompanying forces became genuinely orchestral, whether it was the Chicago Symphony, or the University Symphony Orchestra (sometimes called the UMS Orchestra), the Interlochen Arts Academy Orchestra, or, as been true since 1988, the Ann Arbor Symphony Orchestra.
The size of the chorus grew, too. (Ditto choruses overseas, with English performances with casts of thousands, sometimes literally.) It's hard to say when Choral Union numbers for "Messiah" reached their apex, but the May Festival "Messiah" program of 1907, LeSueur noted, lists "probably, oh, my God, 120 sopranos, 66 altos, 39 tenors and 84 basses." That's a grand total of 311.
Numbers were certainly trending downward from 300 through the 20th century. Under Director Jerry Blackstone, who has led the Choral Union since 2004, the chorus has held fairly steady at 175 for "Messiah."
That's still a large number, but the waning applies to the number of annual performances as well. Starting in 1946, the Choral Union went from one to two December "Messiahs." The number crept up to three in 1965 and stayed there for more than 20 years, till it reverted to two in 1989.
Going for Baroque—in ornament and articulation if not so much in orchestral or choral size—has also been a general Choral Union trend, certainly under Blackstone, and even under its previous conductor Thomas Sheets (who also let us let us hear the Mozart re-orchestration one year).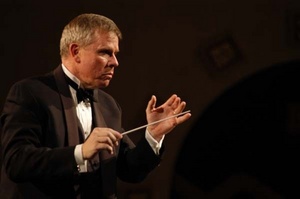 There's no Mozart re-orchestration this year, but to honor Hill's 100th birthday, Blackstone wanted to do something that might hark back to earlier times.
"I chose soloists who are all quite operatic," he said in a recent phone conversation, "with bigger voices that would have been typical of the grander 'Messiahs' done 100 years ago. "Each of them has wonderful careers and will sing with great strength and character. I think what people will hear will not be radically different, but will perhaps include a different take on tempos and character.
"The chorus, at 175, is a normal-size 'Messiah' chorus," he said. "And the orchestra will be the size we've used and we'll tend to baroque characteristics, but perhaps with a little more warmth than other years. Probably a good way to say it is that it will all be a little more romantic."
Since it's a cover-to-cover performance, Blackstone is not faced with the issue of which choruses or arias to omit. But what if? we asked him.
"That's like choosing between my children here," he said, daunted.
He reversed the problem, consulting a "Messiah" score to list choruses and arias, instead, that he could not live without.
"Not in this order," he continued, but 'Worthy is the lamb,' 'And he shall purify. And maybe 'Behold the lamb of God,' and 'Surely.' And I love 'Let us break their bonds.' You have to do the 'Hallelujah' chorus. (That selection) makes no theological sense, but they are great choruses."
And arias?
"I do love 'But who may abide' and 'Comfort ye,' and 'Every valley' is a really wonderful moment," he said.
"I'm always touched with 'He shall feed his flock' and 'Come unto Him.' And a lot of people are not enamored of it because it's long, but 'He was despised.'
"And 'Why do the nations so furiously rage together?'
" 'The trumpet shall sound' - I could never live without it."
Unless, of course, you were doing "Messiah" with two string quartets and two pianos.
"In that case, Blackstone quipped, "the trumpet won't sound.'