Posted on
Sun, Nov 29, 2009 : 6:01 a.m.
UMS Choral Union members reflect on "Messiah,&#8221 returning Saturday and Sunday
By Susan Isaacs Nisbett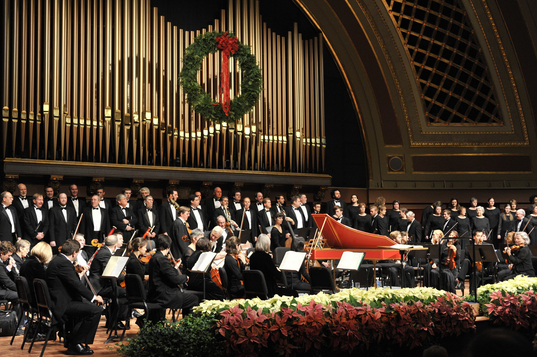 Peter Smith
For some, the holiday season starts with Thanksgiving. For others, it's the November stocking of store shelves with Everything Christmas or the arrival of sidewalk Santas. And then there are Ann Arborites, who for the past 130 years have set their Christmas clocks by the University Musical Society Choral Union's annual performances of
Handel's "Messiah."
The time to rejoice greatly is here again. Saturday and Sunday, Dec. 5 and 6, at Hill Auditorium, the UMS Choral Union, directed by Jerry Blackstone, files onstage for "Messiah" 2009. With them in this 131st year will be a fresh roster of soloists — soprano Ava Pine, countertenor Anthony Roth Costanzo, tenor Robert Bracey and baritone Kyle Ketelson — and as has become tradition, harpsichordist Edward Parmentier and members of the Ann Arbor Symphony Orchestra.
Each year, the Choral Union welcomes new members. But for many old-timers in the group, "Messiah" is an annual treat in a musical year filled with a variety of choral goodies. What keeps it fresh for them?
"Even though the 'Messiah' tradition is long-standing, like a living thing, it is different each and every time it is performed," says alto (and former soprano) Marilyn Meeker, a longtime member of the group.
Conductor Blackstone, marking his seventh year of "Messiah"s with the Choral Union, concurs. "The music is so great," he says, "it's like coming back to a treasured friend. And every year, it's a little different. There are different soloists. I make different stylistic choices. I change, the singers change."
Blackstone will share his thoughts on the piece Saturday afternoon, in a lecture-demonstration (with singers from the University of Michigan School of Music) at Hill Auditorium.
But every year, the singers, like Blackstone, deposit new memories into their "Messiah" keepsake boxes. I asked few members of the Choral Union to talk about what "Messiah" means and has meant to them over the years. Here's some of what they told me by phone and by e-mail. Marilyn Meeker, former soprano, now an alto. A member of the Choral Union for more than 30 years, singing under four directors: Donald Bryant, Thomas Hilbish, Thomas Sheets and Jerry Blackstone. Permissions Manager at ProQuest for the last 24 years.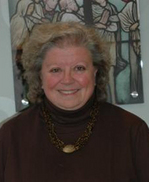 For those who have never had the privilege of singing from the Hill stage, it is a singular and challenging experience during that first weekend in December. The excitement of a hall full of holiday-minded listeners, the decorations... The expectations are always high, because so many in the audience are "return guests," who insist that a performance of "Messiah" marks the official kick-off of their holiday season. But there are also many in the hall who are "initiates" — brought either by friends of the first category, or who decide to see [hear] if what they've been told about "Messiah" is true. Father Tim Dombrowski, who has served in so many official and unofficial capacities within the Choral Union, but who also is a stalwart member of the tenor section, once during a warm-up for a "Messiah" advised that we should all sing this piece, and tell this glorious story, as if the listeners were hearing it "for the first time," because, for someone, it will be. I've always tried to abide by that charge: it will always keep the work fresh. And in this world of tremendous tumult and uncertainty, there is such reassurance and comfort in this masterpiece.

This year, "Messiah" has special meaning for me. The last decade had become a physical challenge, because the deterioration of both my hips from arthritis made it nearly impossible for me to participate in Choral Union performances without a cane or a chair... In 2008 I had total hip replacements of both hips—one in May (shortly after our performance of the "St. Matthew Passion") and the other in November. So I made the decision to take off the entire 2008-2009 season from singing in Choral Union. It was, of course, the right decision, but until I returned to rehearsals this fall, I hadn't realized how much I missed the camaraderie of the Choral Union family, who were all so supportive during my convalescence. I think I must have been smiling through the entire rehearsal! I am now pain-free for the first time in 10 years, and I can stand proudly and sing this great music again. It felt so good to return to this music refreshed and renewed, like reacquainting with a long-absent friend. When I sing "Hallelujah" this year, there will be so much more meaning to that word for me!
Margaret Petersen, first soprano. Choral Union member since 1994; in-house attorney with the Borders Group since 1993: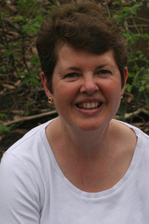 I moved from Baltimore to Ann Arbor in November 1993 to be with the man who is now my husband and to start a new job. In Baltimore I had sung with the Handel Choir of Baltimore — we sang a LOT of "Messiah" every holiday season — and later with the Baltimore Symphony Orchestra Chorus, which also performed "Messiah" every year. I remember really laboring to learn the choral pieces, especially those that come later in the piece (the "non-Christmas" parts), but after several years the pieces and all those notes started coming together, and after that I could spend more singing time really listening to the story that the piece tells.

Moving to Ann Arbor during the month of November, to a place where I knew no one except my future spouse, meant that I had no "Messiah" performance to engage me at a time when I felt very lonely. We attended the December 1993 "Messiah" performance at Hill Auditorium, and as soon as the piece started I burst into tears. I wept on my boyfriend's shoulder pretty much through the entire "Messiah." I was so homesick and I missed my chorus, my family, my friends, my city — everything. However, I remember laughing when the chorus reached "All We Like Sheep," and I realized that I was smelling wet sheep because my boyfriend was by then wearing a rather damp wool sweater with me having blubbered all over it. Later, I auditioned for and was accepted into the Choral Union, so when December 1994 arrived I was with my new chorus onstage at Hill, by then feeling at home. Every year I remember that first "Messiah" at Hill and always feel so grateful that I found a new chorus with new choral friends and new choral experiences and memories, both at Hill and at Detroit's Orchestra Hall. I hope never to weep through another "Messiah," although I probably will — hopefully not for a number of years — when I'm too old to sing and to hit every single one of those (rapid) notes in the long runs!
Steven Fudge, first tenor section leader; Choral Union Member for 12 years. Dentist, Sylvania, Ohio.:
"Messiah" to me is an incredible blend of music, message, and emotion. Just a look at the score is enough to make a good musician's heart race. When the orchestra is on form and the chorus sings like the Choral Union, it is one totally integrated work presented to an audience that leaps to its feet thoroughly bound together by the feeling of the season.
Some memorable "Messiah" moments:
• My daughter (age 7 then, 21 now) sat on the edge of her seat for the entire 1996 performance enthralled with the music heard from the balcony at Hill. What followed was 11 years of piano, choruses, two All-State European chorus tours, musicals and now swing dancing at Miami of Ohio. Pretty good start in music.

• A poinsettia fell from the ledge of the faux organ behind us onto one of the basses in a 2001 performance. It can be heard in the recording we made that year. The show goes on.

• (Contralto) Ewa Podlesh demonstrated her incredible range by going down into baritone country one year. What an amazing, personable woman.

• (Countertenor) David Daniels managed to stretch (the aria) "He was despised" to a full 10 minutes one year. Most of us knew he was going to do this; it's tough to check your watch holding a score.

• Scores that are dirty, torn, marked in pencil, erasure, colored pen, and tabbed in multiple colors from decades of use. Mine has pencil, erasure, blue ink, now red ink. One more director and it's time for a new score.

• The way rehearsals transform themselves from merely hard work to a crackling intensity about mid-November.

• A group of nuns, complete with Flying Nun whimples, sitting in the farthest reaches of the balcony adding an angelic feel to the proceedings. Or did we imagine it?
Susan Isaacs Nisbett is a free-lance writer who covers classical music and dance for AnnArbor.com.
PREVIEW Who: The UMS Choral Union, Jerry Blackstone, director. With the Ann Arbor Symphony Orchstra and vocal soloists. What: Handel's "Messiah" When: Saturday, Dec. 5, 8 p.m.; Sunday, Dec. 6, 2 p.m. Where: Hill Auditorium, 825 North University Avenue. How much: $10-$32, UMS Ticket Office in the Michigan League, (734) 764-2538, and online at ums.org.
Free pre-concert event: Masterpieces Revealed: Handel's "Messiah" Saturday, Dec. 5, 1:30-3 p.m. Hill Auditorium, 825 North University Avenue. Conductor Jerry Blackstone, singer Freda Herseth, and their stable of University singers delve into the wonders of this beloved work. A collaboration with the University of Michigan School of Music, Theatre & Dance.