Posted on
Sun, Dec 5, 2010 : 7:08 p.m.
UMS Choral Union puts concertgoers in the Christmas mood with a terrific 'Messiah'
By Roger LeLievre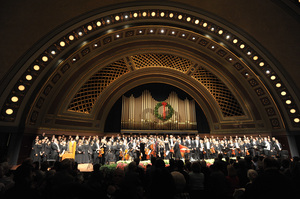 courtesy of the University Musical Society
Consider the Christmas season officially upon us, now that the UMS Choral Union has offered up its annual performances of Handel's "Messiah."
A bad "Messiah" can set your teeth on edge, while a good one can leave you transformed. Lucky for my pearly whites, Sunday's concert fell into the latter category.
This year marked the eighth that conductor Jerry Blackstone has ably led the 175 Choral Union singers. What helped make the concert special this year was that each of the four young soloists — Caitlin Lynch, soprano; Meredith Arwady, contralto; Nicholas Phan, tenor; and Jesse Blumberg, baritone — have strong local connections. All are Michiganders, some are native Ann Arborites and some got their training at the University of Michigan School of Music, Theatre & Dance.
All four delivered strong performances, but Lynch and Phan were particularly memorable. Lynch not only has beautiful tone and impeccable phrasing, she and Phan, with his expressive, rich tenor, have the ability to really connect with the audience thanks to their charismatic stage presence.
The Choral Union chorus, arranged across Hill's stage behind the orchestra, sang with such polished skill they were a tribute to all of the "Messiah" choruses stretching back to 1879, when the group first presented the work locally.
The Hill Auditorium stage looked festive, fronted by a forest of white poinsettias, backed by a huge wreath suspended from the ceiling and with a red harpsichord adding a touch of Christmas color front and center.
Speaking of which, sometimes it's hard to hear a harpsichord in such a large ensemble, but that was no problem Sunday, and it was fun to see Edward Parmentier throw himself into the performance body and soul. On the other hand, I often found it difficult to hear Scott VanOrnum's organ. I am assuming that was by design, so as to not blast the other musicians off the stage with its power, but I found myself wanting to hear it a little more.
The longish pause shortly into Part I this afternoon to seat latecomers (there seemed to be more of a tangle than usual between the will-call and ticket windows, perhaps explaining why so many were tardy to the auditorium) was an annoyance. But that was the only thing worth complaining about in an otherwise near-perfect show. Now let the Christmas festivities commence.