Posted on
Wed, Dec 21, 2011 : 5:37 a.m.
Mi Zarape brings a taste of Mexico to the Saline area
By Julie Halpert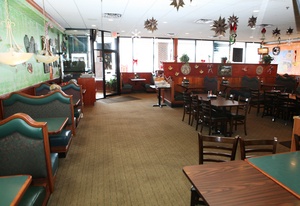 Jeff Sainlar | AnnArbor.com
The Arellano family had been looking for a place to locate their second restaurant for six months when they heard of a possible space in Saline. They were impressed with positive reports about the community.
But an even bigger appeal was that, while Ann Arbor and Ypsilanti have their share of Mexican restaurants, this would be the first for Saline, said Vanessa Arellano, the restaurant's manager and daughter of the owner, Gulmaro Arellano.
The Arellanos, natives of Mexico, have owned a restaurant in Pontiac for the past five years. It's clear, from the bustling dining room of Mi Zarape, that Saline residents have responded well to this cuisine.
It's located in a sterile strip mall and has a clean, spacious feel. Still, the Arellanos attempt to inject Mexican culture into the space, with tropical artifacts hung on the bright lime green walls. Paper stars hang from the ceiling, a festive touch. There are numerous booths and tables, ideal for the many parties of families with young children I saw dining there.
The menu is extensive, offering a huge variety of each type of Mexican dish, including 10 types of quesadillas and a dozen styles of burritos. I particularly liked the description at the bottom of the menu that provides explanations of the different types of Mexican dishes to those unfamiliar with this cuisine.
RESTAURANT REVIEW
Mi Zarape
7025 E. Michigan Ave., Suite H, Saline
734-470-6638
Hours: Monday-Saturday, 11a.m.-10 p.m.; Sunday, 11 a.m.-9 p.m.


Plastic: American Express, Visa, Mastercard, Discover.


Liquor: Yes.


Prices: Inexpensive. Many dishes are in the $8-$10 range.


Value: Very good.


Noise level: Medium.


Wheelchair access: Yes.
As soon as you're seated, servers bring you crispy, homemade tortilla chips along with your choice of mild or spicy salsa. I thought the salsa was a bit runny, but what it lacked in texture it made up in flavor. The guacamole was heavenly, and was one of the few appetizers that wasn't spicy.
Cheese nachos were rather ordinary, melted cheese poured over tortilla chips, though an abundance of jalapeno added to the melted cheese gave this quite a kick. The chicken soup was also on the spicy side, served lukewarm.
The soft tortillas were some of the freshest tasting I've had. While I enjoyed them, I didn't like the filling quite as much. The shrimp quesadilla contained delicious, hearty pieces of grilled shrimp, but they were overwhelmed by cheese. I had a similar issue with the beef burrito, where the tender, nicely seasoned meat was drowning in the same sauce.
I was looking forward to indulging in the crunchy crust in the deep fried chimichanga, but the server didn't ask me which I preferred and brought me the soft version, which tasted essentially like a burrito.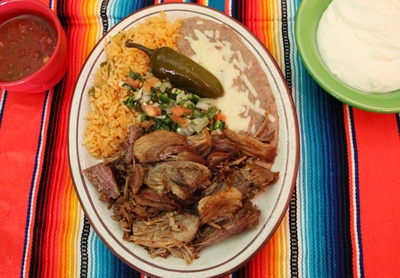 Jeff Sainlar | AnnArbor.com
I very much enjoyed the filets al chipotle, consisting of a fresh piece of tilapia marinated with chipotle sauce. The sauce lent a tangy, smoky flavor reminiscent of barbeque. It was unusual, and quite good, while the accompanying rice was moist.
The fajitas texanas were a delicious feast of perfectly cooked shrimp, chicken and beef, along with sauteed vegetables. Served with beans, guacamole and salad, this was a particularly filling dish.
If you're into the ultimate calorie indulgence, don't miss the wonderful fried vanilla ice cream, which is topped with rich whipped cream, along with cherry and chocolate sauce.
Price is a big appeal at Mi Zarape. Aside from fajitas, which are in the $12 range, most hearty entrees are in the $10 range.
The restaurant was busy on both of our visits, and the staff seemed overwhelmed. Still, if you don't mind a possible wait, there are enough solid entrees here to recommend Mi Zarape. There's no question that it offers a great option for reasonably priced Mexican food in this area.
Julie Halpert reviews restaurants for AnnArbor.com.