Posted on
Sat, Dec 24, 2011 : 5:56 a.m.
Comedian Michael Kosta goes from Ann Arbor to 'The Tonight Show' - and now back again
By Jenn McKee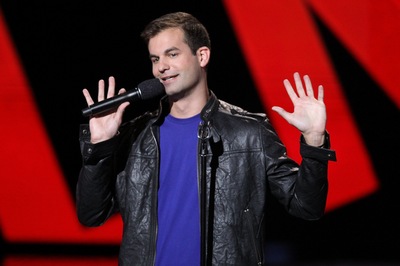 Ann Arbor native
Michael Kosta
—whose stand-up comedy has been featured on "Chelsea Lately," "The Tonight Show" and most recently "Conan"—is coming back home for the holidays to headline two sets at Conor O'Neills (with openers
Bill Bushart
and
Andrew O'Neal
).
But his first performance happened in town several years ago, at the Heidelberg's Club Above.
"I taped it, and when you listen to it, you can hear one person laughing," said Kosta, who now lives in Los Angeles. "That was my sister. And she was just laughing to make me feel better."
At the time, Kosta was making the leap from competitive tennis to comedy—not your typical career trajectory, to say the least. For after being a star athlete at Huron High School, and playing for championship teams at the University of Illinois, Kosta pursued a career in professional tennis for a while, and then returned to Ann Arbor to work as an assistant coach at the University of Michigan.
Yet despite his sustained, intense focus on tennis, Kosta had also long fantasized about a career in comedy.
"I had no thought that it could actually be a career," said Kosta. "That I could do it forever and have it put food in my mouth. But it's the kind of thing where—I once pulled out an old assignment from school, from when I was in 5th grade, and it was called 'Who is Michael Kosta?' and it said my dream occupation was to be a comedian. … And when I was 10, I put shows on for the family in our family room. But you forget all that stuff until you start doing something like this."
Kosta is the youngest of four children, and his parents—who left Ann Arbor to retire in New York City—play a semi-regular role in his comedy.
For example, Kosta used to talk about how, when he left tennis to pursue comedy, he caught his mom reading a book titled "When Our Grown Kids Disappoint Us" ("That was in my act for a while, but I eventually took it out. It was a little too true," said Kosta); and his second "Tonight Show" appearance, this March, included a bit wherein he read an e-mail from his dad word for word.
"I'm always very upfront with (my parents) and ask them, 'Are you OK with this joke? Are you not OK with this joke?'" said Kosta. "And they always give me the loving parent answer, which is, 'As long as people think it's funny.' … I'm a comedian. If my parents keep acting ridiculous, I have to talk about them. If they'd just shape up, I'd have no material."
Perhaps not surprisingly, Kosta's first "Tonight Show" appearance marked a professional benchmark; but his first appearance on Chelsea Handler's "Chelsea, Lately" was noteworthy for being one of the first shows to introduce him to a wider audience.
PREVIEW
Comedian Michael Kosta
Who: National comedian from Ann Arbor who's appeared on "The Tonight Show," "Chelsea Lately," and "Conan."
What: Homecoming stand-up show, with Bill Bushart and Andrew O'Neal opening.
Where: Conor O'Neills, 318 S. Main St.
When: Friday, December 30 at 8 and 10 p.m.
How much: $15 advance, $20 at the door. Call 734-665-2968.
"It wasn't just stand-up; I was part of a panel, too, so it was very nerve-wracking, very challenging, my first time there," said Kosta. " … I was there with other guests who'd been on the show a hundred times before, people who go to Chelsea's Christmas barbecue and stuff, and I was brand new, and I met her for the first time on camera. Most of the time, you meet the host before the show, but she doesn't do that, and it's intimidating, but she wants it to be that way, and I was competing for jokes with the other people on the show. I got a lot of positive feedback afterward, and lots of new fans, so I was grateful, but it's a hard show to be on."
And while there are some parallels between being a struggling young tennis pro and a stand-up comic—lots of travel; living hand-to-mouth; performing alone; etc.—comedians are generally known for maintaining a less-than-healthy lifestyle, full of late nights and junk food. How did Kosta make the transition?
"It was hard," he said. "I always tell people that I went from being a starving athlete that had to eat right and be in bed by 10 to being a starving artist that was up late and got free drinks. It was a struggle—it still is—but I'm cut from athletic cloth. That was my childhood, what I thought I wanted to be. … So I still have a hard time not getting up at 9 a.m., when most comics wake up at 2 p.m., and I try to eat healthy, even though the free food you'll get in some of these places is fried mozzarella. Generally, though, I'm the guy bringing in a veggie Subway sandwich, so the other comics always make fun of me and tell me I'm a loser."
Some skills from Kosta's athletic career have proven invaluable, particularly in his early years in stand-up. "I'm pretty focused, thanks to tennis," said Kosta. "And in tennis, when you lose one match, you don't think, 'Am I never going to win?' It's when you lose 100 matches in a row that you think that. So you develop a thick skin, which is exactly what you need for comedy."