Posted on
Fri, Dec 2, 2011 : 3:25 a.m.
Michael Moore talks about Borders, Barack Obama, Occupy Wall Street, and more at the Michigan Theater
By Jenn McKee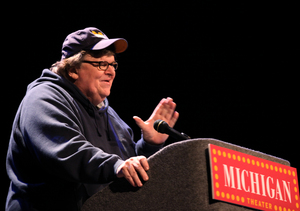 Photo by Jeff Sainlar | AnnArbor.com
On Thursday night, when filmmaker/author/activist Michael Moore appeared on the Michigan Theater stage to speak and read from his new memoir, "Here Comes Trouble," he wore, and made a point of commenting on, his Michigan baseball cap.
"The last couple of times I was here, I wore a Spartan hat," explained Moore. "I was wearing it at a time when Michigan was doing really well (in football), and so just as a (nod to) the underdog in East Lansing, I'd wear the Spartan hat. But after the last 3 years here, I could not come out in a Spartan hat and do that to you. And I'm happy that you had a good fall here with a good coach who is also a good comedian. I just love the fact that he won't call it Ohio State. … Down in Columbus, you know they're burning (Brady Hoke) in effigy, right?"
Nearly 800 fans attended Moore's show, which featured the filmmaker speaking off the cuff for a little more than 90 minutes, and reading excerpts from his book for about 40 minutes. The Michigan Theater was the last stop on Moore's 3-month book tour.
Moore's impassioned talk primarily focused on politics—specifically, the Occupy Wall Street movement—but the night began with a spotlight on Ann Arbor.
For although Moore grew up in Flint, and now lives in Traverse City, he called Ann Arbor "the best town in the state of Michigan." (He also said that when he was asked about the night's program, and whether there would be a Q&A, "I said, 'It's Ann Arbor. There's no such thing as a Q&A. It will be 30 speeches.'")
"I very much love where I come from, and I love where I live now up in Traverse City," said Moore. "But when you grow up in Flint or Detroit or Saginaw or Pontiac, you play this game of, 'If you could live anywhere, but you have to stay in the state of Michigan, where would you live?' And of course, what's the first answer? It's Ann Arbor, right? I mean, it's kind of a fantasy place to go to, because it seems not like anyplace else in this state."
Yet a significant piece of Ann Arbor bookstore lore has been lost, as Moore acknowledged.
"I had told my publisher when I was writing the book, 'If I get to go to Ann Arbor on this tour, … I really want to have some kind of memorial service at the location of the original Borders, because that store—and I take from your applause that you remember it—and for those of you who are students here, or new here, there was this incredible bookstore here called Borders. …
"When we were kids in Flint, … we would drive an hour … just to go and spend a couple of hours in Borders. And being from Flint, coming here and being exposed to books—not that we didn't have books in Flint, but it was slim pickings—and not just the books, but the ideas in the books, and magazines from all over the world, and newspapers—it was just an exciting place to come to. Literally, we'd make a day out of it, because of this bookstore, and Borders became part of my education. It was part of my upbringing. And to come down here once a month, and go back home with a stack of books or magazines from Borders was the coolest thing.
"So it is tragic that it became what it became, was then bought by Kmart, then sold by Kmart, and joined Barnes and Noble, really, in a move to dominate the market and eliminate the independent bookstore. So when the dust settles now from all of this - that a town like Ann Arbor could end up with no (full-service) independent bookstore … either downtown or (near the U-M campus)—it just doesn't make any sense, does it? It's like, how could that be?"
Dressed in tennis shoes, black sweat pants, and a hooded, navy blue sweatshirt—"I'm sorry I didn't dress up," Moore noted. "This was laundry day, and it was the last day (of the tour), and I said, aw, (expletive) it, it's Ann Arbor, they're not going to care"—Moore didn't take long to get to politics.
"I am here, first of all, to bring you greetings from Occupy Wall Street," said Moore. "This is the absolute best movement in my lifetime. I've seen a lot of them, they've done a lot of good, but this one is just amazing. And it's amazing because of the nature of it. The thing that a lot of people have been critical about—well, it doesn't have any organization, and who's the leader? And who's the spokesperson? …
"The kids that run this, … they very politely have just gone about doing this themselves, and are not using a structure that is the old way of doing it, but a structure that's not vertical, it's horizontal, it's inclusive, it allows all voices. There's no one leader because everybody is a leader. … And it becomes much harder for Fox News and the right wing to wrap their hands around the throat of the leader when there's no leader."
During Moore's book tour, he visited Occupy protests all over the country—from Nevada City to Fayetteville, Arkansas to Niles, Michigan.
But Moore also noted that his Ann Arbor stop fell on Rosa Parks Day, and he told the story of what had happened to him on this civil rights anniversary 10 years earlier.
Shortly after 9/11, HarperCollins was scheduled to release his book, "Stupid White Men"; given the shock waves then rippling across the country, the Rupert Murdoch-owned publisher wished to delay the book's release, which Moore readily agreed to. But as more and more time passed, HarperCollins ultimately decided to pulp the 50,000 copies already printed and ask Moore to rewrite the book with a toned-down critique of George W. Bush. Though Moore needed the money, and was struggling to pay for his apartment in New York at the time, he said he couldn't make such revisions, and that seemed to be that.
The next day, Rosa Parks Day, Moore was scheduled to speak at a labor conference at Rutgers University. Dejected, he explained to the crowd what had happened the night before, and told them he'd like to read a few chapters from the book for them, since no one would get the chance to read it.
"Unbeknownst to me, along the back wall, stood a short woman of around 50 years old, and she was a librarian at a public library in Edgewood, New Jersey," said Moore. "She went home and got on the librarian listserv, and sent an e-mail out to librarians all across the country, telling them what she had just heard: that HarperCollins and Rupert Murdoch were pulping 50,000 copies of Michael Moore's book, and no one was going to get to read this. … I didn't know any of this was going on.
"Well, 3 days later, I get a call from a Murdoch operative at News Corp: 'What the hell did you tell the librarians?' 'I don't know any librarians.' 'Yes you do. They know the whole story. What did you tell them?' I said, 'Look, I haven't told them anything.' 'They're outside picketing our headquarters here in Manhattan.' … Well, that sounds like one terrorist group you don't want to mess with. Librarians. The next day, Publishers Weekly did a story on it, then it just went everywhere. Authors started saying, 'Well, I don't know if I would publish my book at this place, if something like this could happen.' So then it started to be bad for business, and now they're calling me, saying, 'Could you come in and meet with us?'"
For Moore, apropos of Rosa Parks Day, the experience demonstrated once again the power that an individual has to spark change.
Later in the talk, Moore expressed a sense of disappointment in President Obama's term; but he also discussed the excitement surrounding the campaign and election day.
"I left the voting booth and I asked my wife, 'Did you see his name?' She said, 'Yes, I just voted for him, of course I saw his name.' And I said, 'No, did you see his name? He put his whole name on the ballot: Barack Hussein Obama.' He must have had a thousand consultants saying, don't put Hussein on the ballot. So why did he do it? … I thought, 'It's hard enough getting a black guy elected. Why double down?' And later, when reporters asked Obama about it, he said, 'That's my name. Hussein. It's Arabic for "kindness."' I thought, 'What (courage).' … I want that Obama back."
During a somber moment, after Moore reluctantly suggested that Wall Street doesn't currently have a Republican nominee in the race because it's contributing heavily to Obama's campaign, and thus he won't get in its way, an audience member quipped, "Well, that was worth 10 bucks." Moore immediately pulled some cash from his pocket and gave the patron a refund.
The night ended with Moore reading 3 excerpts from his memoir—but instead of continuing to stand at a podium, he moved to a nearby armchair and asked the audience to provide traveling music for him.
Because he'd argued earlier that right wing broadcasters wouldn't be angry, but would instead always be singing "Zip a Dee Doo Dah" if they were working in a country that was majority conservative, a small group in the audience started singing that song. It spread across the crowd as Moore happily made his way across the stage, toward the chair where he'd earlier tossed his hooded sweatshirt.
To all appearances, Moore felt wholly at home.
Jenn McKee is the entertainment digital journalist for AnnArbor.com. Reach her at jennmckee@annarbor.com or 734-623-2546, and follow her on Twitter @jennmckee.