Posted on
Fri, Mar 19, 2010 : 1:30 a.m.
Michael Moore talks about "Roger and Me" and more at U-M
By Jenn McKee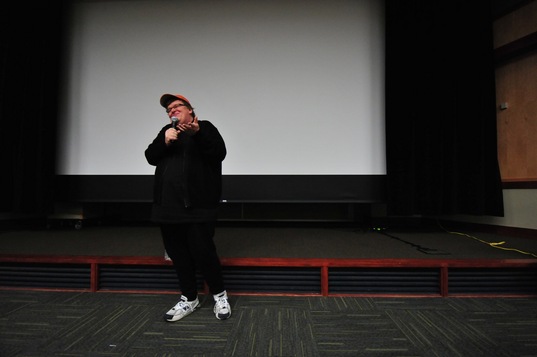 Ryan Stanton | AnnArbor.com
After a 20th anniversary screening of "Roger and Me" on Thursday night, Michael Moore entered Angell Hall's Auditorium A — a space the controversial, Oscar-winning filmmaker referred to as "hallowed ground."
For Moore had often driven to Ann Arbor in the '70s to catch movies (like "8 1/2," "Wild Strawberries," and one of his all-time favorites, "Hearts and Minds") screened by U-M campus film groups, and this largely provided his film education, he explained to the capacity crowd of more than 300.
In fact, U-M's campus was where he first watched "Atomic Cafe" and met filmmaker Kevin Rafferty, who ended up showing Moore some basics about cameras and sound while helping out on "Roger and Me."
As it happens, Rafferty is a nephew of George H. W. Bush, and he reported back to Moore about a private screening of "Roger and Me" that the Bush family had at Camp David during George H. W. Bush's presidency.
"(Rafferty) said, 'Well, it was interesting. But one of my cousins, he was laughing — he got the whole thing. Of course, he's high half the time. Yes, his name is George, too.' And that was my very first experience with George W. Bush."
Some other notable quotes from Moore's nearly 90-minute talk:
On getting started in film: "I had not made a movie before, so this was all trial and error. I screwed up so many things. I would say out of every 10 rolls of film that we shot, one was usable — usable as in, we could develop it. I'm serious. It was just a complete mess from beginning to end, and when I watch it now, I don't know how we all did this, because we knew nothing. … On some level, I'm glad I didn't finish school, because one of the really bad things that school … teaches you is that failure is bad. And I never was wired that way. I always thought failure was a good idea, because that's how you learn."
On his goals for "Roger and Me": "I set out to make the anti-documentary. … To take the principles of what was called New Journalism at the time and apply it to filmmaking. To approach this with the attitude of, make sure that anything you're stating is a fact is fact, but everything else is open to your interpretation or the audience's. … The other thing I did was, … I made this to be shown in movie theaters. I want you to see my films in a room like this: in the dark, with two or three hundred other people — I want you to have this communal experience. That's what the movies are really about. It's not about sitting at home watching it on the couch by yourself with a remote that you can pause or speed ahead or listen to the director's commentary. In fact, if you've gotten any of my DVDs, you know that I avoid the director's commentary whenever possible. There's one on ('Roger and Me'), and I have never done it since. … And I've actually been toying with the idea of announcing that, my next film, I'm not going to do a home video of it."
Ryan Stanton | AnnArbor.com
On "Roger and Me" as a dating test: "One night, the phone rings. I pick up the phone. It's George Clooney. I'd never met the guy, no contact with him whatever, this was a number of years ago. And he says, 'I just wanted to call you up. I've never met you, and I wanted to tell you how much I love "Roger and Me."' And then we got talking about it, and he says, 'I want to tell you something, and this is the honest truth, that when I decide to ask somebody out to go out to dinner, like a first date or whatever, … this is the typical first George Clooney date: go to dinner, and then come back and watch 'Roger and Me.' If they get it, then there's a second date. If they don't get it, there's no second date. So I kind of use you as a barometer as to whether or not there should be a second date.' I said, 'That is so pathetic. I can name about three other things you should go for first, other than liking 'Roger and Me.'"
On the demise of print media, and specifically, the closing of The Ann Arbor News: "I don't know how to explain this to people outside of Michigan because they don't understand why what would appear to be the most educated town in Michigan doesn't have a daily newspaper. … (The media companies) all blame the Internet. … And I say to them, 'Well, how come the papers in Germany aren't closing? How come there are still 11 dailies in London? Why aren't papers in Sweden closing, or France? Because I think they got hooked up to the Internet some time ago.' … It's (because of) two reasons, in my humble opinion.
One is the business model. In America, the number 1 source of income for daily newspapers is advertising. Circulation is number 2. … In Europe, it's the opposite. … So if circulation is going to be your number one way to make money, what do you got to do? … You've got to put out a great paper. You've got to have the best writers. … In Sweden, they sell enough daily papers every day, one for every man, woman and child. You take the population of Sweden and look at the circulation figures, they're exactly the same, and that includes children. And they've got the Internet. … They want to read that paper, and they want that paper to have — they want the long version (of stories), and they want to take the time to read every day.
… The other reason that the reason that the papers are dying, why we don't have an Ann Arbor News, is because the papers have helped to dumb down this country. … And here's how they've done it. In 17 (presidential) elections, between 1940 and 2004, the majority of American newspapers endorsed a Republican for president in 14 of the 17 elections. … The … papers endorsed the party that wants to get rid of the Department of Education, that wants to put education on the lowest rung of the funding ladder, that hates the teachers union — they endorsed the party that made them have less readers. Because we now in the this country have 40 million adults who are functional illiterates. … They cannot read and write above a fourth grade level. So when they can't do that, you have to dumb down the paper. You can't use words with more than three syllables. Bigger graphics. Bigger pictures. … They brought this on themselves by helping to create a society that can't even read their own … paper. It's as stupid as if GM had lobbied to get rid of driver's ed."
---
MORE ON MOVIES

Find links to more news about movies and the rest of the entertainment world every weekday in our Daily Entertainment Links.
---
On legal problems: "I was sued or threatened with a lawsuit about 30 different times after ('Roger and Me') came out. And I learned what to do after that. So in the last 20 years, I've only been sued twice, and that's all my movies, TV shows, and books combined. … Both were thrown out of court. … I do a number of things now to make sure I don't get sued, which is get releases as much as I can, … and hire really scary lawyers to threaten people who are trying to stop me. So it's kind of a sick game you have to play. Once you start suing them back, when they file frivolous lawsuits against you, they stop doing it. But I didn't learn that for a while."
On the current Democratic majority in Congress: They just look like a bunch of wimps. That's why you have to admire, on some level, the Republicans, because they come into town with guns blazing, they run over anybody that's in front of them, and what they say is, 'We were elected to do this. The people have had their say. … Get out of my way.' And we come out and bring out the six-string guitar and sing 'Kumbaya.' We hold out a hand in the spirit of bipartisanship. … They don't want to hold hands with anybody. … So I give Obama a lot of credit for having a good heart and wanting to have everyone get along, but the other side doesn't want to get along, and the people spoke. … I have zero optimism. … I feel bad for the young people who worked so hard to get Obama elected, because I hate to see you become cynics and give up so early because nothing happened in the first 15 months."
On "Roger"'s infamous rabbit lady, whose handmade signs were first spotted by Moore's wife: "We're like, that's what we've become. The hometown of General Motors is like a third-world country now. Bunnies are for sale. You can get them for pets or for meat. And that's pretty much how we felt we ended up being in that town. The few that succeeded were the pets, and everybody else was just meat. Everybody else was getting clobbered. It's always amazed me. When I used to speak to audiences when the film came out, people were very upset at watching that poor bunny being clubbed, and there was much more of a gasp in the room than anything else that happens to any of the humans in the film. The job losses, a Christmas tree — the kids' Christmas presents being put out on the curb does not engender the same gasp that the bunny gets when its head is clubbed by a metal pipe. In the film, a black man who's obviously gone a little crazy has a toy gun, and he's shot by the police in the middle of the street. And nobody's ever asked me about what's up with shooting the black guy in the middle of the street who's obviously mentally deranged and had a toy gun. … I've never, in 20 years, been asked that."
On confrontation: "I'm afraid all the time. I remember, while we were making ('Roger'), I didn't really enjoy doing a lot of the confrontation stuff. Going into those buildings, I'd always have a sick feeling before going in there."
On this year's Oscar contenders: "I did not like 'The Hurt Locker.' It's a lazy way to make a movie, frankly. I could put you on the edge of your seat quite easily, and have you feel the tension for 2 hours, if every other scene practically is, 'Should we cut the red wire or the green wire?' And if he cuts the wrong wire, he gets blown to smithereens, and you never know who's going to get blown up in any given second. That doesn't take a whole lot of skill to get big emotion out of this if you're in the audience. And there's a pornographic element to it that's a little disturbing because you can't take your eyes off it. But what's it saying? What's the substance of this? I think 'Avatar' was really trying to say something about the planet, about indigenous people, and about how we construct war now, how we privatize it. And I think these are really powerful things to say in this time, and I give James Cameron a lot of credit."
On mistakes he's made: "I still fall into the trap of thinking I've got to interview experts. So I waste all this time going and getting there, doing this interview … where the expert is telling you what's going on. And I never end up using it. And that's just a function, I think, of a lack of confidence. … I feel like I need that person with the degree I don't have, or has the knowledge I don't have to explain it to people. But it's always better to show it."
On breaking into the film business: "You can't break in. That's the big truth I want to tell you. It's not about who you know, it's not about foot in the door, it's not about getting your break - I don't think it's about any of those things. It's ultimately about you making a good movie. … The audience will forgive a lot of things. They'll forgive the camera work if the story is really strong."
On unsuccessfully, at first, goading Roger Ebert to forgo the Telluride Film Festival's opening night gala to instead see the premiere screening of "Roger and Me": "Five minutes before the film starts, I look out the window in the lobby, and waddling down the street is Roger Ebert. … He walks in, he sees me, and he goes, 'OK, OK, don't say anything. There was just a crazy look in your eye that told me I had to be here.'"
The evening concluded when U-M screenwriting professor Jim Burnstein explained to the crowd that Moore had prioritized his commitment to come to U-M over a booking on "The Colbert Report." Burnstein presented Moore with a U-M sweatshirt and baseball cap. 
Moore pretended to weigh his options in his hands.
"Ann Arbor, Colbert, Ann Arbor, Colbert — Ann Arbor!"
Jenn McKee is the entertainment digital journalist for AnnArbor.com. Reach her at jennmckee@annarbor.com or 734-623-2546, and follow her on Twitter @jennmckee.