Posted on
Tue, Nov 30, 2010 : 11:44 a.m.
'Michigan Family Farms and Farm Buildings' explores the American way of life - via barns
By Leah DuMouchel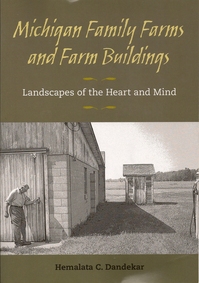 If you are the sort of person who looks for any chance to get Grandma and Grandpa going about the good old days, you're going to love "Michigan Family Farms and Farm Buildings: Landscapes of the Heart and Mind" (University of Michigan Press). If you cherish these old stories so much that you're happy to get anybody's grandma and grandpa going, then you may want to block off a nice rainy day on the couch with a pot of tea, because the 15 stories coaxed out over 20 years by Hemalata Dandekar are a mother lode.
"I just enjoyed learning about their stories, and I didn't know about living in the United States," says Dandekar by phone from California, where she is the head of California Polytechnic's City and Regional Planning Department. (She also lived in Ann Arbor for 22 years and held several positions at the University of Michigan).
She first fell in love with Michigan barns as an architectural exchange student from India.
"It was a window in the past that you don't really associate with this country as much." Wait, what? How can the pastoral family farm not be associated with the fruited plain of America, breadbasket to the world?
"I think so much of the world — after World War II, America was the place of industry and innovation and the freeways and everybody having a car and a house," she explains. "It was modernity writ large. And so finding these really hardscrabble beginnings of many of these people, their dedicated commitment to making it in this country, that was really interesting to me."
She writes in the introduction that during the late 1980s, the work started as a technical study of barns, their architecture and landscape and the connections between farm production and various policies and institutions. "That the compelling design of Michigan farmsteads reflected local natural resources, the regional economy, national policies, and regulations was documented," the passage concludes rather dryly.
This documentation of mechanical minutae, however, turned out not to come close to telling the whole story. By the time Dandekar had finished seeking out those who might know about the magnificent barns dotting our landscape and interviewing them extensively, she realized that the farm buildings "communicated landscapes of the heart, of sentiment and memory, not just those of the mind, economy, and practicality."
Although it took this busy academic administrator a decade and a half to return to the farms she had studied, she says now that "those stories still informed a lot about my look at America because of the values of the people. They seemed important to the way America looks at the world, and it made me understand how America was different from other countries that I knew."
It was the unceasing self-reliance of the farm families that impressed her most, the dedication to breadth of knowledge that it takes to do everything from repairing a combine to birthing a lamb. There was a clear distinction between these highly autonomous units supported by communities and, say, the hierarchical organization of farm life in India.
But our system has its own pitfalls. Dandekar says another reason it took time to return to this tale was that "it was a little bit of a gloomy story; it looked like the whole family farm situation was going to disappear and everything was going to be corporate." But in 2004, she laughs, "I was amazed to find a number of these people were still alive! They're kind of a hardy lot. Maybe it's the good food and fresh air and needing to keep moving."
So she caught up on their stories and began transcribing their earlier interviews, carefully stitching the families' words together so that we feel like we're looking out a white-framed window over neat rows of field with a cup of coffee in hand, listening to old Mr. Wing expound upon the "good eatin'" to be found on the yellow apples his mother-in-law used to grow. When he follows it with a gruff pronunciation on the need for better education among supermarket shoppers about what constitutes a desirable piece of fruit, I wilt a little imagining his hawk-sharp eye peering at my produce inspection habits from under a bushy white eyebrow.
As Dandekar relates this story, she concurs almost as an aside that the American consumer has, indeed, been conditioned to the "standardization of produce" and could use some re-education. Asked about possible hope for the "gloomy" situation of family farms, her voice brightens markedly.
"Well, I'm talking to you from California, where it's a lot easier. There is a huge network of farmers markets here. Every real city has a market where they're selling local products, and it's a good source of income for the farmers. There's a lot of talk about food security and wanting to know where what we eat comes from. (We can) highlight in the media the value of local products, the freshness of them, that they can be better for us, the idea of having agriculture around us. (We have to increase) public perception of the tradeoffs, because many times the costs you pay in the supermarket have been subsidized — it's not always fair market price that you pay. And then you're paying elsewhere in terms of environmental damage, in terms of soil quality coming down, in terms of your health."
Everything old is pretty stubborn about becoming new again, and it may be that we desperately need what our farming heritage has to teach us today. Neither "biomass" nor "slow food" are hot trends there — they're just the way it goes in a "sustainable, frugal, integral way of life that accepts constraints."
After a century of urbanization, the story of children making their way to cities for a better education, increased economic opportunity and greater worldliness is a familiar one — but what about the story of the land from which they came? The connection between a family and a plot of soil is a heartbreakingly human one, dependent as it is on the depths of strength and commitment to maintain it. If we sever it completely as a society, it's almost certainly at our peril.
The farms Dandekar studies span the state, from one tenaciously holding its own against encroaching development on Ann Arbor's west side to a cluster in the Upper Peninsula's Keweenaw Peninsula whose histories are inextricably tied with our mining heritage. But similarities like the inexorable daily rhythm associated with the care of animals or the community involvement required in getting a barn raised bind them to one another across the varied landscape.
"I know this is a book about Michigan farms," says Dandekar, "but it's more than a book of local stories about local people. I was really trying to get at our value system as a great thing to hold onto, because they're very American values. And interestingly, I've run into people with backgrounds from Texas, from Washington, from California, and they've said, 'Oh, I really recognize the people here. They're just like the ones I grew up with.'"
"Michigan Family Farms and Farm Buildings: Landscapes of the Heart and Mind" is available through the University of Michigan Press.
Leah DuMouchel is a freelance writer for AnnArbor.com.