Posted on
Mon, Jan 30, 2012 : 5:58 a.m.
Folk-rockers Frontier Ruckus, stirring up a fuss nationally, offering new songs at The Ark Thursday
By Roger LeLievre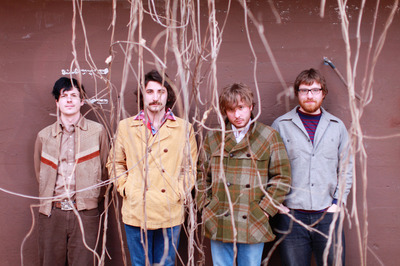 If you want to know what Michigan-based folk-rock band
Frontier Ruckus
has been up to lately, an Ark show Thursday night will offer the perfect chance to catch the group Rolling Stone recently lauded as offering "the perfect recipe for Gothic Americana.
"Their songs are full of rich, rural details: frozen lakes, swaying trees, highway lights glowing in the deep night," Rolling Stone's rave continued.
There's been other positive press of late, and although such recognition is nice, Frontier Ruckus frontman Matthew Milia is glad the hype hasn't gotten out of hand so far.
"We're level-headed, hoping for a nice balance," Milia said.
"I'm grateful reputable places have said really nice things about us, and it's just enough for us to feel legitimate," he added. "There are so many bands that are getting so much exposure, and I am grateful for the almost moderate amount we've been afforded—it gives us a kind of leniency to just develop on our own, unnoticed. … I think we're going to surprise a lot of people with what we put out next."
Rolling Stone isn't the only publication that's taken note of Frontier Ruckus. Under the Radar recently praised their last album, 2010's "Deadmalls and Nightfalls," saying it "paints pictures, in vivid imagery of American scenery, life, and love, with not a single word misplaced in its poetic grace."
Even The Ark, on it's website, wonders if Frontier Ruckus "will be next breakthrough Americana band."
Timing for the positive press is perfect, since the group - Metro Detroit-based but in Ann Arbor for much of the winter recording - has an ambitious new CD in the final stages of production.
PREVIEW
Frontier Ruckus
Who: Matthew Milia, David Jones, Zachary Nichols and Ryan Etzcorn.
What: Michigan-based Americana band that's been earning national recognition recently. With Nashville's David Mayfield Parade.
Where: The Ark, 316 S. Main St.
When: 8 p.m. Thursday, Feb. 2.
How much: $15. Tickets available from The Ark box office (with no service charge); Michigan Union Ticket Office, 530 S. State St.; Herb David Guitar Studio, 302 E. Liberty St.; or online from the Michigan Union Ticket Office.
"We've been on the road pretty much ever since (2010), it's been a lot of time for a lot of songs to accumulate," Milia said. "This time we're recording about 22 songs and we're leaning toward a double album since we have so much material. … We're thinking of releasing it as one very indulgent, comprehensive document.
"Personally and psychologically I needed to kind of flush them out of myself," he observed of the new tunes. "I'm really proud of all of them. … The songs are working together and we just can't wait to get them out. I feel like it's leaps and bounds beyond everything else we've done to this point."
The album, titled "Eternity of Dimming," being recorded in Ann Arbor with Jim Roll handling production, should be completed by the end of February. Fans can expect to hear plenty of tunes from the new project at the Ark show, Milia promised.
This is Frontier Ruckus' third playing the Ark, and the second time headlining. The group has also performed at the Blind Pig.
"The Ark will be a little more intimate maybe, and we can get away with playing some softer songs, listening-based songs," said Milia.
Frontier Ruckus was founded in 2003 by Milia and David W. Jones. The lineup quickly grew with the addition of Eli Eisman, Zachary Nichols, Ryan Etzcorn and Anna Burch (the band's current core lineup consists of Milia, Jones, Nichols and Etzcorn, plus a revolving cast of bass players). The band released its debut full-length record, "The Orion Songbook" in 2008.
Milia said that although the task of defining the band's sound is difficult, he is comfortable saying the group is still folk-rock, leaning more toward the rock side. "Not like hard rock by any means," he explained, "but there's a lot of electric guitars, a lot of reverb—kind of '50s rock and roll sound is creeping into songs on the new record. I just bought a 1949 Gibson hollow body (guitar) - that sound is kind of defining the sound on a lot of the (new) songs."
Milia said the show's opener, Nashville-based David Mayfield Parade, is worth hearing as well.
"He's an incredible bluegrass flatpicker," said Milia. "He was in a band called Cadillac Sky, which was a big touring bluegrass act. His new group is a little more eclectic. I would say he is a showman first and foremost, he's definitely a live act you want to catch."