Posted on
Thu, Apr 11, 2013 : 9:52 a.m.
Michigan Pops Concert to take audience on a 'Revolutionary' adventure
By Ann Dwyer
Revolution. Our country was built on it. The French tamed the nobility. Russia, China and Cuba became socialist nations. Revolutions can also inspire some epic songs.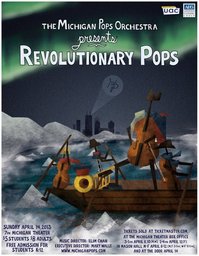 The Michigan Pops Concert will take you on an adventure with
Revolutionary Pops
at the Michigan Theater. The concert will feature songs from films such as the "Matrix" and the "Dark Knight" and composers from Dvorak to Shostakovich
Who knows, perhaps the Pops will have you ready to start your own revolution.
Or just maybe clean the house. Viva la revolution!
Sunday, April 14, 2013. 7 p.m. $5-$8. Buy tickets at Ticketmaster.com or at the door. The Michigan Theater is located at 603 E. Liberty St., Ann Arbor. 734-668-8397. Get more information at umuac.org/mpo/.