Posted on
Tue, Apr 17, 2012 : 3:40 p.m.
Michigan Theater plans major new international film festival
By Jenn McKee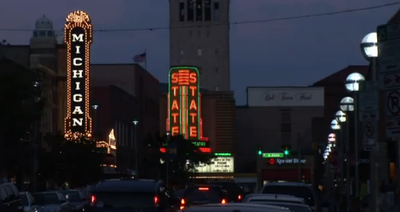 The
Michigan Theater
has announced that it's planning the inaugural Cinetopia International Film Festival—May 31-June 3—which will feature 30-40 movies from all over the world.
At a press conference Monday, the Theater's CEO and executive director, Russ Collins, mentioned that at last count, there were about 4,000 film festivals worldwide each year, with the biggest being Cannes, Toronto, Sundance, and Venice, among others.
"There is no festival like that in Southeastern Michigan, and what we want to do this year is put together a festival that's a test market to see if our market in our area might be able and interested in supporting that kind of a festival," said Collins. "This year, we've put together a four-day festival … that's going to have story-based films and documentaries that are culled from the world's best festivals. We're also going to do a little feature on 3D films—both state of the art digital 3D, as well as the classic celluloid 3D."
In addition, lectures related to Cinetopia and its programs are being planned at the Ann Arbor District Library, and at the screenings—happening at the Michigan Theater's main auditorium, one auditorium at the State Theater, and Angell Hall Auditorium A on U-M's campus—scholars, directors, and actors will offer their insights.
"This first film festival is not going to rival Toronto, or Berlin, or Venice—hate to tell you," said Collins. "Ann Arbor likes to go right to the top at the beginning. … We want to grow our festival organically. … We hope over the next 5 to 10 years, that this festival grows in a scale that's similar to some of the larger film festivals. … In terms of attendance, somewhere between 20 and 80 thousand people tend to go to these larger film festivals. We hope to get that kind of number in the years to come."
In addition to showcasing what's new and exciting in independent and foreign film, Cinetopia will also take a look back at film's rich history.
"The Michigan Theater was built as a silent movie theater, so this year, we're going to feature a silent movie artist, Harold Lloyd, and we're going bringing Harold Lloyd's granddaughter, Suzanne Lloyd," said Collins. "She's a curator of his work. She's going to talk about his work and bring some special stuff."
Finally, with Cinetopia, Collins aims to put one element of filmmaking regularly in the spotlight.
"We would like to, every year, salute screenwriting—the great, extremely important but underappreciated dynamic of filmmaking," said Collins. "The University of Michigan has had a long history of being the source of great screenwriters, and that's probably the largest contribution that Michigan has made to the film industry worldwide."
Collins cited Dudley Nichols ("Stagecoach," "Bringing Up Baby"), Arthur Miller ("The Misfits"), Lawrence Kasdan ("The Big Chill," "Raiders of the Lost Ark"), and Adam Herz ("American Pie") as examples of influential screenwriters who attended U-M.
This year's inaugural Cinetopia will celebrate the work of Hopwood Award-winning U-M grad and screenwriter David Newman, best known for "Bonnie and Clyde," "What's Up, Doc?" and "Superman."
Amanda Bynum, director of programming and education at the Michigan Theater, is overseeing the festival's lineup.
"We are doing quite well on confirming films for the festival," Bynum said. "Festival programming often comes together at the very last minute, so having about 26, 27 of our 33-ish films already confirmed—we're in really great shape."
Among the films confirmed are this year's award-winning Sundance opener, "Queen of Versailles," as well as "Five Broken Cameras," "Putin's Kiss," "Teddy Bear," "Headhunters," "Brand New Day," "Juan of the Dead" (a Cuban zombie movie), "Your Sister's Sister," "28 Hotel Rooms," and "Beyond the Black Rainbow."
During Monday's press conference, a representative from AT&T, the event's presenting sponsor, presented Russ Collins with a check for $25,000. Other event sponsors include Zingerman's, Dickinson Wright, Money Source Financial Services, Weiser Center for Europe and Eurasia, Whole Foods, and the Ann Arbor Observer.
Collins hopes that Cinetopia will eventually have the same cultural and economic impact as local events like the Art Fair; Arts, Beats and Eats in Royal Oak; and the Detroit Jazz Festival. Furthermore, he hopes that the festival will, down the road, become an 11-day event that expands to include Detroit venues.
But if you're thinking that Ann Arbor already has a long-established film festival - which just celebrated its 50th anniversary in March - you have to consider the clear distinction between the events' content, according to Collins.
"The Ann Arbor Film Festival is a great festival," Collins said. "It's focus is experimental film. … They don't typically focus on the story-based kind of format that people are most familiar with when they go to a movie. So this festival is going to have a completely different kind of content focus than the Ann Arbor Film Festival. We've also developed a strong relationship with Sundance over the last few years. … That allows us to have a nice relationship with the larger film world, and allows us to land some of these exciting films we're going to have."
Check out this brief video preview for Cinetopia.
Jenn McKee is the entertainment digital journalist for AnnArbor.com. Reach her at jennmckee@annarbor.com or 734-623-2546, and follow her on Twitter @jennmckee.