Posted on
Wed, Apr 17, 2013 : 11:30 a.m.
Michigan Theater to host seventh Young Filmmakers Camp this summer
By Jenn McKee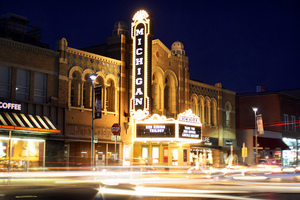 The Michigan Theater, 603 East Liberty Street
For local middle school and high school students who "really just want to direct" - film, that is -Â there's the
Michigan Theater
's seventh annual summer Filmmakers Camp.
Full details appear in press release:
Now in its seventh year, the Michigan Theater's Young Filmmakers Camp gives middle and high school students the chance to bring their imaginations out from behind the lens and onto the big screen. "Media literacy and the language of film are really important tools for youth to learn and understand," says Amanda Bynum, Michigan Theater Director of Programming and Education. "But summer's a time for having fun - so Young Filmmakers Camp combines the two!" Campers will receive hands-on experience in making their own short films in a collaborative setting, plus an introduction to the rich and storied history of film. By the end of camp, these budding filmmakers will gain insight on how directing, acting, producing, editing, shooting, and all the other behind-the-scenes magic shapes a film from a simple idea all the way to a Hollywood blockbuster.

The Michigan Theater offers three different film camp age/ability levels:

Intro To Filmmaking (suggested for grades 5-8) July 8-July 12 from 9 AM-3 PM

Intermediate Filmmaking: Middle School (suggested for grades 5-8) July 22-July 26 from 9 AM-3 PM

Intermediate Filmmaking: High School (suggested for grades 9-12) July 29-August 2 from 9 AM-3 PM

Additionally, all campers will participate in a Grand Finale Screening on Sunday, September 8 at 1 p.m. Their films will be shown on the Michigan Theater screen at a special Young Filmmakers Camp matinee that is free and open to the public. Campers will also receive a DVD of all their projects to take home.

All sessions will be led by award-winning Eastern Michigan University Film Studies Professor Brooke Dagnan and Michigan Theater Film Programmer Brian Hunter. Additional instructors will include experienced motion picture professionals, as well as film and video instructors from Eastern Michigan University.

Registration for Young Filmmakers Camp is now open at michtheater.org/camp. Campers will receive an early bird rate ($469 for the general public; $419 for Michigan Theater members) if they register before May 24. Non-members can purchase a membership and receive the member registration price immediately!

The Michigan Theater will award three full-tuition scholarships for this year's Young Filmmakers Camp, one for each week. Applicants must provide the following:

A fully-completed Young Filmmakers Camp registration form

A typed 300-word essay on why they want to come to film camp

Additional materials to support the application, such as storyboards or scripts (may be submitted via email or as links to online video hosting sites such as YouTube, Vimeo, etc.)

All materials must be faxed, emailed, or mailed to the Michigan Theater by Friday, May 24. Applicants will be notified of receipt of their application and will receive notification about their acceptance by June 14.
Jenn McKee is an entertainment reporter for AnnArbor.com. Reach her at jennmckee@annarbor.com or 734-623-2546, and follow her on Twitter @jennmckee.