Posted on
Sun, Oct 21, 2012 : 1:18 p.m.
The search for Michigan's best haunted house visits Brandywine Cemetery
By Bob Needham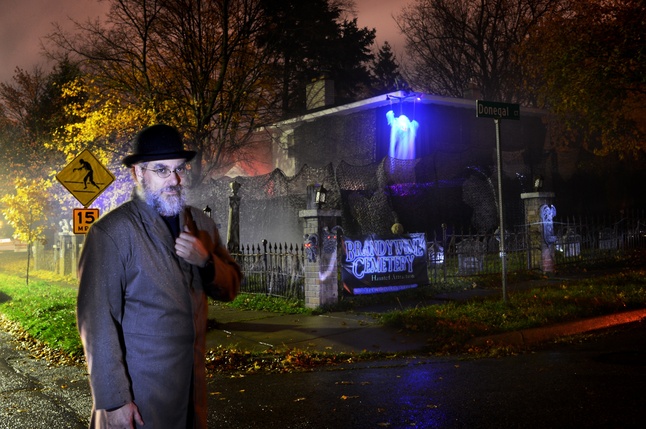 Melanie Maxwell | AnnArbor.com
Brandywine Cemetery is a remarkable work of Halloween art.
As part of a statewide search for Michigan's best haunted house, the AnnArbor.com / MLive team visited this beloved neighborhood attraction Friday night. John "Gonzo" Gonzalez, statewide entertainment reporter for our partner website, MLive, has been leading the charge on this project, visiting some of the top haunted attractions around the state, and Friday he came to Washtenaw County.
And while it doesn't officially open for the season until Oct. 30, Brandywine "groundskeeper" Robert Beech had enough set up Friday to show us around.
It's an amazing accomplishment—and unique in several ways. Much smaller than a typical commercial Halloween attraction, Brandywine Cemetery nonetheless won the title of best "haunted house" in the greater Ann Arbor area in an online poll of readers that drew more than 1,000 votes.
It's easy to see why. Set up in the yard of a single house in eastern Ann Arbor, Brandywine Cemetery is the realization of its groundskeeper's vision.
Beech is an artist, and he has a professional background in Hollywood special effects. It makes for a perfect combination, resulting in a haunted scene featuring detailed handmade gargoyles, smoke, a spectacular crypt, volunteer actors, animation, a historical marker with a full back story, and of course the headstones—seemingly endless headstones, each of which carries a name with some sort of significance (including many clever puns).
But no outright gore. One thing that distinguishes Brandywine Cemetery is its family-friendly nature: Blood and guts are not part of the scares.
"I like things that have to do with traditional Halloween," Beech says. "It makes memories for the kids, and that's what's important to me."
Daniel Brenner | AnnArbor.com
Beech decorated homes in Washington D.C. and Los Angeles before moving to Ann Arbor in 2000. His wife, Sue, who is an actor at the cemetery, recalls how disappointed they were when they only had 7 trick-or-treaters their first year here.
That would never happen again. The cemetery improves every year, and nowadays they might draw 1,000 visitors over the two nights the attraction is open.
"I love Halloween and I love giving back to the community," Beech says. Which brings up a couple more unique aspects of Brandywine: Admission is free; and donations are accepted, but they all go to charity.
Brandywine Cemetery opens Oct. 30 and 31, and they are looking for additional volunteers to help out this year. For information on helping or visiting, check out the Brandywine Cemetery website.
And if you need more:
A winner in the search for Michigan's best haunted house will be named on Tuesday. Find all the articles about Gonzo's search here.
Check out AnnArbor.com's complete guide to Halloween events and activities.