Posted on
Sat, Nov 10, 2012 : 9:40 a.m.
Mike Birbiglia bringing comic one-man show, 'My Girlfriend's Boyfriend,' to Ann Arbor
By Jenn McKee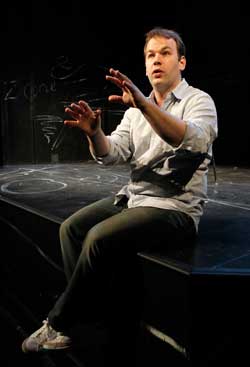 Photo by Joan Marcus
Comedian
Mike Birbiglia
, who worked with radio show host
Ira Glass
on the film "Sleepwalk with Me," is bringing his newest, acclaimed, Off-Broadway one-man show, "My Girlfriend's Boyfriend," to Ann Arbor's Michigan Theater on Thursday, Nov. 15 at 8 p.m.
In "My Girlfriend's Boyfriend," Birbiglia revisits a lifetime of romantic blunders and miscues, struggling to find reason in the realm of love.
"My Girlfriend's Boyfriend" opened in New York in March 2011, and it won the Lucille Lortel Award for outstanding solo show, and was named a "critic's pick" by The New York Times, New York Magazine, and Time Out New York. Ann Arbor is one stop on the show's current 20-city tour, and Birbiglia plans to pursue a film adaptation next.
"I've done a draft of it, and in it the character's not autobiographical," Birbiglia told Indiewire.com. "In the play he's a comedian, and in the film he's a journalist. There are definitely ways that it eases away from autobiography. I just like when you look at people who have long careers in film, they're able to make films that are far away from themselves, because they're metaphorical. It creates for more opportunities, I think."
PREVIEW
"Mike Birbiglia's My Girlfriend's Boyfriend"
What: Comedian and "Sleepwalk with Me" star, co-writer and co-director Birbiglia, in this award-winning one man stage show, re-visits a lifetime of romantic blunders and miscues that most adults would spend a lifetime trying to forget.
Where: Michigan Theater, 603 E. Liberty St. in Ann Arbor.
When: Thursday, Nov. 15 at 8 p.m.
How much: $35. For more information, visit www.michtheater.org; for tickets, visit www.ticketmaster.com.
The
New York Times' review
of Birbiglia's stage show noted that although "My Girlfriend's Boyfriend" begins with an account of a car accident, "the theme here is his sad-sack love life, going all the way back to girls with braces but ultimately pointing toward a future that, you suspect, won't be so bad. The stories keep leading to his relationship with Jenny, who you know must be someone special because at one point Mr. Birbiglia recounts a memorable seven-point tirade he aimed in her direction about why he would never, ever get married. Yeah, right."
Birbiglia recently explained, in an A.V. Club interview, that one thing he learned from writing one-man shows is that "the writing has to be about the audience."
"When you're writing something, no matter how specific and personal it is to you, you need the audience to feel it's about them," Birbiglia told A. V. Club. "That is the balancing act of writing something personal, is that you need to get really specific with yourself and somehow make that feel really specific to the audience."
Here's a short television promo for "My Girlfriend's Boyfriend."
And here's one of Birbiglia's romantic anecdotes, as it appeared on the radio program "This American Life," that is part of "My Girlfriend's Boyfriend."
Jenn McKee is the entertainment digital journalist for AnnArbor.com. Reach her at jennmckee@annarbor.com or 734-623-2546, and follow her on Twitter @jennmckee.