Posted on
Mon, Nov 28, 2011 : 5:46 a.m.
Mike Brooks, bluesman and pastor, celebrating new album
By Kevin Ransom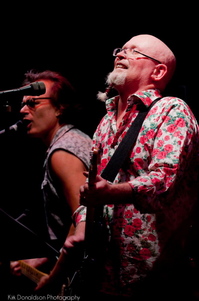 Mike Brooks
of Ypsilanti is an incendiary guitarist who plays the blues with passion, soulfulness and intensity. He's also a pastor of a church—albeit a non-traditional one.
To some, that might seem a contradiction, given that most blues songs are about earthly matters. The same is true of most soul music. But many blues and soul musicians and singers over the last 60 years or so have come out of the gospel tradition, and have also sung songs of faith—from the Rev. Gary Davis and Son House to Sam Cooke and Aretha Franklin.
And Brooks likes to cite this quote, attributed to Muddy Waters: "You can't play the blues if you don't go to church."
Brooks concurs with that perspective: "Life is hard and the blues is redemption music," he says. "It helps get the stuff inside of you out, so you can face the day. Blues can convey the valley of the shadow of death or it can convey a broken, but still kicking, hallelujah."
Brooks is atypical of most local blues musicians in another respect: He's British, and lived in England his entire life until 2006, when he moved to Michigan.
"I'd been into the blues since I was a teenager, and of course, the blues is originally an American style of music, even though there have been many great British blues players over the years," says Brooks in his distinctive Brit accent. "But my biggest blues-guitar influences were American—Elmore James, Albert King, Buddy Guy, T-Bone Walker, Albert Collins, the Vaughan brothers……So I just wanted to get more steeped in the blues and American music."
PREVIEW
Mike Brooks and Blueshouse/313
Who: A Brit native who now lives in Ypsilanti. His band, Blueshouse/313 is made up of local blues artists. He's also a pastor of a "house church".
What: A blues repertoire that runs the gamut from straight 12-bar blues to seductive blues shuffles to swing-blues to raucous rocking-blues.
Where: The Grotto Club, 2070 W. Stadium.
When: Friday, 7:30 p.m.
How much: $10. Tickets available at the door night of the show. More info: 734-663-1202
Brooks brings his band, Blueshouse/313, to The Grotto Club on Friday for a CD release party. The gig celebrates his new live disc, "Spontaneous Combustion," which was recorded live at The Ark in 2008. The disc will be available for purchase at the show.
Brooks was able to come to the States without clearing some of the usual immigration hurdles because he was offered a job by the pastor of a local church who wanted him to "hip up" a more conventional band, he says. But due to the recession, the church was no longer able to pay him, so for the last few years he has been the pastor of what he calls an "organic and ever-changing house church" that meets on Sunday afternoons at homes in Ann Arbor, Ypsilanti, Dexter and Redford.
Brooks shies away from labels, however. He doesn't like to say he's a "religious" person, or even a "Christian," partly because in recent years, those terms have been infused with certain political subtexts. Instead, he refers to himself as a "person of faith, who is seeking understanding of the truth that Jesus taught."
Brooks' faith is helping to sustain him through a difficult period right now. His hips have "slowly given out," he says, causing him a fair amount of pain—he walks with a cane and needs double-hip-replacement surgery. But even though he has an individual health-insurance plan, his out-of-pocket expenses for the surgery here in the U.S. would still be $40,000 - for each hip. So, after the new year, he plans to travel to India, where the cost of such procedures is not so outrageous, to have the surgery.
"Some of the people at the church, and family members, and fellow musicians, are trying to raise money to help me pay for it, so we're hoping that will help," says Brooks.
Brooks and his band play mostly his own original songs, although they occasionally throw in a cover of a blues classic. In some of his lyrics, he writes about spiritual matters, although he doesn't specifically refer to Jesus, he notes. "And some of my songs are just about everyday things, the topics that the blues have always addressed—my wife, or driving, or pain, or 'my baby left me,' or just everyday life. Some of my songs also have a redemptive motif, some are ironic, and so on."
Brooks, 49, was already a pastor back in England before he came here. He had a spiritual experience when he was 22, he relates: "That's when I began to look around and ask, 'Is this all there is?' And I began to feel that it wasn't, that there is a divine narrative, so I began to seek that out and try to understand it."
But at the same time, this is a guy who, as a teen, was originally drawn to Marc Bolan and T-Rex, AC/DC and early ZZ Top before he discovered the straight-blues originators. "Bolan's music was very blues-influenced, and I just fell in love with it, and that has never left me. I loved the swagger of his music. And I can't tell you how many times I've seen AC / DC," adds Brooks.
Presently, Brooks thinks that "Jimmie Vaughan (brother of Stevie Ray and formerly of the Fabulous Thunderbirds) is the greatest guitarist on the planet. I like his economical style, and his tone and his feel. I play more notes than he does, but what I'm really after is that righteous tone."
"Spontaneous Combustion" features eight songs, plus Brooks' oft-amusing introductions, set-up and quips. The song "Down in Bluesville" rides an insistent shuffle groove, with Brooks tossing off barbed riffs and classic-blues solos that display the Stevie Ray influence.
"Whatever it Takes to Be the One With You" commences in simmering, slow-burn fashion, before the band kicks it in the pants and revs it up into a tough, rocking- blues workout. "Bluesman" is a blast of straight blues, including a blazing guitar freakout by Brooks in the middle section. Meanwhile, "Dead Man Walking" is a romping swing-blues tune accented by Brooks' rockabilly-inflected licks and riffs.
Blueshouse/313 has undergone a couple of personnel changes in the last several months. The current line-up is Brooks, Brother Bille Lewis on bass, Geno Parker on drums and Eric Korte on tenor sax.
"These guys are the best musicians I have ever played with," says Brooks. "They understand improvisation, and serving the songs. We have each other's headspace. It's all about lighting a fire in the heart, the mind and the soul."
Kevin Ransom is a free-lance writer who covers music for AnnArbor.com who can be reached at KevinRansom10@aol.com.