Posted on
Mon, Jul 22, 2013 : 10:43 a.m.
Mike E. Winfield all smiles as he heads for Ann Arbor debut at Comedy Showcase
By Roger LeLievre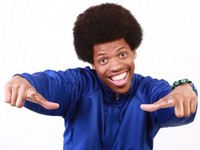 Comedian Mike E. Winfield—the charismatic host of Fuse TV's "Off Beat"—comes to town this weekend with a grin so big he's made it part of his act.
"It's hard to thug it out when you've got big-a-- teeth," he quipped on a recent Showtime special. "People think I'm happy 'cause I got big-a-- teeth. They're like 'Mike, you're so positive about life. Is that the reason you're always smiling.' No, it's because when I close my mouth, it's uncomfortable."
The impressively Afro-ed Winfield appeared on NBC's "The Office" in 2011 for two episodes. His stand-up show touches on topics such as marriage with an older woman, drugs and the difficulties of life to which most everyone can relate.
The winner of Gilda's LaughFest 2013, you may also have seen him on "Comics Without Borders," "Comics Unleashed with Byron Allen," or "Last Comic Standing." One place you haven't seen him, at least until now, is Ann Arbor. He makes his local debut at Ann Arbor Comedy Showcase Friday and Saturday.
Mike E. Winfield performs Friday and Saturday at 8 and 10:30 p.m. at Ann Arbor Comedy Showcase, 314 E. Liberty St. Tickets are $13-$15. Details at www.aacomedy.com or 734-996-9080.