Posted on
Thu, Aug 11, 2011 : 5:41 a.m.
Renovated Miki succeeds with expanded offerings, beautiful presentation
By Susan Isaacs Nisbett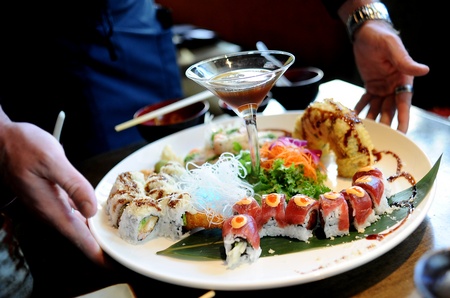 Melanie Maxwell | AnnArbor.com
For a long time, sushi-savvy friends of ours from Brighton have urged us to try their local raw-fish favorite, Sushi Zen.
Now we can just invite them down to Ann Arbor: Yoon and Felisha Kim, owners of the Brighton restaurant, now have an Ann Arbor outpost at Miki, the Japanese restaurant they purchased recently when it came up for sale.
The Kims have been renovating Miki, a longstanding Ann Arbor favorite of ours, renewing it both culinarily — the new menu blends Miki's and Sushi Zen's — and physically — it's now lighter, more open and more comfortable.
The news of all these changes, despite such great reports about the mother ship, didn't exactly make us happy. Miki, just up the block from home, was our Japanese-food canteen, our go-to spot for Japanese take out or dining in. I'd say we were more than a little worried about the updates to the classic sushi menu that were promised.
The hearty, yelled greeting from the sushi chefs — to us and each subsequent party entering — wasn't reassuring. Neither was a sushi menu longer and more intricate than "War and Peace." But we've been won over by the quality and variety of the offerings, as well as by the warmth of the new owners — who seem to understand, among other things, that some of us will need a little hand-holding to get over our Miki attachment.
To that end, for example, you can still get a Miki California roll (made with a mayonnaise-seafood salad), if that's the version you imprinted on. You can still get a CAA (cucumber, avocado, asparagus roll) or a perfect yellowtail scallion roll, albeit a little plumper than the one Miki served. Devotees of Miki's ginger salad dressing will have to adjust to Sushi Zen's — it's not a ringer for it, but it's close and delicious in its own right.
RESTAURANT REVIEW
Miki, by Sushi Zen
106 S. First St., Ann Arbor
734-665-8226


Hours: Monday-Friday, 11:30 a.m.-2:30 p.m. and 4:30-10 p.m.; Saturday, 11:30 a.m.-10 p.m.; Sunday, 3-10 p.m.


Plastic: Yes.


Liquor: Yes.


Prices: Moderate.


Value: More expensive rolls offer good value and there are many well-priced lunch combos.


Noise level: Above "Zen" levels, but very peaceful and conducive to conversation.


Wheelchair access: Yes.
But you'll want to go modern and sample the expanded menu and above all, the sushi list. Just be warned: It takes a long time to read through it, and there are lots of variations on a theme of white tuna along the way.
There are also excursions into new sushi territory — sushi with melted mozzarella inside is a cross-border foray, for sure. My daughter insisted we try it, and while it wasn't a top choice for me (that honor falls to the super spider roll, with succulent tempura soft-shell crab and veggies), I had to admit it wasn't bad at all.
Prices for the more elaborate rolls are not small — but neither are the rolls themselves. Most are supersized, generous enough to share and to make a meal with fewer rather than more. And the presentation is spectacular, with plates adorned with greens and carved vegetable and fruit flowers — a joy to behold as well as to eat.
The variety extends to appetizers. You can munch on edamame, but why not try Sushi Zen's avocado boat — a cool combo of tempura-battered avocado halves filled with crab and spicy tuna — or sample squid bombs, a crunchy spherical variant on ubiquitous fried calamari? A pair of soft-shell crabs, laquered to bronze in their batter, is another great starter to share.
Lunch brings lots of well-priced combos and mini-versions of the bentos available at dinner. Korean dishes like bibimbap find their way onto Sushi Zen's menu, too, just as they have at other area Japanese restaurants. But you won't turn to them out of boredom with the Japanese menu here, which could keep you exploring indefinitely.
Susan Isaacs Nisbett writes about music and food for AnnArbor.com.