Milan resident to compete on 'Jeopardy!' tonight
Posted on Mon, Oct 8, 2012 : 5:55 a.m.
A Milan resident will be one of the contestants on the syndicated TV game show "Jeopardy!" tonight, the show announced.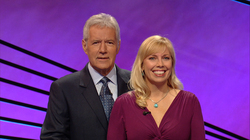 photo courtesy of Jeopardy Productions
Stephanie Jass will be one of the three contestants on the popular quiz program. Jass, 42,
teaches history at Adrian College
.
Watch a brief video of Jass on the "Jeopardy!" website.
On "Jeopardy!," contestants are given an answer and then compete to come up with the correct question. Each day's winner earns a cash prize and moves on to the next day's competition.
Locally, "Jeopardy!" airs at 7:30 p.m. on WDIV, channel 4 in Detroit.