Milan's Stephanie Jass adds $25,000 to winnings Monday on 'Jeopardy!'
Posted on Mon, Oct 15, 2012 : 8:02 p.m.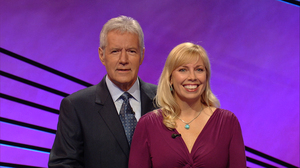 photo courtesy of Jeopardy Productions

She's unstoppable!

Milan resident Stephanie Jass continued an amazing run on "Jeopardy!" Monday, adding $25,000 to her winnings on the TV quiz show and taking her total well over $100,000.

After the first round of play Monday, Jass had already racked up $9,000 in winnings, with her second-place challenger at $1,600. The gap only widened in the "Double Jeopardy" round, which ended with Jass up $21,000 to $2,200.

In the "Final Jeopardy" round, the category was Fiction. The clue: "A proposed title for this novel sounded too much like a Vegas heist movie, so the number in the title was doubled."

Jass correctly answered, "What is 'Catch-22,'" and a $4,000 wager took her to $25,000 for the day. After six victoriess in a row, her winnings total $123,970.

Jass' terrrific run will continue on Tuesday's episode. "Jeopardy!" airs at 7:30 p.m. weeknights on WDIV-TV, channel 4 in Detroit.