Posted on
Mon, Dec 27, 2010 : 5:38 a.m.
Mittenfest keeps growing, showcasing Michigan music and aiding 826michigan
By Kevin Ransom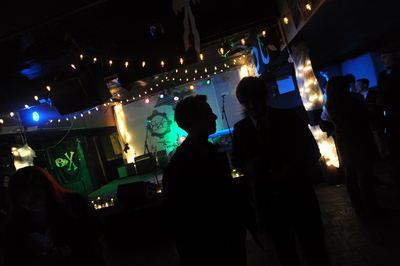 Lon Horwedel | AnnArbor.com file photo
Now that the Mittenfest holiday-season music festival and fundraiser is in its fifth year, it's fair to say it's become an Ann Arbor-Ypsilanti-area institution.
The event has grown every year, and become increasingly more popular. In its first year, 14 acts were featured. By last year, 40 acts performed. This year, the fest was inundated with 130 applications from bands and solo acts.
So the organizers ramped it up again: This year's blowout will feature 60 acts, over four days, from Thursday through Sunday. The organizers — founder Brandon Zwagerman, along with Amy Sumerton and Jeremy Peters — initially booked the fest into the Savoy, in Ypsilanti, a club big enough to accommodate two stages, so that one band could be setting up, while the other was playing.
But the organizers were forced to ditch that plan and scramble when, in late November, The Savoy closed during a billing dispute with DTE Energy.
"We didn't want to shrink the event, and we didn't want to cut the number of bands, and we needed to find a new room, fast," says Zwagerman. "And luckily, Woodruff's (a new club, also in Ypsilanti) had just opened up, so we were able to move it over there.
"It's smaller than the Savoy, and doesn't have two stages, so in order for us to still present 60 bands, we had to go with an earlier start time (3:45 p.m., instead of the previously planned 5 p.m.), and just cut everyone's set by five minutes. So everything will be cool. And the crew at Woodruff's have been great in terms of helping us make the change so quickly."
(See the schedule and artist lineup online at the Mittenfest website.)
So, the organizers are confident they will surpass last year's "take" of $12,000. That makes everyone happy, since all of the proceeds go to 826michigan's educational programming in Washtenaw County. 826michigan is a nonprofit group devoted to helping students aged 6 to 18 develop their writing skills, and to helping teachers inspire their students to write. 826michigan's efforts focus on the Ypsilanti, Willow Run and Ann Arbor school districts. Sumerton is 826michigan's program director.
And the organizers couldn't be more pleased that the fest has become so popular. "In the early days, we had to seek out bands, and it's a real sign of how much everyone now looks forward to it that we now have bands we've never heard of, contacting us all the time," says Zwagerman, a Holland native and 2006 University of Michigan graduate who has lived in New York City for the last several years, working in the marketing department of an architectural and urban planning firm. His U-M masters degree is was in urban planning.
When Zwagerman got the idea for the first Mittenfest, it was an extension of his involvement in the Ann Arbor area music scene while he was a U-M student. "I booked shows on campus for a bit, saw a lot of live music, and had my own unamplified backyard venue," he recalls.
"Then when I moved to New York for my job after graduation, I thought, 'New York is great, but it would be cool to see all my old Ann Arbor friends again, and see the local bands again that I used to see' It was sort of a holiday-season reunion."
PREVIEW
Mittenfest V
Who: 60 acts, mostly Michigan-based, but all with Michigan connections.
What: Four-day music fest, with proceeds benefiting 826michigan.
Where: Woodruff's, 36 East Cross Street, Ypsilanti, in Depot Town.
When: Thursday through Sunday, 3:45 p.m. - 2 a.m. (On Friday, late-night New Year's Eve Dance runs until 4 a.m.)
How much: $7 per day, or $25 for a four-day wristband, available at Liberty Street Robot Supply & Repair, 115 East Liberty Street, Ann Arbor.
Expanding from 40 bands to 60 has resulted in a wider variety of musical styles, says Zwagerman. "This year, we'll have a hip-hop artist, Charles Trees, and a few experimental electronic acts, and a few bands that have kind of a country sound, like Scarlet Oaks, and some lo-fi garage rock, like the Deadbeat Beat. Those acts are all new to the fest this year."
The predominant styles, though, are still indie-rock / modern rock and indie-folk, says Zwagerman.
Even though the number of acts has expanded, the organizers still maintain the requirement that the band or artist must have a Michigan connection. Most of the bands are based in Michigan, with many located in the Ann Arbor / Ypsilanti area. But there are some acts now based in other states but "who are originally from Michigan, or whose core members are from here."
Listen to a selection of songs by Mittenfest V performers:
Zwagerman has great praise for 826michigan, and is happy that the fest has been able to raise a handsome sum for the group the last few years.
"It's really a great organization," he says. "They have all of these free programs that they offer, and any day, students can drop in and work with a tutor, who helps them with their writing and other schoolwork, and they're helping the students write and publish books, and short stories. We really feel good about the fest being connected with a group like that."
And even though the Mittenfest still has a holiday-reunion vibe, "I find that every year, there are fewer people that I used to know. A lot of people have moved out of the area, some for economic reasons. But it's still a very cozy experience. For a lot of people, it really does feel like coming 'home' for a few days."
Kevin Ransom is a free-lance writer who covers music for Ann Arbor.com. He can be reached at KevinRansom10@aol.com.