Posted on
Fri, Dec 23, 2011 : 5:03 a.m.
Mittenfest VI back to rock in the New Year with 5 days of Michigan music
By Jennifer Eberbach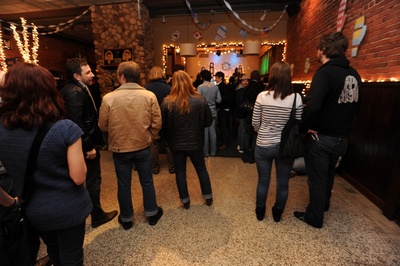 file photo | AnnArbor.com
Bands from across Michigan will take over
Woodruff's
in Ypsilanti's Depot Town once again this holiday season for
Mittenfest
, an annual multi-day musical showcase that benefits Ann Arbor youth literacy non-profit
826michigan
. The event has grown so much, now in its sixth year, that this year a fifth day was added to accommodate its large number of guests and allow enough time for all 60 bands to play.
This year, Mittenfest will run Dec. 28 through Jan. 1, from 4 p.m. to 2 a.m. each night with extended hours on New Year's Eve for a DJ set by Absolute Beginners until about 4 a.m.
Brandon Zwagerman "started it on a whim," after moving from Ann Arbor to New York City to pursue his career as a marketing manager for an architecture and design firm, he says. Before he moved, he was known for holding DIY music events at his Madison Street residence in Ann Arbor.
"When I moved away, I thought it would be fun to come back and do a small music event to raise money for 826michigan, stay connected and see my friends," he explains. Little did he know just how big and popular the event would become over the years. This year, more than 200 bands applied to play at the event.
"It's grown into an institution that I'm really proud to still be a part of," Zwagerman says.
Since Zwagerman does not live here any more, he relies on advice and "on-the-ground" knowledge of Michigan music Ghostly International licensing and business affairs director and co-founder of Quite Scientific Records Jeremy Peters, who has helped with the event for a number of years. Peters, who is on the board of 826michigan, is especially helpful, according to Zwagerman, "because at this point most of the bands who apply weren't even in existence when I lived in Michigan. A lot of them are new to me, or I get to see them for the first time coming back for Mittenfest. Jeremy's advice is invaluable because he knows so much about Michigan bands, who is popular, what their sets are like, etc."
PREVIEW
Mittenfest
Who: A host of Michigan music acts. Full lineup here.
What: Sixth annual, multi-day music festival to benefit 826michigan.
Where: Woodruff's, 36 E. Cross St., Ypsilanti.
When: Dec. 28-Jan. 1; doors open at 4 p.m. each day.
How much: $10 per day at the door; festival pass, $82.60, available here.
Organizing a schedule of 60 bands is no easy task. Peters says that, "although there is no exact science to it, we try to make each day flow within itself. We think a lot about what types of bands might work best different times or days. It usually starts off easy and then there is a crescendo of energy as it gets later into the night."
"We made an effort to make it even more statewide this year," Peters reports. "There are a large chunk of bands from the West Coast of Michigan like the Grand Rapids area, and there are bands from up north like Traverse City."
Zwagerman continues to throw small music events at the apartment he shares with his girlfriend in Queens, New York, kind of like what he did on Madison Street as an Ann Arborite. A number of Mittenfest bands have performed at his small house shows.
"We have an apartment that was an old doctor's office where we do acoustic shows every month or two. The sign on the door still reads 'Caponegro Eurological Associates.' Past and current Mittenfest bands have played there, as well as people I've met in New York and random touring bands," he explains.
826michigan is based in Ann Arbor, and much of its programming benefits kids and teens here; however, their commitment to neighboring Ypsilanti youth has grown as the organization, founded in 2005, continues to grow. Many people have stopped by or peeked into the organization's Liberty Street Robot Supply and Repair storefront, which raises money for 826michigan's tutoring and writing workshops held in the back room and off-site at area schools.
However, according to Executive Director Amanda Uhle, many people are surprised to find out how much they do in Ypsilanti schools. Aside from their work in Ann Arbor, 826michigan has offered tutoring programs and writing workshops for elementary, middle, and high school students in Ypsi. For example, "every school day we are at Ypsilanti Middle School offering our after school tutoring program there. And new this year, we're offering special writing workshops there, and the students will author a big book project featuring the best writing they produce," she explains.
The money raised at Mittenfest is not allocated to any specific program—rather, it's thrown into the general pot. However, Uhle points out that the $15,000 that was raised last year "goes a long way because we are a relatively small organization," and that amount of money "roughly covers the cost of some of those programs we do in Ypsilanti."
"The work we do in Ypsilanti is very meaningful to us. So, we love holding the event there because some of the money people pay for a night of music is going to schools that are just around the corner," Uhle says.
Peters points out that not only does the event raise money for the non-profit, "it is also a good entry point for potential volunteers to connect with the organization. Someone might just be interested in the music and come to the show to see their favorite band, and then end up stopping by the 826michigan table at the event and sign up for tutoring. I know they get new volunteers every year," he says.
An added treat to Mittenfest, and a way for 826michigan to share what they do with the crowd, volunteers will read selections of works written by students every night at 8:30 p.m. and 11:30 p.m.
Admission is $10 per night at the door, or you can purchase a 5-day VIP pass for $86.20 ahead of time. The event is known to reach capacity at times, and a VIP pass ensures you won't have to wait to get in if there is a line at the door.