Posted on
Wed, Oct 17, 2012 : 10:26 a.m.
Not just tacos: authentic gorditas, quesadillas, pambazos and more at Taqueria La Casita
By Kim Bayer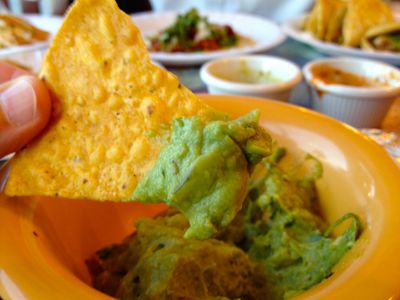 Kim Bayer | Contributor
I've lost track of whether there's still a Taco Bell in town, but I can tell you for certain the location of more than a half dozen
taquerias
within 10 minutes of my house. There are strong opinions out there about whether the Ann Arbor set of places is better, or the Ypsilanti faction. At the moment, my money is on the Ypsi side, and one reason is a place we just tried:
Taqueria La Casita
in a strip mall just off Washtenaw near Golfside.
La Casita is where one popular local chef stops by to pick up dinner for the family on the way home from work. He recommends the tacos —chorizo, carnitas and lengua in particular—along with the guacamole and quesadillas. Except for the lengua (tongue), we tried them all.
On a recent Tuesday night, La Casita was a bright oasis in a dark sea of pavement and low-slung buildings. Floor to ceiling windows, handwritten signs with off-menu specials, soccer jerseys, twinkle lights, a sombrero, mariachi music, and TV with Telemundo running "Dancing with the Stars" type of programs create the ambience. The space is not large, only six or so tables each seating four, but it feels like the places you usually find much closer to the border. If you were trying to learn Spanish by eavesdropping, this would be a good place to go—almost every table was engaged in animated conversation.
RESTAURANT REVIEW
Taqueria La Casita
2866 Washtenaw Ave., Ypsilanti, MI
734-434-0857
No website
Hours: Mon-Thu 11 a.m. - 9 p.m.; Fri-Sat 11 a.m. - 10 p.m.; Sun 10 a.m. - 8 p.m.
Plastic: Visa, Mastercard
Liquor: None
Prices: Inexpensive. Tacos $1.59 each, entrees under $10.
Noise level: Moderate
Wheelchair access: Yes
I especially enjoyed watching the table of five young men flirting with and casting surreptitious glances at the pretty long-haired server displaying a tattoo on her lower back that read "Only God can judge me" in gothic script. But I was also interested in what the baseball-hatted guys had ordered—tacos and tortas (sandwiches), washed down with Red Bull and Coca-cola.
There's a counter on the left as you walk in where you can order or pick up your take-out from the nice lady at the cash register. We sat down, ordered, and it seemed like only a couple of minutes before the food began to arrive.
First, a basket of crisp, seemingly just-fried corn chips appeared on the table, accompanied by small bowls of salsa, one poured from a pitcher of red and the other from a pitcher of green kept in a glass-fronted cooler. Neither was aggressively spicy, but the red in particular was oddly bland and muted. The green tomatillo salsa with cilantro was tangy, with a nice kick of heat and garlic.
On the recommendation of our friend, we ordered the gaucamole. La Casita's version seems like it may be made fresh to order, very chunky with avocado and sparked with cilantro, garlic, and a little hot pepper. It's hard to stop eating chips with yummy accompaniments, but you have to if you want to save room for dinner (or cena in Spanish).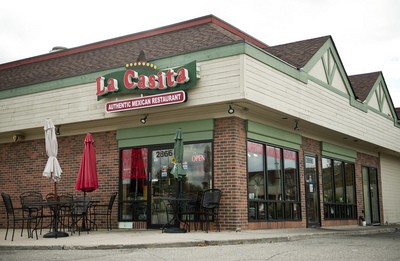 Daniel Brenner | AnnArbor.com
Along with the chips I enjoyed La Casita's horchata, the sweet rice-based drink with a hint of cinnamon that tastes like rice pudding in a glass. Their jamaica was also very good—ruby red and not too sweet, with fruity, tart hibiscus flavor. Also memorable about the drinks was the size—it reminded me of a recent skit on the TV show "Parks and Recreation" making fun of the size of American beverages. I ordered a small, which turned out to be about a 16-ounce foam cup, and my husband ordered a large—an enormous nearly quart-size foam cup. It was so big we laughed.
La Casita does a brisk take-out business, with drinks and desserts portioned out and ready to go in refrigerated cases in the dining room. I can understand that speediness is an issue for many customers, but I was a little put off by all the plastic foam, used even for the people dining in.
In addition to the many items you would expect—like enchiladas and burritos—La Casita has a number of items that you don't see very often around here: Mexican breakfasts, pozole and menudo, sopes. An unusual item that I noticed on one of the many hand-lettered signs on the wall was elote, a popular Mexican street food of grilled corn usually served with mayonnaise, chile and lime. I was excited to try it, but it wasn't what I was hoping. The tough and chewy corn-on-the-cob had little flavor of its own, but was slathered with a thick coating of mayonnaise, and sprinkled with parmesan from a can and chile powder. My search for great elote continues.
However, the tacos (at only $1.59 each) more than made up for it and put me in the La Casita fan club. Fillings for tacos include: al pastor (marinated roast pork), carnitas (fried roast pork), carne asada (grilled steak), chorizo (Mexican sausage), tripa (tripe), barbacoa (steamed lamb), lengua (beef tongue), cabeza de rez (beef head), and cochinita pibil (shredded pork).
Vegetarians should take note of the list of tacos. I did not notice many vegetarian options at La Casita. There are a few, but you have to look hard. And I wasn't able to talk with the owner so I don't know the status of their beans. The tacos at La Casita, wrapped in a double layer of soft corn tortilla, bulge with lots of meaty filling and bits of chopped onion and cilantro. The spicy chorizo was especially notable—salty and spicy with a bit of (deliciously) earthy, liver-y taste. The shredded pork carnitas were nicely caramelized. And the al pastor brick-red with deep chile flavor. I wish they would use the thicker corn tortillas that better hold their shape, but that's quibbling.
Also worthy of mention: La Casita's quesadilla is unique. At most places, a quesadilla is a grilled tortilla with melted cheese inside. But at La Casita, it's a palm-sized clamshell of deep fried masa with various fillings to choose from. Among many options we chose papas con chorizo. Savory chorizo sausage and soft potato plus juicy iceberg lettuce and a sprinkling of mild crumbly cotija cheese bust the seams of this quesadilla. Not for a delicate appetite, this linebacker version of a quesadilla gives your mouth a workout. But the hearty corn flavor is one reason I'm a sucker for anything with handmade dough.
Likewise, the gordita (or "little fatty") is also made with masa, this time formed into a hamburger bun shape and deep fried. Cut in half, it's then stuffed with fillings including tinga (spicy chicken), pollo (Mexican chicken), queso (cheese), pastor y asada (steak), al pastor (marinated pork) or chicharron prensado (pressed pork). And lettuce and cheese as well. We ordered the tinga (spicy chicken) for a gordita like a Mexican version of a BBQ chicken sandwich, whose dark red color belied the mildness of the chile flavor.
Other interesting menu items that we didn't have room to try were La Casita's tortas and pambazos — both versions of Mexican sandwiches. Pambazos sound intriguing because the menu describes them as "drowned in special red sauce." We saw other people ordering the tortas (which come with beans, onion, tomato avocado, lettuce, jalapeno and cheese) on large golden brown buns so I'm guessing they are good too.
The Chile Relleno was an off-menu dinner special, offered with a choice of one or two mildly spicy poblano peppers. The peppers are stuffed with oaxaca cheese, dipped in batter and fried, then covered in mild red sauce and more melted cheese. On the side, rice, beans, and a dab of that good guacamole, sour cream and picadillo cover the rest of the plate. There was too much melted cheese and red sauce on top of the relleno, and the stuffed pepper was a bit overcooked, but despite that it still had good poblano and cheese flavor. There aren't nearly enough places serving authentic chile rellenos, so I was glad to see them at La Casita.
After all that food, I was still determined to try the desserts because I had spied them stored in plastic clamshells in the cooler, ready to take out. We heard they were made in-house by the sister-in-law of the owners and that was all the recommendation I needed. The desserts we tried were very good. La Casita's flan is unusual for its very firm texture, thick as cream cheese. It was sweet and eggy, not at all jiggly like other flans, but still surrounded by a richly flavored dark sugar caramel sauce.
The Tres Leches cake was also a highlight. It's definitely a sugar bomb, but a delicious one. La Casita's version is a dense double layer vanilla cake soaked in sweet milk sauce, and covered in whipped cream frosting with a bright red cherry on top.
I tried at least three times to talk with La Casita's owner to answer questions about various aspects of the food and the restaurant. Twice I was asked to call later, and the third and final time when I called at the time we had pre-arranged, I was forced to leave a voicemail message. That was disappointing.
For my part, I'd say La Casita is among the most authentic of the taquerias in town, most like the places that I've been to in Mexico, San Diego, and Tucson. I wish I could have talked with the owner to learn more, but it seems like they're already pretty busy.
Kim Bayer is a freelance writer and culinary researcher. Email her at kimbayer at gmail dot com.