Posted on
Tue, Apr 30, 2013 : 8:36 a.m.
Ann Arbor favorites Mountain Heart bringing new music to The Ark
By Kevin Ransom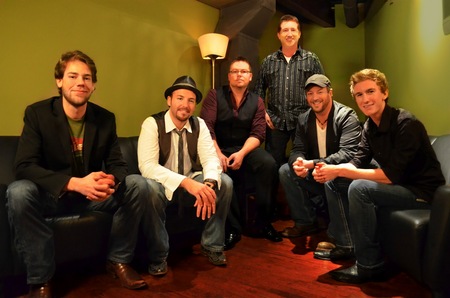 Mountain Heart
took a risk about six years years ago, but it was one that paid off—and is still paying dividends.
That risk was adding a keyboard player—who was also the new lead singer (Josh Shilling)—to a band that was previously an all-acoustic one. His background was different than that of the other members of Mountain Heart. At the time, the group had already cemented a reputation as an ace bluegrass / newgrass / country-folk band, and had a strong, loyal following in that camp.
But Shilling's thing was a mix of Southern rock and R&B, with some jazzy accents. "We felt like we had gone as far as we could with what we were doing, and had bumped up against a ceiling with it," says Jim VanCleve, the group's fiddle player and a founding member. "We also wanted to reach beyond the bluegrass / newgrass audience—and take our music to more people."
It worked. The group's first disc with Shilling was a high-octane live album, "The Road That Never Ends," that they recorded at The Ark in 2007. Mountain Heart—who come back to The Ark for a show on Friday—had always been known for high-energy shows, but Shilling's more rocking impulses took that to another level, and the album was not only a big hit among their existing fans, but also validated the group's prediction by drawing new fans into the fold.
They followed in 2010 with the EP "That Just Happened," which raised the stakes even higher, with an extended, improvisational cover the Allman Brothers' chestnut "Whipping Post." Of course, that song has been covered many times, but Mountain Heart's instrumentation—fiddle, mandolin, banjo, stand-up bass and acoustic guitar, in addition to Shilling's organ work—gave it a new flavor. And Shilling's bluesy growl conjured Gregg Allman's signature vocal vibe.
PREVIEW
Mountain Heart
Who: A popular roots-music band that broadened its sound a few years ago by bringing in a keyboardist / new lead singer.
What: A mix of bluegrass / newgrass, country-folk, R&B, and Southern-rock elements, with instrumentatal line-up that includes acoustic guitar, banjo, fiddle, mandolin, bass, piano and Hammond organ.
Where: The Ark, 316 S. Main St., Ann Arbor.
When: Friday, May 3, 8 p.m.
How much: $30. Tickets available from The Ark box office (with no service charge); Michigan Union Ticket Office, 530 S. State St.; or online from MUTO.
Plus, the title track—co-written by Shilling and Jim VanCleve—was a rousing anthem, with a ear-catching chorus that invited enthusiastic audience participation. And now, in the last year or so, the group has written several new songs and added them to their live show, and they're getting ready to go into the studio to record their first full-length studio album since Shilling joined.
And VanCleve says the new songs will be taking the group to new musical places—not in a drastic way, but one that will again expand the band's sound, and cast a wider net.
"For us, the attitude has actually always been, whatever the mold is, we want to try to break it, or at least stretch it, and not become stale," says VanCleve by phone from his home in Nashville. "We've been together for about 14 years now, and we've never been a band that likes to sit still. If you sit down and listen to all of our albums in a row, you'll hear a lot of growth and exploration from album to album.
"One thing we want to do on this album is to have as many of the songs as possible be songs that we wrote—more so than in the past. We want to make the album more personal in that respect."
VanCleve also notes that the new songs "are more dynamic, with more emotional depth—I think we've grown and matured as songwriters....Many of the newer songs are more serious, like one that Josh wrote, called 'Hurting.' "
Until now, the group had been hesitant about writing songs that address social and political issues. But that's the direction some of the new songs have taken. "They address topics that are relevant to what's happening out there in the world now—songs about the country being in a state of unrest, and homeless people, and the state of the economy, and how some people are still really struggling out there," he notes.
The group's live show has always been "kind of raucous," describes VanCleve, accurately. "And we want to keep that—we like our shows to begin with a lot of energy, and end with a lot of energy. But now we've got a section in the middle of the show, with these new songs, that are moments for people to pause and reflect, where they can stop and look inward a bit."
Looking back now on the decision to bring Shilling on board—and change, or at least diversify, their sound—VanCleve says: "It's not like we decided, 'Okay, we now want to do the kind of music that Josh is good at.' We wanted to take what we were doing, and add his Southern rock / R&B thing to that, and see what kind of wicked brew we could stir up.
"And we've definitely latched on to something in the last three years that is really working. In fact, it's working better than anything we've ever had before. I think it's cool, for a group to be around as long as we have, to rock the boat, to pick up and change lead singers, and change our sound in a lot of ways."
But VanCleve is glad they decided to gradually morph the band's sound, over the course of a year or so, so as not to alienate their existing audience. "We knew there would be some grumbling from our older fans, because when people really like a group, they grow attached to it, and they usually don't like abrupt changes," he says. "So, we were sensitive about it, and were careful not to abandon our old songs—which is also because those were some great songs. And Josh can definitely sing the heck out of those—so we've stayed in touch with our earlier days, and our longtime fans, by still doing those older songs in our shows."
Kevin Ransom is a free-lance writer who covers music for AnnArbor.com. He can be reached at KevinRansom10@aol.com.